When the temperatures begin to dip, it's time to stash the summer wear in exchange for winter fashions. Personally, I'm not ready. I'm never ready. But when you have cute and cozy things to wear it makes the cold months all the more bearable. This year, the transition hasn't been so bad thanks to these 2016 winter fashion must-haves:
Boots
Not just any boots though. The Hawaiian-inspired OluKai has a long list of gorgeous hand-crafted shoes and boots. I recommend the OluKai Kamahoi ($195). Described as effortlessly sophisticated, I couldn't agree more. The soles are non-marking. The thermoset rubber is a compound of natural and synthetic rubber so no floor 'scuffs'. Finally, OluKai crafted their footbeds to be easily removable and washable. What a great feature. The ultimate test was how did they fit? Perfect. I wear a size nine and have wider feet but these slid on as if they were designed for me.  Are they comfortable? Wow. Yes. I wore these boots for three days straight and it was as if I had worn then for years. I didn't even have to break them in! My family even went apple picking and I forgot I was wearing heeled boots. As for the price, spending a little more for good boots is common. These, because of the comfort, fit and craftsmanship are worth it. OluKai isn't limited to boots there are many other fashions including slippers. Check out the entire site. You will find many gorgeous pairs of shoes.
Coat
Let's talk staying warm. Year after year I chat about how important it is to find the right winter coat.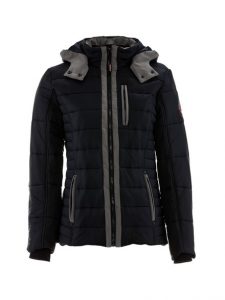 Sometimes our needs change depending upon the severity of the winter, the amount of snow we get and whether I'm sitting on a sports field at the beginning or end of the season. Last year was rather mild for Minnesota so my lightweight RefrigiWear coat was prefect and kept me warm even shoveling show. In fact, I've been wearing it this fall during chilly mornings and evenings. This year RefrigiWear has several new 2016 winter fashion products and developed the first ever, consumer focused 2016 Catalog. Enter the Women's Pure-Soft Jacket ($95). I've also already worn this stylish jacket in the early mornings when walking my dog. I love that it has a removable hood and that it's shorter than a parka, but extends below the waist. When you live in a cold region such things matter. Other features I appreciate include are the inside Velcro micro-pocket, stand up collar (goodbye blowing snow), the chest zipper pocket and my favorite, hand warmer zipper pockets. Talk about warm! I'm not dreading the cold as bad this year.
Bag
It's very rare that I don't include a bag with my fashion posts because us gals always need something to tote our things in whether it's for travel, kids sports, the gym or anything else. This winter I am in LOVE with my BUILT New York City Carryall ($49). You can peek at the entire City Collection above. Here's what's cool about this light-weight, ultra-durable tote bag: its made from durable neoprene (the wetsuit material) so its easy to clean (take that, toddler!). I appreciate the high-quality faux leather straps that help the bag stay in place on my shoulder and it has a zipper closure which has become an important detail in my world as a busy mom on the go. A lot of my other bags are just that, but this tote has a nice sized pocket that fits my phone keys and lipgloss perfectly (the items I reach for the most. The City Carryall is also huge (18.31″ x W 7.48″ x H 23.23)! There's plenty of room for my things but also room for hats, gloves or toys if I'm out with my toddler. Then it folds flat for easy storage.
Funny enough, all three of these items match and make great gifts if you're looking for suggestions. Stay tuned for holiday gift ideas!
Disclaimer: I received some of products for review purposes and there are affiliate links in this post which may result in small commission fees.