When summer rolls around and temperatures rise, you might find me saying (occasionally), "It's too hot to eat." But thermometers soaring to 110 degrees Fahrenheit during a June trip to Arizona didn't stop me (at all!) from eating my way through some amazing Phoenix restaurants. From delicious, fresh goat milk custard at breakfast to divine cupcakes for dessert, I enjoyed some fabulous dishes at top-notch restaurants in the Greater Phoenix area, which includes not only Phoenix proper, but the neighboring communities of Scottsdale, Mesa and Gilbert, too. Here are the highlights: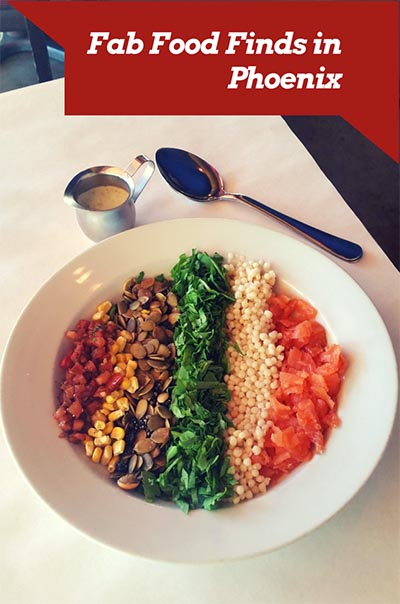 T. Cooks at Royal Palms Resort & Spa: T. Cooks, the fine dining restaurant at the Royal Palms Resort & Spa, is superb (and I don't use "superb" lightly). I'd call it American cuisine with worldly influences, with a definite focus on using fresh, seasonal ingredients, including herbs, citrus and vegetables grown on the property. For example,  pictured below is a fabulous "house pressed juice of the day" with Turkish-style muhammara, a roasted red pepper dip. The goat milk custard was the creamiest yogurt I'd ever tasted, and paired amazingly well with housemade granola. Summer dinner entrees include halibut, pork loin, beef tenderloin and plenty of fresh salads and soups.
Well & Being Spa at Fairmont Scottsdale Princess: Before a terrific treatment at the Well & Being Spa at the Fairmont Scottsdale Princess, I enjoyed a light but filling meal from the spa cuisine menu, which details the calories, fat, protein and carbs in each dish. I opted for yummy Curried Chicken Lettuce Wraps, but other healthy items include the Black Bean & Quinoa Burger and Poached Atlantic Salmon.
SumoMaya: I'm always a bit wary of fusion restaurants, but this hip, modern restaurant in Scottsdale features both Asian and Mexican foods on the same menu… and it works! We're talking delicious bold guacamole, tacos and carne asada alongside sushi rolls, pad thai and rock shrimp tempura. SumoMaya is colorful and upbeat (I'd go with a group of friends sooner than I'd schedule a romantic date here), and if you're craving a fun cocktail this is the place to go for sake, margaritas or mojitos (see the frothy Green "Magic" Mojito below).
Proof at Four Seasons Resort Scottsdale at Troon North: What's really cool about Proof, an American Canteen at the Four Reasons Resort Scottsdale is that menu items are sourced exclusively from the 50 states. The scene is casual here, with servers in denim and bandanas, and with table shuffleboard and an old-fashioned soda fountain. Dinner menu items with a "comfort food" bent include Chicken & Waffles, Shrimp & Grits and Beer Can Chicken. You have not lived until you've sampled Proof's melt-in-your-mouth Pretzel Knots with spicy cheese sauce; they need to make them in a take-and-bake form so I can eat them at home. Often.
Flower Child: If I could eat at one restaurant for the rest of my life, it would be Flower Child. That's because the globally inspired menu at this casual, clean, counter-service eatery focuses on organic produce, rice and tofu, plus naturally raised chicken, salmon and beef, and amazing combinations of seasonings and spices. Choose from hearty salads (such as Vegan Caesar or The Granola), mix-and-match vegetables and sides (Heirloom Tomato Watermelon or Indian Spiced Cauliflower), "bowls" (Madras Curry, Wild Mushroom Pho) and whole grain wraps. This restaurant has some seriously amazing hummus (one version is made with avocado) and seasonal fresh lemonades and iced teas. My happy place.
Alto ristorante e bar at Hyatt Regency Scottsdale Resort & Spa at Gainey Ranch: It's all about authentic Italian dishes at Alto ristorante e bar in Scottsdale's Hyatt Regency. We're talking all-natural meatballs, mushroom risotto, creamy white bean soup, rich pastas, pan-seared veal and duck breast, and broiled filet–bring your appetite to this restaurant! I could not get enough of the Ziti al Forno with braised short ribs and local burrata mozzarella and ricotta–a grown-up macaroni and cheese! After dinner, enjoy a complimentary gondola ride on property, complete with singing gondoliers!
Queen Creek Olive Mill: This family-owned operation produces amazing, high-quality extra virgin olive oil. But it's more than just an operating olive mill and farm. It has a magnificent marketplace, where the flavored oils (from bacon to blood orange to basil), tapanades, vinegars, sauces, and gift boxes are sold. Plus, there's the entire line of body products made with extra virgin olive oil and other all-natural ingredients; I came home with a trio of body oil to nourish my skin. Stop in Queen Creek Olive Mill to take a tour of the mill and learn about the olive pressing process, and shop at the market, but do not leave without sampling one of the amazingly moist EVOO cupcakes made with the flavored oils; the Meyer Lemon Olive Oil Cupcakes are to die for. Also on hand are sandwiches, panini, soups and salads to eat there or take home, plus theFa on-site Superstition Coffee shop, serving hot and cold drinks, including the signature frozen granita.
Postino East Wine Cafe: Postino has a few locations in historic buildings and around Phoenix; I got to enjoy the eclectic, bustling scene in downtown Gilbert, where there's loads of indoor/outdoor seating. As expected, the wine list is vast, but I was most struck by the friendly and approachable servers (wine tasting is far from stuffy here) as well as the incredible, shareable tapas. I wanted to try every single one of the bruscetta, with toppings like brie and apples with fig spread, ricotta with dates and pistachios, and burrata, bacon, arugula and tomato. I am delighted (!) a Postino is opening closer to me, in Denver's LoHi, later this summer.
Cowboy Ciao: This casual downtown Scottsdale restaurant is a spot I enjoyed (thanks to a tip from my pal Mara Gorman of Mother of All Trips) on a previous trip to Phoenix last fall, but I managed to have the beloved Stetson Chopped Salad (that colorfully striped dish pictured at top of post) at the Phoenix International Airport in June! Yep, Cowboy Ciao has an outpost there, and I highly recommend you sit down for a meal you find yourself at PHX with time to kill before your flight. The menu is "Modern American with Southwest accents," featuring plenty of comfort food and a great wine list. The chopped salad, in particular, is phenomenal, featuring Israeli couscous, pumpkin seeds and salmon. That pesto buttermilk dressing…. I was nearly licking it from its little pitcher.
Thanks to Visit Phoenix for hosting my trip to your fine city and the surrounding area; I had a ball eating my way through your city!