If you've got picky eaters, there's nothing better than going to an all-inclusive resort in Mexico or the Caribbean. Typically, since you've already paid for your food and drink, it doesn't really matter if your son takes just two bites of his quesadilla at lunch. Or your daughter wants to sample the papaya, watermelon, pineapple and guava juice at breakfast.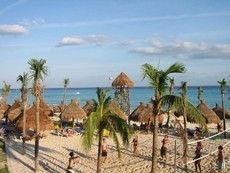 For that reason alone, I recommend all-inclusive resorts for families who want an easy tropical vacation. Plus, many water activities (kayaks, snorkels), exercise classes and children's programs are included in the price you've paid up front.
We've stayed at the Bahia Principe Tulum, the Reef Playacar and the Iberostar Tucan, all south of Playa del Carmen, as well as the El Cid Beach Marina Beach, in Mazatlan, Mexico, and I can't say we've had a bad vacation at any of them (though the Iberostar, with its ocean-view suites and the deluxe spa was my favorite, hands down)
My husband, however, gets tired of the crowds at all-inclusives. It drives him crazy that we've had to get up at the crack of dawn to secure lounge chairs by the pool. He also says he doesn't need the group activities (from aqua aerobics to bingo) or the evening entertainment (from Broadway show tunes to fiesta nights).
That's why we've alternated our all-inclusive resort stays with renting houses and condos in quiet, "authentic" Mexican towns: Sayulita, north of Puerto Vallarta, where we rented a three-bedroom house (Grandma came along), and Puerto Morelos, just south of Cancun, where we had a two-bedroom condo each near the town's main square and each with an on-site swimming pool (key for keeping the kids happy).
In both instances, we had a ball checking out little beachside restaurants and local grocery stores' alternating between eating meals out and whipping up dinners from scratch our full kitchens. We also loved the spaciousness that a house or condo rental brings; and we just felt more relaxed, more like locals, when we'd return to a "real" living environment after a day of exploring.
That said, I'm sure my husband and I will continue to negotiate our tropical-vacation accommodations. For every "authentic" Mexico visit, I get my resort accommodations, where pina coladas and pedicures are plentiful.