Summer's here! What are you going to do with your kids now that school's out? Summer is the season for family vacations, road trips, and long lazy days hanging around the backyard. My children are so happy to explore our backyard with these educational Backyard Safari Outfitters toys I may have a hard time getting them to the beach.
A few months ago I was invited to a mom bloggers' brunch, hosted by Child's Play, and everyone received a couple of samples of educational Backyard Safari Outfitters toys and gadgets. I was familiar with the brand – my kids already owned a wet/dry scoop net (it's something like a water-tolerant butterfly net) and 2-in-1 Habitat Set, from past birthdays. See, my older daughter has wanted to be an entomologist (i.e. bug scientist) for as long as she can remember, and her friends' parents have been happy to support her in her efforts. Hey, it's not THEIR houses that have the threat of ants escaping from Ant Farm on a yearly basis, right? My kids have subsequently observed metamorphosis through raising and releasing butterflies (successfully), hatched praying mantis eggs (that one didn't go so well), and raised ladybugs (I admit, that one was pretty fun).
Last week, Child's Play thoughtfully sent my family some additional Backyard Safari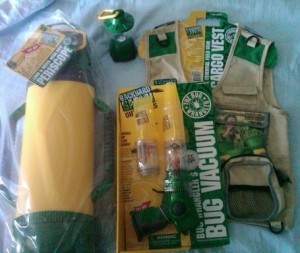 Outfitters items. My younger daughter immediately put on the Cargo Vest, and clipped the field tools to it. It fits sizes 5 and up, and while it fits my 8-year old fine, I don't think it will fit her next year.  With her own binoculars, all those cargo pockets, and the Field Tool set clipped to the D-rings, all she needed was a pith helmet. Dr. Livingstone, I presume? She was ready to explore.
My older daughter must have thought it was her birthday. The Bug Vacuum is exactly the sort of quasi-scientific educational gadget toy she loves, and she spent the next hour in our front yard, sucking up whatever insect strayed across her path. She also used the Backyard Safari magnifying glass she already owned, but I think this was more for show: There's a built-in magnifying glass on the Bug Vacuum. That Bug Vac may have shook up the insects she caught, but they seemed just fine after she released them. It's a humane way to investigate insects close up.
My younger daughter doesn't share her sister's love for insects, though. She's more squeamish, and for her, the Mega View Periscope was perfect. She had a problem with keeping it completely extended at first; we eventually figured out that it has to be lifted with a little more force that one might think to stay in its fully extended position. The instructions could benefit from adding this detail. She really enjoyed hiding all around our front, back, and side yards, and the best part of it for her was her pure child's delight at seeing without being seen. The periscope is also partially submersible, but we didn't take it to the nearby stream yet. That should be a really fun way to treat our town like an outdoor adventure day trip, too.
People say parents learn from our children. I must admit that my tolerance level for bugs has definitely increased since my older daughter became so fascinated with them at an early age. But there is a line that must be drawn; recently, she's developed an interest in Madagascar Hissing Cockroaches. She asked if she could do some online research, and later I found her notes. Terrifying!
Having pet Madagascar Hissing Cockroaches is definitely not in my kid's immediate future, but I wouldn't be surprised if she does indeed grow up to be an entomologist. The Backyard Safari toys, with their nature-friendly, educational and scientific
bent, really help her continue to explore the insect world. They keep her engaged and happy while exploring the natural world that is right here, in our backyard. When we can't travel to a US National Park or some other wild part of the world, these toys do a good job of turning our own backyards into an explorable substitute.
Thank you to Child's Play and Backyard Safari Outfitters for supplying my family with these toys.