Napa Valley and Sonoma are renowned as top spots for romantic travel, but those rolling hills, world-famous restaurants, wineries and shopping make them excellent girlfriend getaway destinations as well.  A first-time visit to California Wine Country might seem intimidating, though; so many wineries! A beginner's guide to wineries for an easy girlfriend getaway in California Wine Country simplifies travel and activity planning. How can we winnow it down? Will oenophiles be snooty to novices? Well, don't worry, this isn't France. This is California, home to the friendliest, most mellow top-rated wine region in the world.  Anyone coming to Napa Valley and Sonoma looking for a fun long weekend will surely find the towns, with their welcoming people and wide array of wineries, perfect for both first timers and more experienced wine travel fans. So grab your best friends, ladies, and come see what California Wine Country has to offer girlfriend getaways.
Over three thousand wineries are members of the Wine Institute (this is throughout California), ranging from small boutique wineries to large, corporate-owned vineyard wineries. These three large wineries, that are showstoppers in and of themselves, make for recommendable first time visits to Napa Valley and Sonoma. Organized public and private tours, tastings, wine and food pairing classes and more make these three large wineries tops for easy girlfriend getaways.
1. V. Sattui Winery in St. Helena: This is just about as family-friendly as a large winery can get, and its casual, welcoming, de-snootified approach to wine sharing brings crowds of tourists during the summer and fall. A girlfriend getaway in Napa Valley and Sonoma should include a visit to V. Sattui to appreciate how this winery's success in marketing wine to the masses hasn't left it soulless or corporate in approach. Wine experts still love to take the time to share their favorite food and wine matches with guests. More than just a winery, there's a marketplace/cheese shop and retail store attached (shopping!) and a big picnic area — this is the part that attracts families — as well as a tasting room and more. Now, V. Sattui is isn't overly large (a 34-acre parcel, with wine sourced from 200 estate acres in Napa Valley, Sonoma, and other parts of California Wine Country) but it's no boutique. V. Sattui is also family-owned, and only sells wines at the winery or via direct shipments. If it seems like there isn't as much word-of-mouth about this label, it's because V. Sattui wines won't be found in supermarkets or restaurants. But get this: it was named the 2013 "Winery of the Year" at the prestigious Winemaker's Challenge. The pros know V. Sattui is really great. The atmosphere is casual and at times even boisterous, especially in the front and picnic area, whereas the back of the estate is elegant and lovely – get never intimidating. Giddy gals welcome!
2. Robert Mondavi Winery in Oakville: Mondavi is a huge tourist attraction as well as a large wine business. Even newbies have heard of Mondavi wines, but the big business aspect of it should not be a turn off. Travel to experience the actual Robert Mondavi Winery for a side of it unseen at all those retail chains and supermarkets. Robert Mondavi was one of the first to raise the profile of California as a legitimate wine region. Today we know it's on par with France, Italy and Spain, but back in the 1970's, not so much. We really have Mondavi and his legacy to thank for this. Girlfriend getaways can include curated experiences at this winery, from one-hour Reserve Tastings up to four-hour wine dinners hosted by Mondavi's elite crew of wine educators. Robert Mondavi Winery also hosts Napa Valley concert series that have highlighted famous musicians, a Twilight Tour and Tasting, a basic tasting class (with cheese and charcuterie) and — yes, for real — Wine & Chocolate Expressions. All of my girlfriends are chocolate lovers; this sounds like a completely pleasurable class. Now, Mondavi will be more touristy than not, especially during the peak wine travel season. Don't let that stop you from calling ahead and receiving a couple spots here during your girlfriend getaway in California Wine Country. Mondavi is open to beginners and a great way to start your weekend away.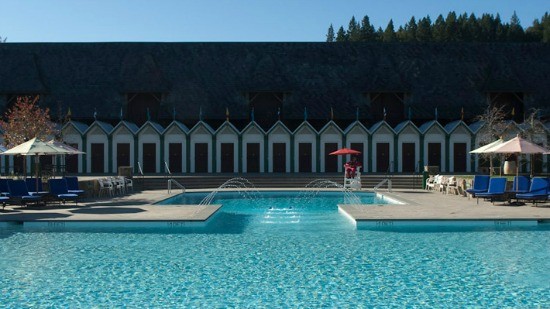 3. Francis Ford Coppola Presents in Geyserville: Yes, that Francis Ford Coppola. Built up from Coppola's historic Rubicon Estate Winery first started by a sea captain in 1879, it's gone through a few name changes, divided from Francis Ford Coppola's Rubicon and moved from the former Inglenook site. Today, Coppola Presents is a preeminent Napa Valley attraction as well as a source of top-rated Californian wines. The main floor of the estate building features movie memorabilia and some antique film devices (such as a zoetrope). It is simply lovely to be handed a glass of Chardonnay or rose and stroll through the informal exhibit — and there are more original movie posters and whatnot placed throughout the property. Get this: there are two huge swimming pools and 28 private changing rooms available for daily rental. Francis Ford Coppola Winery is also a newbie-friendly, non-intimidating but large winery with public tours, and some innovative classes which fill up and leave little room for drop-ins.  My favorite of the innovative tours is probably Wine, Whim & Song; highlighting small-production Sonoma County wines, this involves integrating wine and music experimentally, to experience how the two influence each other to evoke memories and emotions.
Along with romantic and family travel, girlfriend getaways are some of my favorite types of vacations. And some of my favorite wines in the world are made in Napa Valley/Sonoma. A beginner's guide to wineries for an easy girlfriend getaway in California Wine Country should include visits to these there large, immensely popular and user-friendly wineries.
Thank you to the Wine Institute, which hosted my own girlfriend getaway in Napa Valley and Sonoma County.