A summer vacation in Rome means gelato, and lots of it. Gelato is of course Italian ice cream, and the best gelato shops in Rome provide fresh, made-in-the-shop gelato for tourists and Italian locals alike. Not all gelato is outstanding, naturally (we had one really bad gelato shop experience while traveling in Rome, more on that later). I'm not kidding when I say my family of four tried gelato in different shops twice a day — after lunch and after dinner — and gobbled down many different flavors each time. We needed to: it's HOT in Rome in the summer! This is by no means an exhaustive list, but it is exclusive. Here's my family's take on the 3 best gelato shops in Rome.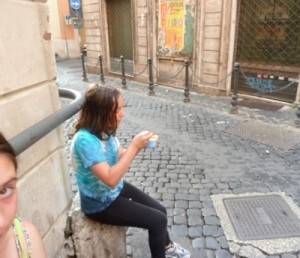 Giolitti – You know you've found one of the best gelato places in any Italian city when the counter is crowded with eager, hungry customers despite a serious lack of seating area outside. The connecting restaurant only allows seating for its diners, and outside, well, take a look at my daughter making the best of the situation. The best gelato flavor we found here was the pistachio. We also loved the honey rice gelato. The crowd was a good mix of locals and tourists; clearly, Giolitti is no secret. My younger daughter loved the milk chocolate, and we all agreed that the melon was the best of its flavor we'd ever had. Stracciatella is above reproach as well. Via degli Uffici del Vicaro, 40 Rome, Italy.
Gelateria dei Gracchi – Very seasonal, fresh ingredients, with a partially visibly kitchen behind the counter. This is a small, humble looking gelato shop, and we were the only English-speaking tourists there. The happy crowd of Rome locals and other Italians was a testament to the quality of this gelato shop (we felt like we'd stumbled upon a secret). A walk from the Vatican on a super hot summer day, the best gelato for our overheated travelers was the icy mint apple sorbet. Gelateria dei Gracchi was the only gelato shop we sought out for a repeat visit; their pistachio gelato may be one of Rome's best, with halved nuts throughout. The caramel pear was a family favorite as well. Via dei Gracchi, 27200192 Rome, Italy.
Il Gelato di San Crispino – Here we have what I'd call high end gelati with really interesting flavor combinations. There's a location by the Pantheon, so it's hardly off the beaten track.  Cinnamon ginger, walnut and fig, soft ricotta,
liquorice root…and the standards like crema, mango, lemon sorbet, hazelnut (my older daughter's favorite gelato) ensure that there's fresh, fantastic gelato for everyone. Timid travelers will want to stick with the standards, sure, but adventurous eaters go nuts over those more avant-garde flavor combos.  Via della Panetteria, 42 00187 Rome, Italy.
And now, what was the worst gelato shop experience we had while in Rome? Well, we made a big mistake in going to Blue Ice. We stumbled in because we were hot
and it was there, but apparently it's a chain. We should have known better when we saw that it was crowded with American college students, but we only saw the crowd. The gelato was bland and generic — in fact, I had to concentrate to taste the peach in my scoop of selfsame gelato. The texture was all wrong, too. It reminded me of what Italians must think Americans want from gelato, rather than what the best gelato should be.
Any short list of best regional cuisine like gelato in Italy is bound to have some passionate opinions about the particulars. These are my family's picks for the three best, and the one worst, gelato in Rome. Don't hesitate to try other gelato shops during your vacation in Rome; there's a gelato shop on practically every corner, after all, and most are very, very good.