Since being named Shape Magazine's Weight Loss Diarist I've been making a lot of lifestyle changes, such as limiting starches, alcohol, and processed foods while increasing my water intake. Of course, variety is the spice of life, and that's why I'm having fun trying new foods and drinks. And speaking of beverages, I'd like to share of the tasty and healthy drinks I've come across that won't break your diet.
Hydrate. I became a big water drinker when I became a flight attendant in my early twenties but sometime I want more than just plain water but the key is not to consume something loaded with sugar. Not only does the sweet stuff counter our time at the gym but it also jacks up our blood sugar which sends our bodies on a roller coaster ride. Not long ago my husband bought me some Nuun (pronounced noon) and I fell in love with these tasty self-dissolving, sugar-free electrolyte tabs that turn a bottle of water into a delicious, vitamin-packed healthy drink. This past weekend my local vitamin shop was passing out samples. You bet I took a couple packs for home. The fun news today, new flavors are coming out in March! Be on the lookout for Watermelon, Lemonade and Cherry Limeade (contains caffeine). Nunn has what seems like a zillion other flavors: Lemon Tea, Pink Lemonade, Kona Cola…pretty much any flavor you can imagine. If you dislike drinking plain water, I highly recommend you check out Nuun.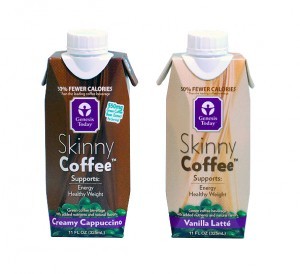 Energy. You may have heard Dr. Oz promoting the Green Coffee Bean Extract. To be honest, I've never paid much attention to celebrity endorsed products – especially weight loss promoted items – but recently a product made with green coffee bean extract crossed my path, and with one sip I became a customer. The product is Genesis Today's  – "skinny" because a serving is only 90 calories and has 400 mg of pure green coffee bean extract. It comes in two flavors: Creamy Cappuccino and Vanilla Latte. I like them both. I've been struggling with crazy jitters after having my morning cup of coffee, but after drinking Skinny Coffee I feel energized minus the jitters. A bonus, the Chlorogenic acids from green coffee beans are antioxidants, which helps slow the release of sugar into the bloodstream (that's what I need!) and the drink is loaded with B-complex vitamins. Skinny Coffee is best served cold, so it's ready to go in the morning when I wake up. Years ago I drank similar cold coffee drinks but the sugar, fat and carbs were outrageous so this little cup of coffee is heaven to me! Keep an eye out for these healthy drinks!
Fun. Drinking alcohol is one of those toss-ups when it comes to trying to stay healthy or lose weight. I recently heard the stats of a piña colada, whose average glass has over 600 calories – no wonder I always gain weight on vacation! Luckily, that's where Voli  (name derives from Vodka and Light combination). These light hand-crafted vodkas comes in six flavors: Raspberry Cocoa, Espresso Vanilla, Orange Vanilla, Lemon, Mango Coconut and Light (original) electrolyte. The best part, Voli Light Vodkas are on average between 25% and 40% lower in calories than the leading brands and they are found on liquor stores shelves across the United States.
Here's just one of many, many concoctions you can create with Voli – and one of my favorite vacation drinks. You may have to pack these little vodkas in your checked luggage. Just don't forget the bubble wrap!
MIAMI MOJITO
1 ½ oz Voli Mango Coconut
3 Lime Wedges
Mango Chunks
1 Pack Stevia Sweetener
6 Mint Leaves
Top with Soda Water
Glass: Highball
Garnish: Mint and Mango
Method: Build all ingredients over ice
Approximate Calories: 85
Stamina. Over the last few months I've been having fun trying new products and one of the items I have stumbled across is chia seeds. These little grains were favorites of the Maya and Aztecs due to their energy and natural healing powers and today they are making a comeback. I've been sprinkling chia seeds in my protein shakes and adding it to oatmeal but I also discovered these seeds are being added to drinks such as Mamma Chia – and they are delicious! Mamma Chia uses the highest quality organic chia seeds in combination with organic fruit juices which is is lightly sweetened with a organic agave nectar. The result is a unique and tasty drink and it comes in a variety of flavors: Blackberry Hibiscus, Cherry Lime, Cranberry Lemonade, Raspberry Passion, Pomegranate Mint, Coconut Mango, Kiwi Lime, Guava Mamma, and Grapefruit Ginger. I like them all, but I think my favorite is Raspberry Passion. And the best part…check out all of the benefits: 2500 mg Omega-3, 4 g Complete Protein, 95 mg Calcium, source of fiber and powerful antioxidants. Are you convinced these are a healthy drink? I am.
Do you have a favorite healthy drink that won't sabotage your health and fitness efforts?