Lightweight, wind- and water-resistant, cozy micro-fleece collar, detachable hood…. these are just a few of the key features of the ExOfficio Storm Logic Coat — one I'm dubbing the best packable winter travel jacket for women this season.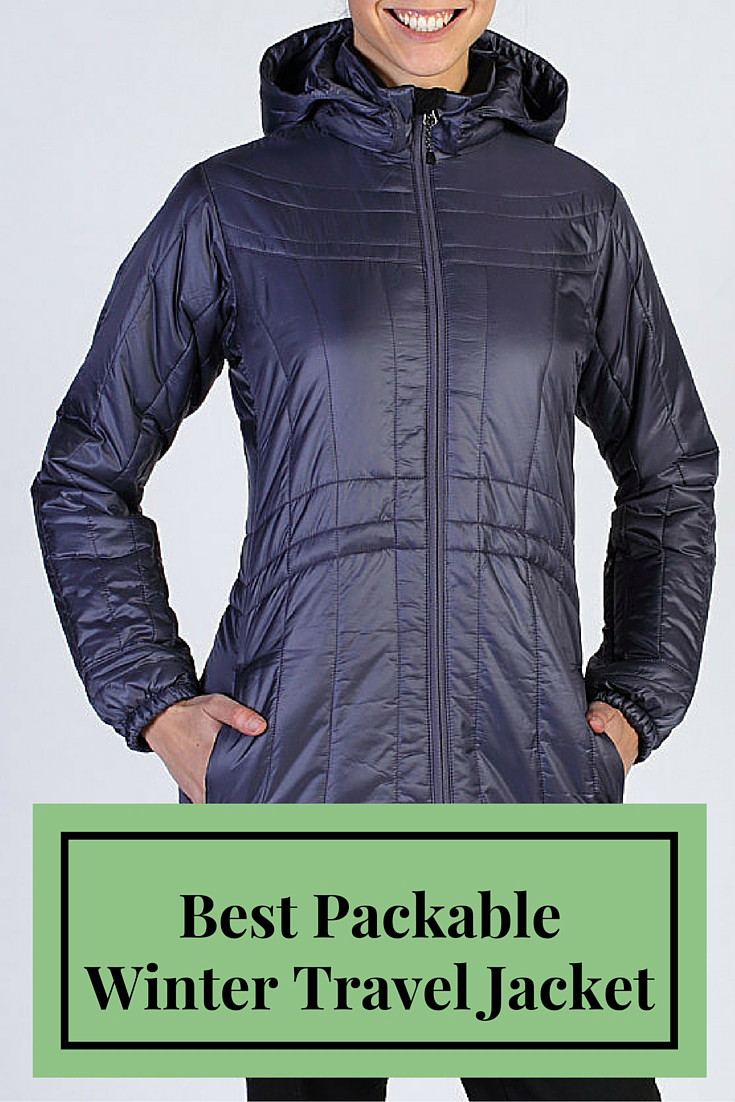 I love it for several reasons, but here are the highlights:
The great length: I like my coats to cover my butt in the winter months, especially at home in Colorado in January. It can get bitter cold! My go-to clothing this season is typically tunics and sweaters paired with leggings and tall boots, and my long-ish tops would just look ridiculous with a hip-length coat, so the mid-thigh length of this winter travel jacket is awesome.
It packs into a neck pillow: Not only can this jacket be smushed to fit in between luggage in an overhead bin, or smashed into a carry-on bag, without harming it, the coat is meant to be rolled up into a neck pillow via the interior pocket designed specifically for this use! This built-in stuff sack in the shape of a neck pillow is brilliant. In fact, I used this jacket as my neck pillow on my trans-atlantic flights in December. The inflatable pillow I'd brought wasn't firm enough, and this one provided much needed firmer support. I cannot stress how much this feature rocks.
Hidden interior pockets: In addition to the pillow-specific pocket, there are specific spots just for eyeglasses (which is fleece-lined to protect lenses) phone and lip balm. A big interior pocket could fit a small paperback book and even has a super-secret zipper pocket inside that pocket. And if that isn't enough, it's got another super-secret slim pocket in the sleeve, too. If you've overstuffed your carry-on or purse, this coat can absolutely help you carry even more items on the plane!
Classy colors: I went with the "Meteor," which is a shiny grey-purple (pictured here), which is great since it seems like I'm wearing a lot of grey and black this winter. There's also "Highlands," which is a a sort of olive green, and standard black, as well.
Cinch waist offers a bit of definition: The slightly curved, stitching/quilting of the coat already provides some femininity at the waist, but you can also cinch it tighter if you like, with interior elastic.
Hand pockets zip shut: I like that I can keep items, like a hotel room key or a few dollars of cash, handy and secure in these exterior pockets.
I think if there were one thing I'd change about the ExOfficio Storm Logic Coat, it's the elastic at the wrists. I'd much prefer to have longer sleeves that don't end like these cuffs do. I'd rather have interior cuffs that are a bit looser, with the exterior jacket sleeves a bit longer. (If that makes any sense.) My long arms make me picky about sleeves!
As I noted, I took this lightweight, packable coat on my trip to Europe in December — and while I wore it while driving to the Denver airport and on the plane, and again during a snowstorm when we returned to Denver, it was too warm while cruising and exploring ports in Spain, France and Italy to wear it! I couldn't believe I didn't need a winter coat, but I didn't (which was a bummer and a blessing). Still, I did use it as a travel neck pillow, which was great, and I'm getting plenty of use from this coat at home here in Colorado, where we received a bunch of fresh snow over the holidays, and temperatures have been around 20 to 35 degrees Fahrenheit during the day. It's kept me warm while standing out in the cold after dark during a holiday tree lighting in Aspen, and while running around doing errands in the snow.
ExOfficio also makes a Storm Logic shorter jacket and vest for women, and a jacket and vest for men, too. The thigh-length Storm Logic coat retails for $200 on the ExOfficio website.
I was given a complimentary Storm Logic coat for purposes of review.