Honeymoons and anniversaries are probably the most popular types of romantic travel. The best honeymoon destinations tend to focus on leisure and natural beauty (rather than, say, the edification of museum strolls). The Vacation Gals are big on family travel, of course; inspiring parents to take their kids on interesting vacations is one of our great passions. But maintaining a lively, compassionate bond between those parents is just as important. Happy and healthy families are predicated on thriving relationships, after all. Romantic getaways are just as important as other types of travel. The most romantic places in the world for honeymoons are also, perhaps, the most romantic overall.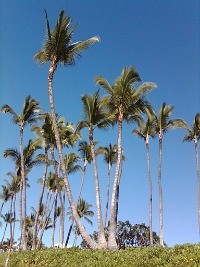 The best honeymoon destination recommendations that the American Society of Travel Agents (ASTA) has derived from a poll are all in tropical spots. The top 5 honeymoon destinations, as judged by travel agents helping their North American travel planners put together perfect romantic getaways, are as follows:
1. Hawaii
2. The Caribbean
3. Mexico
4. Tahiti
5. Bora Bora
That's right, Francophiles, Paris didn't make the top 5 best honeymoon spots, as requested by travelers planning their honeymoons!  I was surprised to see that the top destinations for honeymoon planners were all, unilaterally, tropical beach spots — but when I considered this, it made sense. France is expensive (not that anywhere that requires air fare isn't automatically more pricey than somewhere drivable), and this poll was limited to travel agents planning romantic trips for North Americans. Say what you will, we Americans sure love our beach vacations.
Survey respondents ranked Hawaii as their top pick for best honeymoon vacation destination. No surprise there; Hawaii is simply wonderful. The most popular of the island chains for travel — Oahu, Maui, Kauai and the Big Island — are diverse with distinct pulls for romantic and family travel. From Volcanoes National Park on the Big Island to the incredibly lush, "old Hawaii" feel of Kauai, there's something for every tropical honeymoon wish. Quieter Lanai with its Four Seasons resorts is ideal for a top-notch romantic getaway.
All the way across the US, the Caribbean is the second most popular spot for honeymoon travel. I had my own honeymoon in St John, a US Virgin Island, and have been to several other Caribbean islands — the romance therein is unmistakeable. Like Hawaii, the different Caribbean islands are all distinct; even the three US Virgin Islands are easily distinguished from each other. Some are flatter and drier (Aruba, Bonaire and Curacao, i.e. the ABC islands) and some have mountains and rainforests (including Puerto Rico and the British Virgin Islands).
Mexico is the third most requested destination for US honeymooners using ASTA travel agents. This was great to see, as Mexico's border states are suffering an excruciatingly bad time. Most of Mexico isn't, and popular travel destinations like Cancun and the Yucatan Peninsula, Cabo and Puerto Vallarta remain safe and popular vacation destinations — and the country as a whole benefits from legal economic growth.
The fourth and fifth top ranked honeymoon destinations are harder to get to from the US, making them both more elite and pricey for upscale romantic getaways, and more secluded for honeymooners (in fact, the islands' secluded location was one of the reasons that ASTA travel agents noted that their clients wanted). Now, I've never been to Tahiti or Bora Bora. The South Pacific islands are famous, though, for their natural beauty and incredibly luxurious resorts.
Where is your favorite romantic getaway destination? Sure, I had my honeymoon in one of the top 5 ranked spots, but since then I've grown to love many great romantic destinations not on the list. All travel is good. May your next romantic trip be to the spot of your dreams.