Valentine's Day weekend is, for obvious reasons, the most popular time of the year for romantic weekend getaways. Hotels, resorts, and B&Bs are all too happy to entice couples with romantic deals and packages for Valentine's Day; any frequent traveler's inbox is surely as deluged as mine is with hotel offers regarding champagne and spa treatments this month. But no matter how enticing the travel package or deal may be, the most important thing for a couple planning a romantic getaway is the destination. Here are some of The Vacation Gals' most recommended spots as this year's 5 best romantic weekend getaways in the US.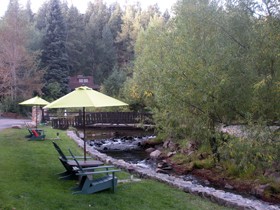 ColoradoGal Kara Williams loves to escape to Denver, Colorado from her rural home. It's a few hours' drive, so it feels like a getaway, but of course there are a plethora of things to do in Denver (it helps that she's already acclimated to the elevation). For couples, she recommends the historic and sophisticated Brown Palace, located right downtown. Otherwise, for couples wanting a more remote location, she suggests a B&B. She says, "Since 2009, when I last stayed at Highland Haven bed and breakfast outside of Denver, the owners have built fantastic new treehouse lodging! In between two huge blue spruce, you'll find 850 square feet of 'romantic luxury in the trees': a king bed with multi-colored glass chandelier hanging above, fireplace, two-person steam shower and a hot tub! I loved this creekside inn before, but now that it has this private little love nest for visiting couples, I recommend it even more!"
For West Coast couples looking to splurge on a long weekend of luxury (okay, maybe a week, because it's quite a trip from the mainland), ColoradoGal recommends Lana'i. This is the least populous of the main travel destination islands of Hawaii, and there are only a couple of lodging options — but the Four Seasons Manele Bay or the Four Seasons Lodge at Koele are excellent options. Stay at one, but enjoy signing privileges — and all of the amenities — at the other. As pampering and luxurious as any Four Seasons resort, the privacy added by Lana'i being relatively remote and quiet makes it a top choice for a swanky Valentine's Day.
TwinCitiesGal Beth Blair chooses Niagara Falls, New York for an ideal romantic destination in the US. It's very cold in upstate New York and Ontario in winter, of course, and the famous Maid of the Mist boat ride is closed for the season, but lookouts for viewing the majestic falls are all open. While Beth last traveled there with her family, couples can indulge in a Niagara wine tour. Skylon Tower at Holiday Inn is a revolving dining room restaurant right next to Niagara Falls, and 775′ tall. It's a spectacular view, and the only one like it in the region.
As for me, one of my favorite places for a best romantic weekend getaway in the US is Napa Valley, California. It has some of the best restaurants in the United States, if not the world: Thomas Keller's French Laundry is world famous, and while it's a bit over our affordability level, his Bouchon and ad hoc restaurants are fantastic, wonderful substitutes. The romance of sweeping vistas, rolling hills of vineyards, and wine tasting appointments throughout the day cannot be overstated. Try Niebaum-Coppola's Rubicon Estate for a mix of wine tasting and viewing old-timey movie memorabilia. There are a lot of great places to stay in Napa Valley; for a sense of privacy and luxury, I recommend the Carneros Inn. Unlike the more famous Auberge du Soleil, each room at Carneros is its own cottage.
Sedona, Arizona holds a special place in my heart for vacations as well. It's almost the opposite, geologically, of Napa Valley. No rolling green hills and cool ocean breezes; instead, red rock formations against the clear blue sky make for some of the most beautiful vistas in North America. "Red Rock Country" has attracted New Agers for decades — some say the Vortex here is a center of spirituality. Active couples can hike, bike ride Sedona (though not on the rocky cliffs!) or go on a jeep tour to see more of Sedona's backlands, while the Southwestern shops on Rte 87 provide a mix of tourist claptrap and unique, special crafts. Go with the crafts, they'll be more memorable than that Red Dirt t-shirt.  My top pick for the best romantic place to stay in Sedona is Enchantment Resort. Its spa, Mii Amo, is absolutely one of the best spas I've been to, ever — and that's taking into account the goggle-eyed swooning I was feeling during the couple's massage there. For added romance, check out the Suite Romance Package.
Now, The Vacation Gals' picks for 5 best romantic getaway spots in the US is by no means extensive; narrowing it down to five was hard. New York City, Boston, even theme park wonderland Orlando can make for pretty terrific romantic getaways if the lodging and attractions therein appeal to you as a couple.  Wherever you go for Valentine's Day, the most important aspect of the weekend is that you have fun and enjoy each others' company. Have a great trip!