Flagstaff is one of my favorite cities in the Southwest. It's the best spot to make "home base" during a trip to northern Arizona, with Sedona 30 miles to the south and the Grand Canyon just a 50-odd miles away. American history buffs love Flagstaff for its history – Route 66 being part of the main thoroughfare – the mellow nature of Historic Flagstaff (downtown) is relaxing and fun, and there are enough National Monuments nearby to satisfy any cultural traveler. Here are my Top 10 Best Things to Do In and Around Flagstaff, AZ.
Top 10 Best Things to Do – Flagstaff, Arizona
Grand Canyon National Park – The Grand Canyon is clearly the biggest draw for travelers considering a vacation in Flagstaff; there are many tour and day trip companies around, but Flagstaff is the best place to stay for the trip. If you stay right near the Grand Canyon (at the famous El Tovar Hotel for example), then your vacation will have to be "all Grand Canyon, all the time." Stay in fun Flagstaff instead, and make a couple of day trips to the Grand Canyon. Check out the Bright Angel trail, especially if traveling with young children. My kids managed part of it quite well.
Sunset Crater Volcano National Monument – Anyone who's been to Hawaii's Big Island will be struck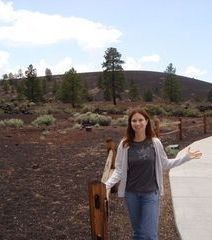 by the physical similarities to much of that tropical isle and the terrain around this part of Arizona.  The ground is largely composed of lava rock, with some hardy trees struggling, here and there, for a toehold. It's so interesting to consider the ancient volcano here, with the Grand Canyon to the north and the Coconino National Forest nearby; northern Arizona is incredibly diverse. The Lava Flow Trail is an easy one-mile loop walk along the base, 1/4 of which is paved.
Humphreys Peak – The highest point in Arizona, Humphreys Peak is a popular tourist destination for outdoorsy folk. If you're up for a hike, you can get to the peak along Humphreys Trail; it's around four and a half miles, uphill (consider yourself warned). From the peak, the vista of Northern Arizona is spectacular – the Grand Canyon, Sedona, even the desert mountains way south in Phoenix are visible on clear days. There's a lot of snow October through May.
Walnut Canyon National Monument – Walnut Canyon is my favorite of these smaller Flagstaff-area National Monuments. Walnut Canyon dates to the same time period as the Grand Canyon, but is much, much smaller. It's manageable, and the trail takes visitors around the middle level of the canyon. Here you can see Sinagua cliff homes – and even stand in them, respectfully. These cliff dwellings were part of the small Sinagua civilization in Walnut Canyon, built some time in the 1100's. It's quieter here than the Grand Canyon, and absolutely worth the trip.
Wupatki National Monument – This ancient pueblo is preserved well, and tended to by archeologists interested in the Wupatki culture. The Wupatki lived here circa 1100, and later merged with the Hopi. No one knows exactly why, but it was a peaceful integration. A short hike and self-guided stroll around the pueblo easily takes under an hour.
Sedona – Frequent readers know that Sedona is one of my top 10 favorite vacation towns in North America. Flagstaff is a great point between Sedona and the Grand Canyon, and I recommend it for a southwestern vacation covering both destinations. There are some great, fun activities in Sedona for a day trip.
Jerome – This town used to be the state capital, and once was the fourth largest city in the Arizona Territory…but that was a long time ago. Once the copper mine closed down (and the "ladies of the evening" moved on), Jerome seemed destined to be an Arizona ghost town. Today, remnants of the Wild West are on display and there is a thriving, lively artist community as well. Like many small towns in America's Old West, Jerome could have emptied out. As locals like to say, the "hippies" saved Jerome from this fate. Small-town friendliness merge with the progressive attitudes of many artists, creating a welcoming, unsuspicious atmosphere and very interesting art galleries.
Historic Flagstaff – Honestly, I love exploring the town of Historic Flagstaff. Get a map; this is the part of
the city where the charming shops, great  restaurants, and upscale chains are. I especially liked finding a "Life is Good" satellite store here, a couple of antique stores with genuine Old West memorabilia, the Flagstaff Brewing Company. and some fantastic southwestern barbeque at Bigfoot BBQ. Brookside Chocolate Company was great; hand-crafted chocolates that vary from delicate to decadent. There are many other places to eat in Historic Flagstaff, of course. What a fun town!
Lowell Observatory – Founded in the 1890's, this is one of the oldest observatories in the southwest. The staff are very knowledgeable and eager to share their love of the site's history, collection of old telescopes, and what guests are seeing through more modern telescopes. The Lowell Observatory is open year-round every day except Sunday.
Museum of Northern Arizona/Arizona Historical Society Pioneer Museum – These two museums are very close to each other, and manageable enough in size that a both can be done together. The Museum of Northern Arizona highlights the biology and ancient history of the Colorado Plateau, along with a fine arts gallery.  The Arizona Historical Society Pioneer Museum is Arizona's oldest historical agency (circa 1864). Besides exhibitions – and it has over 3 million objects in rotation – the Arizona Historical Society offers educational outreach and research regarding Arizona's long history up through today's development.
Looking for places to stay in Flagstaff, Arizona? Click here!
Check out TripAdvisor reviews of hotels in Flagstaff, Arizona.
This article includes affiliate links, which means The Vacation Gals may earn a (small) commission if you click the links and/or make a purchase.