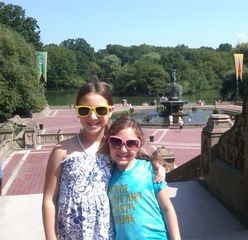 My family spends every spring break vacation in New York City. It's the best! My children were born there, and it's a fun home away from home for us. Spring Break in NYC sure doesn't have the connotations of Florida and the Caribbean – no drunk girls in bikinis or frat boys behaving badly – and since I'm so comfortable in NYC, I see it as a completely family-friendly place to travel.  Every time my kids come to New York City, they have a few fun things they want to do. These are some of the best things to do in NYC with children.
The Best Things to do with Kids in New York City
American Museum of Natural History – Those of us who grew up going to this museum on family outings all remember running around underneath the life-size blue whale suspended from the ceiling right by Biodiversity Hall in Ocean Life. The Museum of Natural History is incredibly fun for kids. The Discovery Room, for small children, is perfectly hands-on and interactive, and the staff doesn't let too many kids in at once (it's a small space). Older kids love exhibits like the Butterfly Conservatory (seasonal) and the famous, iconic Fossil halls. With dinosaurs, of course. Rose Center – formerly the Hayden Planetarium – is one of the best planetariums in the country.  Also: If your kids are older and appreciate art, the Metropolitan Museum of Art is the best around.
Broadway shows – You can't beat a live show in NYC, on Broadway or off, for world-class entertainment. If you decide to take your kids to a Broadway show or musical, make sure that it's one that is appropriate for their ages. Those puppets on Avenue Q look cute, but what they say would make Oscar the Grouch blush. Long-running shows that are better-suited for kids include The Lion King, Mary Poppins, and Wicked, but Broadway is the most sought-after venue in the world – shows are constantly changing. Also: Older kids with a tolerance for lack of narrative – and loud noises – eat up the Blue Man Group and Stomp, both off-Broadway.
Central Park – Spring is the best time of year to visit Central Park, along with, well, autumn. And summer. Okay, and winter, Central Park is awesome! New York City's backyard has a beautiful, refurbished old-timey carousel (watch for those tourist trap balloon carts, though) that little kids love, and huge 15-acre Sheep Meadow is one of the best spots in the city for little kids to run amok.  Bethesda Fountain, in the Bethesda Terrace by the lake, is probably one of the most photographed points in Central Park. The Great Lawn is where to go to find the Delacorte Theater, which is home to the free Shakespeare in the Park series in the summer. Also: Riverside Park is long and thin, stretching along the Hudson River from 72nd to 158th St. Lots of pick-up games and dog walkers, and the 79th St Boat Basin is a scenic place to relax.
Central Park Zoo – This zoo is a real institution on the east side of Central Park.  My kids love the Central Park Zoo; it's a small zoo, especially compared to the Bronx Zoo, but the polar bears, the puffins and penguins, and the rainforest exhibit are wonderful. If you go to the rainforest exhibit, be sure to go upstairs – yes, it's muggy – and look at the brightly colored poison dart frogs. The California Sea Lions, during feeding time, create quite a show (with a little help from their minders). Also: The Bronx Zoo is bigger, with a huge diversity of species. It's not in Manhattan, though; the subway trip and walk is just under hour.
Chelsea Piers Sports & Entertainment Complex – Right at 23rd and the Hudson River, this sports complex is a big deal for NYC. There's rock climbing, soccer, basketball, golf driving range, bowling, and more. Chelsea Piers is incredibly popular with residents and tourists alike, so prepare for crowds. Oh, and parents – did I mention there's a SPA here? I haven't experienced a spa treatment there yet, but I may have to during my next vacation in NYC.
Dylan's Candy Bar – Yes, it's really just a gigantic candy store. I know. But my kids insist on going to Dylan's each time we travel to New York City, so I'd be remiss by not including it in a best things for kids list.  Name a candy, and you'll probably find it here. From old fashioned salt water taffy to Twilight New Moon themed candy hearts, the history of sweet stuff is on display here. The last time we went to Dylan's I was pretty disappointed in their upstairs ice cream shop; it was understaffed, and those working there were petty apathetic. I'd recommend keeping your children downstairs, that's where all the candy and fun is.  Also: Serendipity, on the Upper East Side. The frozen hot chocolate and foot-long hot dog will keep your kids full of energy for the rest of the day.
There are, of course, many other fun things do with with kids in New York City. These are my children's favorites; I've already promised them that we'll go back to The Met and take another look at the mummies over spring break. We're always up for new travel experiences, though. Any suggestions?
Save