The best tropical vacation destinations offer more than a break from the winter chill; terrific activities and sights for memorable winter romantic getaways and family vacations add to the appeal of a top warm winter vacation spot. From all-inclusive Mexican and Caribbean Christmas vacation ideas to top winter travel destinations in southern Europe, our travel experts all have their favorite winter vacation recommendations. Notably absent from their picks, though, is a popular spot —Walt Disney World. Perhaps it's too obvious a choice? In any case, The Vacation Gals and other travel experts' recommended best winter vacation destinations hopefully give travel planners inspiration.
Riviera Maya, Mexico – ColoradoGal Kara Williams adores Mexico's Riviera Maya for tropical winter vacations; in fact, her family is hoping for another all-inclusive vacation there in March. It's easy for her family to get from their Denver home on a direct flight to Cancun. From there, it's a short hotel-shuttle ride to any number of all inclusive resorts that dot the coast from Puerto Morelos to Tulum. Her family has fond memories of their stay at Azul Sensatori, with its great pool-butler serivce, extraordinary meals, and ocean views. Travel in the Riviera Maya can include visits to Xel-Ha or Xcaret (ecological water parks), day trips to Mayan ruins, and many other outdoor activities, from snorkeling in cenotes to ziplining through jungle canopy.
The Caribbean – TwinCitiesGal Beth Blair recommends a Caribbean vacation for tropical winter travel. The
white sand beaches, turquoise ocean, and lack of tourist hubbub makes Turks and Caicos the epitome of a tropical island getaway winter getaway spot. The flight is only a short hop from Miami but it feels worlds away. In addition, St John in the US Virgin Islands is similarly quiet and peaceful for a Caribbean island vacation destination.
Big Island, Hawaii – Gary Arndt of Everything Everywhere spent most of his life in Wisconsin and Minnesota, and has come to the conclusion that winters are best experienced where there's, well, no winter. One of his favorite places is the Big Island of Hawaii. The ambient temperature should keep you warm, and if that isn't enough there is always extra heat from the volcanoes. If you find yourself missing snow during this tropical vacation, you can always go to the top of Mauna Kea, which is covered with snow in the winter.
Cusco, Peru – Wandermom's Michelle Duffy told us, "wearing yellow underwear is only one of a long list of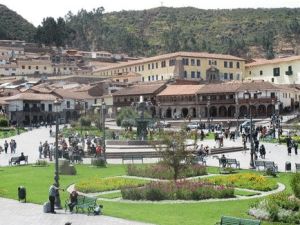 Peruvian New Years' holiday traditions. As we counted down to the New Year my toddler loved trying to eat twelve grapes from my glass of bubbly. Kids love funky and funny differences between cultures, and South American countries seem to have more than enough to go around – particularly Peru. From the mountains in the North to the Incan city of Cusco high in the Andes, Peru has something to offer anyone looking to escape from the cold Northern winter."
Crete – Andy Hayes of Sharing Travel Experiences recommends Crete as a top warm winter vacation spot. Most people assume that the only things to do in Crete are sun, sand and surf related. While a lazy afternoon with a cocktail in the sun is definitely a must-do, the island has many other great activities. Hiking is a huge draw, as are the geology and historical aspects. And come hungry; many say Crete has some of the best food in Greece. Andy warns that winter weather can be varied, so be sure to pack both an umbrella and sunblock.
Sicily – Everyone's favorite Italy resource, Italylogue's Jessica Speigel, told The Vacation Gals that her pick for a winter getaway is the island of Sicily. Sicily is a popular summer destination among Italians because of its spectacular beaches, but in winter it's one of the parts of Italy that's most likely to still have decent weather and is full of things to do and see (including some fantastically preserved Greek ruins in addition to the Roman ones). If the weather does turn sour, you've got an array of museums, churches, and indoor attractions to keep you warm. And hey, if you get a yen for snow, you can always ski on Mount Etna! One of the options for how to get to Sicily from Italy includes a train that actually goes on a ferry boat – fun for the kid in everyone.
Mexico – Barbara Weibel of Hole in the Donut writes, "When The Vacation Gals asked me for my favorite
winter vacation destination, I didn't have to think twice. I spent four months backpacking around Mexico this year and it quickly became one of my favorite places in the world." Barbara explored historic colonial cities like Guanajuato, swam next to whale sharks in La Paz in Baja California Sur, and lived among the Tarahumara Indians. Barbara especially recommends Merida in the northeast corner of the Yucatan. Merida overflows with culture and is one of the best bases for exploring scores of Mayan ruins scattered throughout the peninsula.
Maui, Hawaii – As for me, I love the Hawaiian islands. They're each diverse enough that different winter
vacations can be had on each, but for the best all-around tropical winter vacation, I'm going to recommend Maui. Family vacations here can't be beat, what with Whalers Village and its museum in Lahaina, the Maui Ocean Center Aquarium in Wailuku, the soft sandy stretches of Wailea (perfect for first time snorkeling), and a wide range of lodging possibilities. The frequent sightings of brides attest to the romantic nature of Maui, making it a top spot for destination weddings and honeymoons. Adventurous travelers will have a great time hiking around Iao Valley State Park and Haleakala, a dormant volcano and US National Park. Maui really is that rare island that has something for everyone, and I can't recommend it highly enough as a best tropical winter vacation destination.
Top travel experts also weighed in with their picks for top winter vacation spots — ski and snow edition. Warm, cold, or both — make a winter vacation experience right for your travel preferences.