Bacon, beer and beautiful weather… we reveled in pork product in the mountains today! My family and our visiting Florida friends spent the afternoon at Keystone's River Run Village enjoying all the bacon we could eat during this inaugural Blue Ribbon Bacon Tour weekend event in Colorado.
The seven of us (4 adults, 3 kids) inhaled the following:
At least 45 slices of hot-off-the-griddle applewood-smoked, double wood-smoked and pepper bacon
1 tempura fried bacon with gravy
3 slices of bacon pizza (with funny names like "6 Degrees of Kevin Bacon")
1 chocolate covered bacon with ice cream
1 caramel apple (I hadn't given my son enough Bacon Bucks tickets for the bacon-covered one – oops)
1 bacon cheesecake
4 snow cones
a couple samples of bacon fish tacos and soba noodles with bacon (that the nice vendors gave us for free)
8 cans of Pabst Blue Ribbon
1 bacon Bloody Mary
Bigtime bacon coma.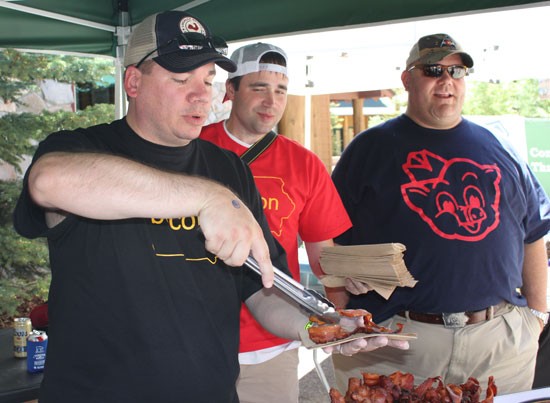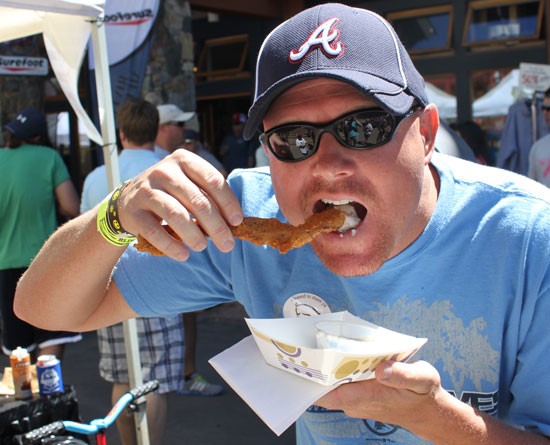 The Blue Ribbon Bacon Tour (aka Bacon Fest) continues tomorrow, Sunday June 26. Enjoy the live music and entertaining scene for free (Blue, the mascot pig makes appearances in the village, posing for photos), or pay $30 for unlimited bacon sampling vendors Eden Farms, Daily's and Tender Belly. With that unlimited pass, you also get an ice-cold can of Pabst Blue Ribbon, souvenir baseball cap and drink coozie.
Otherwise, you'll pay about $2 to $8 (via Bacon Bucks tickets) for different food items I listed above — plus bacon tamales, bacon crepes, bacon cannoli, bacon confit beef sliders, bacon-wrapped meatballs… and more.
My advice for those who partake in Keystone's Bacon Fest this year (or next, if it becomes an annual event): drink a ton of water. Hours later, I can't seem to hydrate enough with all the salt in my system. Thankfully, the kind folks from Keystone Neighbourhood Company place a ton of water coolers and paper cups in central spots throughout the village to help with bacon bloat!
Thanks, Keystone for inviting my family to the Blue Ribbon Bacon Tour. This bacon festival is one special event that should have a permanent home in the Colorado mountains!