If Buffalo is known for one thing, it's Buffalo wings. Like most places that take claim to a specialty food there is more than one restaurant locals claim the best. So what did we do? We went to both.
Our first night in town we went to Duff's which is located just outside of Buffalo on Sheridan Drive in Amherst (not far from University at Buffalo's Amherst Campus). My husband spent a year at UB and this was his favorite hangout back in the day. The restaurant is small and to the point: It's obvious you're there for one thing and that's wings, well, maybe two if you drink beer.
These aren't your normal frozen wings. These are the real thing and they are good and unless you're used to eating spicy food, expect your mouth to burn.
One of the first things you will notice is the servers' shirts say, "Medium Is HOT, Medium Hot Is VERY HOT, Hot Is VERY, VERY HOT".
Many, many years ago Duff's had a limited menu offering mild, medium, hot and suicidal. Today,there are many more variations to appeal to more customers. My husband and I indulged in the medium flavored and they were good! In hindsight we would have stepped it up a notch to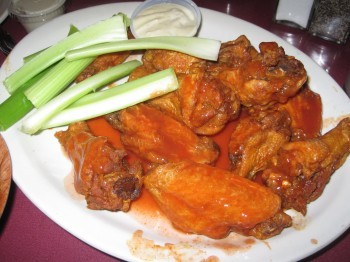 medium-hot to encourage a little more sweating. You will also find the classic beef on weck (roast beef on a salted kummelweck roll) served with pure horseradish.
The next night we went to the Anchor Bar, the history here dates back to the 60's and it's considered the birthplace of the Buffalo Wing. The Anchor Bar is located in downtown Buffalo on Main Street and is a much bigger establishment, and the walls are decorated with eclectic memorabilia and a bar is situation in the front of the restaurant. The wings have a much shorter list than their counterpart: Mild, Medium, Hot and Suicidal but Anchor Bar has an extensive menu which included sandwiches, pastas, salads and more. This time we did order
hot and we handled them so well we figure we'll have to return to try the suicidal wings at some point. Yet, we talked to a local who orders them as mild as he can. "Your body can't handle the spice after a certain age," he said with a laugh.
Don't get me wrong, both locations left a mild burn around our lips and I'm not lying when I say both locations had really, really good wings. The flavor was good, the wings were meaty and my mouth waters when I think about them. And a bonus: both restaurants have kids' menus. I do vow to never eat Buffalo wings outside of Buffalo. What's the point? When you've had the real thing, there's no turning back.