Minneapolis and St. Paul (aka the Twin Cities) have a known reputation for year-round family-friendly outdoor activities.  Theme parks, lakes, festivals, waterfalls and even a free zoo are only a few of the things to do in the area.  Recently my kids and I went to our local waterpark which is called Cascade Bay in Eagan – only minutes from Mall of America. The waterpark sits in the center of town, next to the Eagan Civic Arena where my family has spent many hours ice skating. Also adjacent to the property is our local library which has a view of the park's tallest waterslides.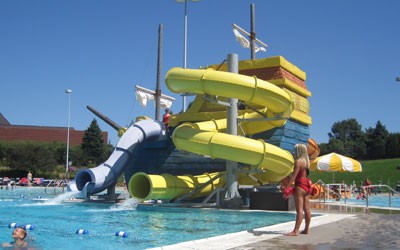 My kids are finally old enough and, most importantly, strong enough swimmers that I felt confident taking them to a waterpark alone.  Thus, the three of us recently packed up our beach towels, sunscreen and bottles of water for a day of fun in the sun. In all honesty, I wasn't sure what to expect but it turned out to be a pleasant surprise. When my husband arrived home from work that evening I'm sure he was entertained as I gushed on and on about this Eagan, Minnesota waterpark treasure that, until now, I had only heard about. Here's why you will find us frequenting this nice local waterpark quite a bit next summer.
1. Size.  Not too big, not too small. That's the best way to describe Cascade Bay. There's a total of six waterslides, including a tube ride  that takes riders from the slide into the lazy river, two longer slides (the green is the fastest) and three other shorter rides that sprout off of the ship (see top photo).  Be forewarned, two of the slides empty into five-feet water whereas the orange slide on the other side is perfect for tots.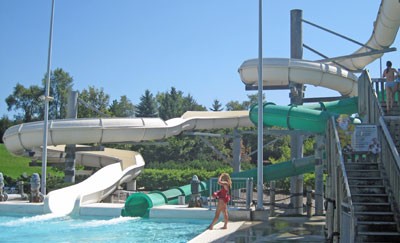 2. Affordable. While some waterparks are fairly pricey,  as of this post entry fees are only $10 for adults and $8  for kids (18 months/under are free). But there's also a season pass option. That's not all, parking is free and the snack bar food and snacks are reasonably priced.
3. Safe. The  lifeguards are observant and change positions regularly.
4. Free sunscreen. Apparently free sunscreen at waterparks is a growing trend, and Cascade Bay kindly offers this nice perk.
5. Clean. This is self-explanatory, but the entire property, including restrooms, were clean.
6. Lockers. With a nine-dollar deposit, guests receive a locker key bracelet which offers unlimited use of a locker. Upon return of the bracelet, the guest receive five dollars back. In other words, four bucks for a locker is a great deal and the bracelet locks are super cool.
And that's our local Eagan waterpark treasure; it really is a great place for all ages to spend a summer day.