Cesky Krumlov, a couple hours' drive from the Prague castle district, is a familiar pit stop for tourists road tripping through the Czech Republic. Its historic center, Old Cesky Krumlov, is a UNESCO World Heritage Site, and its castle and and theater are sought after for photo opportunities. Insight Vacations hosted our contributor, Annemarie Dooling, for a Signature Experiences trip that included an overnight stay here. As she learned, Cesky Krumlov provides a richer, more meaningful travel experience when tourists put their cameras down and take a longer look around. — Ed.
While the sun shines in Cesky Krumlov in the Czech Republic, be prepared to dodge through crowds of day trippers. But after the sun sets, prepare to have the fairytale city all to yourself. The centerpiece of this medieval city is Cesky Krumlov castle, built in 1240 and settled by the Eggenberg Bohemian power family before it was finally revisited as a tourist attraction. It stands today in complete complement with the small city surrounding it which, one fellow traveler noted, looked like a Disney set it was so perfect, and so packed with history that in 1992, it was added to the UNESCO World Heritage list.
I was on the third day of my Insight Vacations Bohemian Rhapsody tour. We'd just driven the two hour coach ride from Prague to Cesky Krumlov in the Czech Republic, and scored what the Insight team refers to as a Signature hotel: five-star Hotel Ruze is a gorgeous, five-star hotel. It's by all counts the best hotel in Cesky Krumlov, and a centerpiece for its service as much as its decor. The Hotel Ruze rooms, all unique in this historic building, feature numerous medieval details: mine had two carved wood beds and two little windows with heavy curtains that overlooked the clay colored roofs of the village like dollhouses dotting green rolling hills.
By day, my group of 20 journalists and six Insight employees wandered around the castle, ooh-ing and ahh-ing most loudly at the authentic baroque theatre inside the castle (it reminded me of something out of  Smashing Pumpkins video from the 90's). Our guide, organized via Insight, was mousy and reserved, with large saucers for eyes that came alive at each historical fact he got to share with the group. His hips jangled with a large ring of skeleton keys and he took amazing pride in being able to share the historical seat of the city with a group of travelers. He was remarkably patient as we took photos of the actual bears in the moat, the animal skin rugs morosely welcoming guests into the main hall, and trudged the entire way up a three-level bridge that resembled a normal hallway as seen through one of those carnival fun house mirrors.
You may know Cesky Krumlov in the Czech Republic as the backdrop for the American horror movie, Hostel. Or perhaps you saw the Guinness ad filmed from the clock tower. But to our guide, the city is better known for its gorgeous castle, once fallen into ruin, annexed by Germany from 1938 through 1945, and again restored for visitor viewing following 1989's Velvet Revolution. He is besotted with his castle and his city.
Following a walk through the castle, we were presented with two options on our itinerary: free time around the city or a bike ride through the Czech countryside. I opted for free time and latched on to trdelník, a round pretzel dusted in cinnamon sugar and served piping hot off a roller. The cobblestone streets were packed and we waited for a few minutes behind a group of Czech gymnasts to receive our pretzels. We fought through more crowds to explore the twisting roads and ended up right back at the top of the hill, at the door to Hotel Ruze with great views of the gardens our friends were biking through.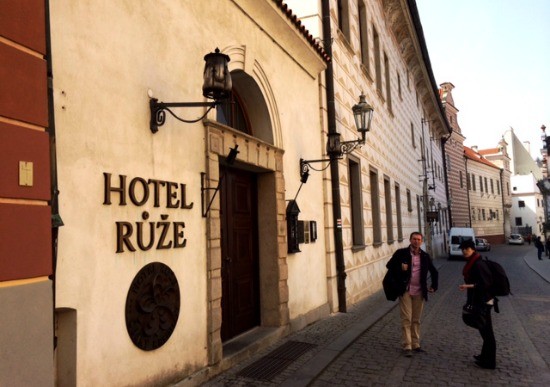 After quick showers and meeting together as a group, we prepared to eat even more with a Bracebridge-inspired dinner in the banquet hall of the Hotel Ruze, complete with drippy goblets of wine, tiny chickens that we ripped apart with our greasy hands, and bowls of fresh veggies. But instead of retiring back to our beds after dinner, we learned that the night wasn't over.
"Who wants to go for a walk?" some brave soul in the group shouted, and we all grabbed light jackets and met by the front door.
If daytime in Cesky Krumlov is a symphony of school groups, backpackers and passers-by, the nighttime is a lullaby. The streets were totally empty save for our group and a tuxedo cat who had been following us since we arrived in town. The sky was so dark that stars were peeking out overhead, lighting out ramble down the cobblestones and toward the castle. It cast a yellow glow on the area around it and we lined up for photos, amazed at the clarity of the night sky and the enormity of this amazing, historic building. One or two pubs lit our path, and you could count the other active windows on one hand. We were well and truly alone, congregated on a wooden bridge above a babbling brook in one of the last medieval cities left in the world. How could it possibly be so quiet? My mind flew back in time to a conversation we had in transit with Insight's CEO John Boulding.
"Cesky Krumlov is a spot for day trips; not many tour companies stay the night. But we believe you get a different experience in this city when the crowds clear out."
Different is an understatement. As a group, we crowded into the final open pub we could find — the city is dotted with them — just as the server announced last call. Taking our time and pulling out a city map, we marked a route for last-minute overnight photo sessions, then slammed down our mugs and went back into the village for another jaunt around a sleeping city. A group of Czech locals had been listening to us, and walked alongside us from the pub, across the castle bridge, and all the way to the main square before saying goodnight and disappearing behind a fountain dated back to the 1300's.
Yes, I had heard of Cesky Krumlov before Insight Vacations took me there. I had heard about the river tubing, the hostels, the castle tour, sure, yes. And there are plenty of those things to entertain your average traveler. In the main square you can locate a company that will take you rafting down the Vltava River, and a handful of hostels with signboards alerting you to free rooms. You can eat your sugary sweet trdelník and buy a magnet from the many street stand vendors and be on your way, if that's the kind of traveler you are. Every guidebook seems to have left out the almost frightening blanket of stars, the echo that surrounds you as your shoes click against the cobblestones, and the bumpy, darkened skyline of tiny two story homes climbing slowly up the mountain toward the castle. So, if you want a quick visit to an amazing medieval village in near perfect condition, spend the day in Cesky Krumlov. But, if you're looking for an experience that's almost magical in its silence, and nearly unsettling in one of those "I can't believe I'm here," ways, stay in the village after the shadows fall and the buses leave. Visit Cesky, yes, and please make sure you stay the night.
___________
Annemarie Dooling is a restless community manager who still buys print travel magazines and talks to internet commenters. Her life highlights include being featured on NatGeo.com, as well as bylines in Time Out, Salon, The Huffington Post, BuzzFeed and others. Between tweets, she lives vicariously through French fashion blogs and Reddit's photography community. Insight Vacations, which hosted Annemarie on assignment for The Vacation Gals, offers an assortment of luxury escorted tours in Europe, Africa, North America and Asia.