A cheap East Hampton vacation sounds impossible to the uninitiated, but it's actually easier than it sounds. East Hampton has a lot of swanky stores and upscale eateries — plenty of things to do to spend your travel dollars in a weekend, if you're not careful —  but there are also lots of cheap vacation attractions in East Hampton (and neighboring towns like Bridgehampton and Sag Harbor) to experience without busting your summer travel budget. I've been spending at least part of the summer out in East Hampton ever since I was a kid, and frankly, I don't even care for the scene out here: well-heeled Bergdorf Blondes in their tennis skirts, acting blase when entertainment megastars sit near them at Babette's Feast for lunch. I live in Los Angeles; I see plenty of that year 'round. When my family and I come to the Hamptons every summer for a vacation, we stay away from that "Hollywood East" stuff, and try to give our children a more genuine travel experience. …Although, the authentic Hampton summer experience may, indeed, involve strolling down Main Street, shopping at Tiffany's and Coach, and preening on the sand at Atlantic Avenue Beach. But that's not MY East Hampton vacation experience, and it doesn't have to be your family's, either.
Cheap East Hampton Vacation Attractions
Ashawagh Hall is a community center that acts as an art gallery. Different local artists' pieces are shown and sold here year 'round,
inlcuding folk artist, painters, and scuptors. The Ashawagh Hall Writers' Workshop allows authors to read selections from their own stories and poems. The annual Artists of the Springs Invitational Exhibition is typically in August. This makes Ashawagh Hall a perfect, cultural respite from the crowds on Main Street and the ocean beaches.
The Pollock-Krasner House and Studio is another artistic Hamptons vacation pitstop. Jackson Pollack and his wife, fellow artist Lee Krasner, lived in this house, and Pollack painted in it until his death (in 1956, in East Hampton). You need to call ahead and ask for a tour, and the most interesting part of the house is the adjacent studio, where the splattered paint all over the floors makes it look as though the entire room is an architectural Jackson Pollack painting. For people interested in "Jack the Dripper," this is a quality thing to do on a summer day.
Charles Parsons Blacksmith Building, right next to Ashawagh Hall, is another cheap Hamptons vacation activity — this one,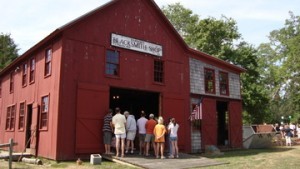 especially of interest to children. My daughters are fascinated by the displays in this historic building and the demonstrations of blacksmithing. The blacksmith building was built in 1886, and was in operation until 1926. Today, the demonstrations are done by a genial blacksmith hobbyist — we consider our kids lucky when the timing works out.
The South Fork Natural History Museum and Nature Center (SOFO) opened around five years ago, hence still flies under the radar of many Hamptons summer tourists. It's a fantastic little natural history museum, though, with live local marine and land animals carefully tended to by the SOFO staff. Kids love the marine touch tank and the "scavenger hunt," and adults seem to really enjoy the quiet respite of the large observation deck. The young SOFO staff members are particularly adept at talking with children and adults alike about the flora and fauna of eastern Long Island. The small butterfly garden hosts an abundance of butterflies and ladybugs (in August, at least), and the nature path meandering
through the large property provides for a peaceful walk. My father is on the board of this nonprofit museum.
The Children's Museum of the East End is right across the street from SOFO, and is also around five years old. Babies, toddlers and children up to age five enjoy the tot-sized "Main Street," with stores and a play vegetable stand, and the dress-up area, and the outdoor playground. Once children age out of the Children's Museum, it's a simple matter to cross the street and let them explore the natural history museum's interactive displays.
The beaches are not cheap, in that you need to have a beach permit sticker in your car window. Temporary stickers cost around $100, and while guest permits used to be allowed on a cheaper, per day basis, the Hamptons towns are making these harder and harder to get. If you can hitch a ride, bike, or walk, it's naturally free to go to one of East Hampton's beaches. Main Beach, Atlantic Avenue Beach and Indian Wells are incredibly popular and crowded during the peak summer travel months. It's quite a scene. If your family prefers a quieter, more mellow beach experience, I recommend going to the bays instead of the oceans. Less
fashionable, yes, but here's where you can find a relaxed atmosphere more in keeping with the rejuvenating experience of a beach vacation.
Sag Harbor Whaling and Historical Museum has an impressive collection. There's one in Amagansett, but the significant whaling and historical museum on the east end of Long Island is in Sag Harbor (bordering East Hampton).  Admission ranges from $1 to $5, making this a cheap Hamptons vacation activity — but it's only open through October. In the off season, it's available for group tours by appointment. Whaling used to be a major industry in the maritime village, and the house the museum is in was built in 1845. The museum has commemorated the whaling past of the Hamptons since 1936, and has an abundance of nineteenth century artifacts to rotate in its four galleries' collections.
The annual Fisherman's Fair is a terrific little fair, held just once every summer on the grounds around Ashawagh Hall. Try to
make this a weekend your family travels to the Hamptons — the Fisherman's Fair is a fun annual tradition that has great activities for younger children (my kids still like to make fish prints with actual flounders, paint, and paper). The clam pies, steamed mussels, and crab cakes are all made fresh with local ingredients, and for the seafood-adverse, the burgers and hot dogs are grilled to order. It's a festive atmosphere, and the crowd is the opposite of pretentious. When our summer Hamptons vacation coincides with the Fisherman's Fair, I love to admire the crafts of Hamptons-area artists as well.
There are other cheap things to do during an East Hampton vacation: Guild Hall has concerts and plays throughout the summer, the Bridgehampton Presbyterian Church (founded 1670) hosts the Bridgehampton Chamber Music Festival (check each one's schedule),
and the East Hampton Historical Society maintains homes and artifacts from centuries past. There are several playgrounds, and Book Hampton supports local authors too. Anyone thinking that a summer vacation in the Hamptons is by nature very expensive, would do well to consider some of these cheap East Hampton vacation attractions.