This year has been the 60th anniversary of the opening of Disneyland, and the Disneyland Diamond Celebration spirit really shines though during the Christmas holiday season. The "Disneyland Forever" fireworks show and Paint the Night, part of the Disneyland Diamond Celebration, are the perfect closing shows after a long day at Southern California's most popular theme park. My family's favorite festivities during Christmas at Disneyland run from mid-November to the end of the first week of January every year. With all the Christmas decorations, Christmas trees, and holiday spirit, there isn't a merrier time of year to go to Disneyland.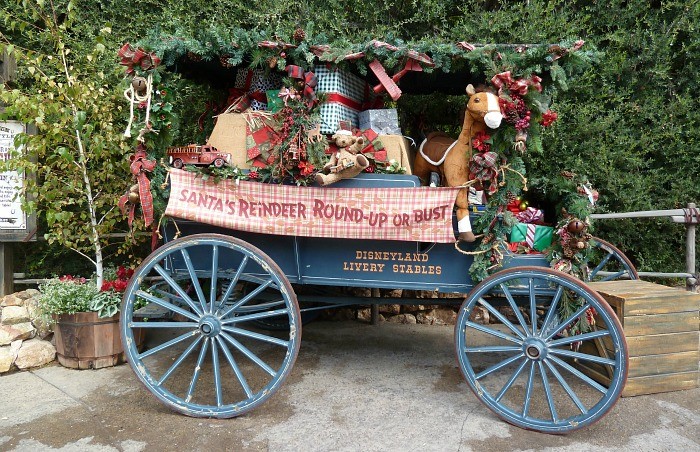 Christmas at Disneyland — favorite festivities in Disneyland Park:
"A Christmas Fantasy" parade is in the middle of the day, and Disney lovers line up early for the best views. There are over a hundred performers, starting with Mickey Mouse, Minnie Mouse and Donald Duck on floats, with Elsa from Frozen somewhere in between, and culminating with Santa Claus himself. Lots of dancers and role blades (emulating ice skating) smile at and very briefly interact with parade watchers, making the parade even more memorable for those lucky children.
At nighttime, the Diamond Celebration "Paint the Night" parade repeats the joy of the daytime
Christmas parade, with the added spectacle of glittering lights and sparkles in the dark. The Disneyland Imagineers who created this parade really outdid themselves, as the bright colors and lights weave their way along the Main Street USA parade route, often flashing in time to the music. Favorite Disney characters make their appearances, and the musicians marching or on floats keep the crowd lively and excited.
Haunted Mansion Holiday is another favorite festivity in Disneyland Park, probably because my younger daughter absolutely loves Tim Burton's The Nightmare Before Christmas, and the art style and characters from that gothic-light stop-motion movie are all part of the decor during the Christmas holiday season. The Haunted Mansion is still as spooky as ever, but with Christmas flair. Jack Skellington is naturally all decked out as Santa Claus here to wish everyone Season's "Screamings."
Christmas at Disneyland — favorite festivities in California Adventure Park:
World of Color — Celebrate! The Wonderful World of Disney. After dark, the water features in California Adventure Park really light up; if you've seen the World of Color show in a previous incarnation, you know what I mean. Images projected onto vertical jets of water, perfectly timed, look like glowing holograms. The timing is impeccable, as visions of new and old animated characters appear with their theme music. The Disneyland Diamond Celebration is celebrated with views of classic Mickey and other original characters.
World of Color — Winter Dreams is the special Christmas at Disneyland favorite feature. Olaf from Frozen is the host, or emcee perhaps, of this limited-time World of Color show with lights, pyrotechnics, music and the water spouts. Yes, there is a sing-along as well as a sort of a highlight reel narrative of Frozen. This World of Color show, which runs over 20 minutes, is not only a Frozen fan tribute though — favorites like characters from the Toy Story movies make appearances as well, in a Disneyland version of The Nutcracker. It's really fun.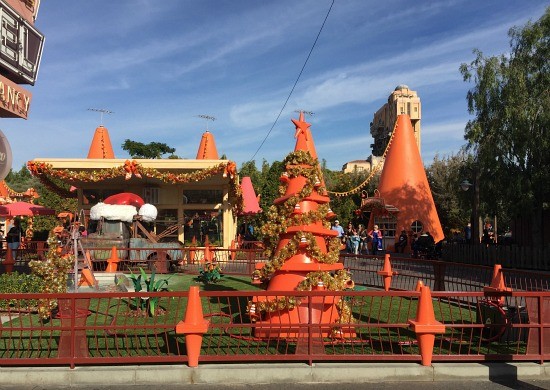 The holiday decor in Cars Land is my absolute favorite California Adventure Park Christmas detail. Strolling through the Route 66-inspired road trip sentimentality is always a kick, but during Christmas at Disneyland, it's so, so fun. Creative Christmas trees are everywhere, and automobile characters from Cars and its sequels get into the holiday spirit as well.  All this with the Cadillac Range mountains (people familiar with Arizona/American southwest topography may feel a pang of homesickness) as a backdrop…planning a trip to Sedona might be the end result, but walking around Cars Land during the holiday season in Disneyland is one of my favorite festivities regardless.
Christmas at Disneyland involves more than just the thousands of glittering bulbs, Christmas trees small and large (such my annual favorite, the Cars Land one made of of Route 66 highway signs) and wreaths galore. Holiday festivities and special shows make Christmas at Disneyland special — albeit crowded — and really fills us with the holiday spirit. Happiness is contagious!
Disclosure: I was treated to four one-day Parkhopper passes and a few Fastpasses, for a media event celebrating Christmas at Disneyland festivities.