Valentine's Day is one of my favorite days of year because it's all about love, love, love and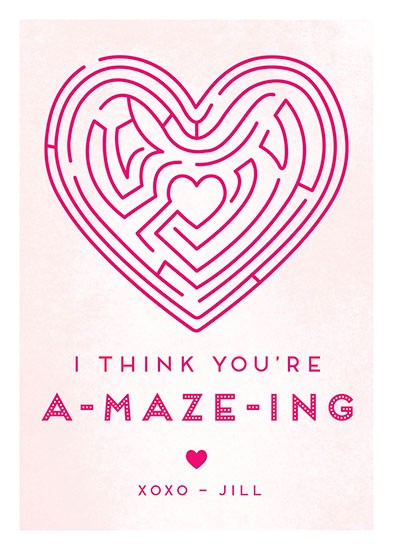 I'm not just talking about romance. There is nothing sweeter than having the kids come home from school and going through their classroom Valentine's Day cards. Growing up the cards I gave to my classmates were usually the latest Saturday morning comic characters picked up from the local grocery or drug store. Today, the choices are much more diverse and, well, adorable. Minted.com is an excellent example of a place to pick out cute and affordable classroom Valentine's Day cards.
Minted's classroom cards are unique – various artists and designers contribute their designs and can be customized with your child's name. Prices starting at only $14 for 15 cards.  We offer many options for her to infuse her child's personality and make it their own, including free die-cut shapes, matching customizable stickers for every design, photo designs, coordinating backers and a choice to mix and matching different designs!
Yes, my Maisie will be giving out her first Valentine's Day cards this year. Now, only to decide on a design…(We decided on the "I Think You're A-MAZE-ING" option above).
One note, these cards are ideal classroom Valentine's Day cards because they are just the right size and are too small to mail.
There is a wide variety but these are some of my favorite choices. Click on the photos to see price options.
This darling Hawaiian-themed card is a sure pick for travelers:
I have a lot of aviation enthusiast friends, so this one, "You're on My Radar" is an obvious choice:
I think of my husband when I see one…"Valentine, you make my HEART RACE!"
This one "I like You to the Moon and Back" rings classic:
Being a Girl Scout leader, I love this Valentine…
Teachers will appreciate this one: "No Lion, You're a Great Student"
You can even have a card personalized with your child's cute face:
Do you have a favorite from the above? You may find one you like even more on Minted.com. Click here to see the huge variety, see upgrade options, and prices.
Also, ask your kids what Valentine's Day cards they love from this fun collection. You may be surprised. My kid's didn't pick the cards I thought they would. (Should I be surprised?) What did your kids choose?
PS: Minted.com has a lot more thatn stationery. Think pillows, lamp shades, and a tremendous assortment of art. Stay tuned for more on that!
This article includes affiliate links, which means we may earn a commission if you click the links and/or make a purchase.