Costa Rica rainforests are in no danger of disappearing, because the country places a high value on its ecological health (Brazil is markedly different). Nonetheless, even dense rainforests like those in Costa Rica benefit from reforestation efforts. My family signed up for a volunteer vacation in Costa Rica knowing that one of the activities we wanted to participate in was reforestation. After watching too many alarming nature shows on television that illustrated the deforestation of the world's important forests, we thought it would feel good to plant trees.
There's a car in our town with a bumper sticker that says, "if you're not part of the solution, you're part of the problem." Now, we don't organize our lives vis a vis bumper sticker slogans, but after my kids asked me to explain that one to them, I realized it was time to put our money where our mouths are (another slogan!) and take some positive action. True Nature Education is the volunteer vacation service program we agreed had the most interesting diversity of service projects; this included land stewardship experiences such as a morning of reforestation.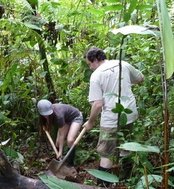 After a day of settling in at Finca Luna Nueva, an ecolodge near the La Fortuna side of the Arenal Volcano, our group set off with a couple of guides and a whole bunch of saplings. These Cecropia trees, ranging from 12″ to 18″ tall, are native to this region of Costa Rica. Young Cecropia trees are ideal for replanting, since they handle the transition stress well. Cecropia trees are also notable because in Costa Rica, two-toed sloths live in them! We saw a few of these famous lazybones hanging out on fully grown Cecropia trees, and it was the height of excitement when one of them was motivated to stir; he scratched his chin, languidly, and we all took a dozen pictures of the big show.
Finca Luna Nueva supports volunteer vacations and service work — the boots we needed to tromp through the rainforest were provided for us, as were the saplings (Finca Luna Nueva is also an organic farm) and shovels. We had a good time finding appropriate spots to plant the young Cecropia trees; I was impressed by how quickly my kids got the hang of it. Our guides marked the best spots to plant trees for us, which was reassuring. There are lots of roots in the ground of any rainforest, and we all had to use a little more elbow grease than I'd expected to dig out the appropriate holes for replanting the trees.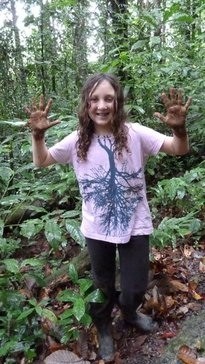 A couple of days later, we returned to the Luna Nueva Rainforest and saw a few saplings that were still wilted. Most had already rebounded, though. It's one thing to feel concern for the world's rainforests and the logging that is shrinking so many of them. It's quite exhilarating to take positive action about that concern. My kids, spouse, and parents all participated joyfully in this morning of Costa Rica rainforest reforestation service work. I'd like to think that, somewhere, a two-toed sloth is slowly, slowly nodding his head in approval.
The Costa Rica rainforest terrain is as lush and tropical as any jungle near the equator.  Like all rainforests, Costa Rica's are replete with natural resources  — some of which have uses unknown to us at this time. What varied medicinal effects do all these tropical plants have? Scientists and medical researchers discover new ones every year. The Costa Rica rainforest is important to protect, not just for the future medical uses of its plants, but for the oxygen it produces, the animals that make it their homes, and its integral part in the puzzle that makes up Earth's habitats. If, like me, you understand the importance of preserving the world's rainforests, consider integrating a half day of reforestation service work into your next tropical vacation. You'll surely have a good time doing good works.