Disneyland during the Christmas holiday season is magical enough to warm the most cynical of hearts. It's hard to stay jaded when surrounded with delighted children, fully committed character actors, twinkling lights, and happy music of traditional Christmas melodies. Even though Southern California could never be the snow-covered winter wonderland of Burl Ives' stylized Christmas season, Disneyland brings that most traditional and wondrous imagining of Christmastime to life, ever year, and faithfully so. As a reformed yet still somewhat sassy New Yorker, I find myself completely swept up in the magic of a Disneyland Christmas holiday every year. It's easy. It's fun. And there's no better feeling.
This is the first year that California Adventure is able to fully participate in the Disneyland Christmas holiday season since its major renovation. California Adventure finally completed and opened Buena Vista Street and Cars Land last spring. The old-timey, optimistic feel of Buena Vista Street, which harkens back to the 1920s and the sense of California as a land of promise, fits the Christmas season at Disneyland to a tee. And Cars Land is similarly optimistic and hopeful, this time recollecting the open roads, Route 66, and the American Southwest of the 1950's. Both times were remarkably optimistic periods in our nation's history, and this is reflected so well in the imagineering of both parts of California Adventure. The Disneyland Christmas holiday, as celebrated in both parts of the theme park, is better than ever. It feels like the perfect match of theme park and holiday season.
Anyone who has been to Southern California for a Disneyland Christmas holiday season before, and loved it, should try to plan a return visit. The California Adventure side of the theme park is so fresh, and so clearly aligned with the Disney philosophy, that experiencing it during Christmas will bring a new sense of joy and excitement to its visitors. And it's so seeped in nostalgia that it may also make guests wistful for eras that they don't even necessarily remember – the 1920's along Buena Vista Street, and the 1050s in Cars Land.
Disneyland's California Adventure new has seasonal decor (wreaths, strings of lights, etc) throughout the theme park; especially of note are all the bright orange Christmas holiday decorations around the Cone Zone, which are where buildings shaped like oversized orange traffic cones have food kiosks within them. By the way, I don't think the Cozy Cone Motel area is literally called the Cone Zone…but it should be! The orange tinsel, wreaths and lights are vivid, nontraditional Christmas colors to be sure. it works, though. You'll have to come to Disneyland and see for yourself.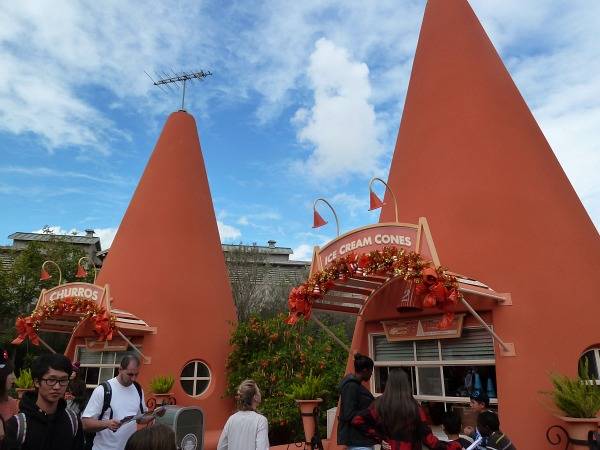 There are other new Disneyland Christmas holiday season attractions in California Adventure: it's not just orange tinsel in the Cone Zone.
Ho ho ho: Santa Claus appears in all his red velvet glory outside the classic Elias & Co department store on Buena Vista Street. Fortunately for your kids (and for him) there are other characters wandering around California Adventure, so he won't get too mobbed. It wouldn't be the Disneyland Christmas holiday without Santa.
A social "snowcar" is at the Cars Land entrance. This one is strictly a photo opportunity, as it's not interactive the way Mater and his automobile friends are within the Carls Land area. The Disneyland Christmas holiday season backdrop and the snowcar — which is supposed to be a Cars Land version of a snowman — do make for a fun photo. There was a medium sized line of people waiting to have their photo taken with the snow car, by the way.
The Mad T Party is towards the back of California Adventure, in Hollywood Land. It turns into a party once the sun sets — better for older kids and teens, the DJ plays hip hop and pop tunes loudly, strobe lights flash, and dancers perform on the Mad T Party stage. Think of Tim Burton's version of Alice in Wonderland here, it's no cartoon. Because this is the first year for the Mad T Party, it will be fun to see what twists the performers put on the old Alice.
Last but not at all least: A 50-foot tall Christmas tree in in Buena Vista Street, right at Carthay Circle. This is a very traditional large tree, meant to be a throw back to the 1920's when Walt Disney himself first arrived in Southern California. It has all the expected vintage Christmas decorations on it, like candy canes and gift boxes. By the way, here's a game you can play with your kids during the Disneyland Christmas holiday season: How many Christmas trees can you find? Two of my favorites are the hubcap Christmas tree near the Radiator Springs station, and the cut sheet metal one near Fillmore's. It has peace signs on it. That old hippie!
Now, across the theme park at Disneyland, there are still the amazing seasonally themed parades, and the It's a Small World kiddie ride is bedecked, as usual, in the most festive manner. Disneyland always does Christmas right. This year, though, pay special attention to California Adventure's part in the Disneyland Christmas holiday. It's a wonderful addition to Disneyland's celebration of the Christmas season.
The Disneyland Christmas holiday season runs November 12 – January 6 this year (2012). Thank you to Disneyland for the park hoppers, fast passes, and other benefits for my taking part in the Holiday Blogger Event.