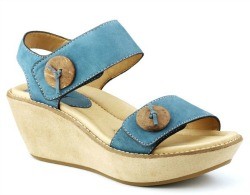 News alert: I'm short. I'm just under 5'4" which means that whenever I buy pants, either I need to hem them (failure, I can't draw a straight line let alone hem one) or pay someone else to hem them, which adds to the total cost of the jeans/slacks/whatever.  That's not cool. It's also a little embarrassing to shop in the "Juniors" or "Youth" sections of clothing stores, since — as my daughters are fond of reminding me — I'm so very, very old. Thanks, kids. In any case, a little heel in my shoes goes a long way to helping jeans and pants fit right, but I'm certainly not going to clomp around in massive platform wedges or teeter around in high heels all day — comfort is paramount. Plus, I have the grace of a clumsy ox. What to do? Introducing a fashionable shoe that is comfortable with a little heel: Earth Footwear  Shoes — Fauna style.

This is technically a platform wedge, don't get me wrong, but it's not one of those monstrosities you see that have three inches or more of platform. The platform is only 3/4 of an inch, with the heel height being 2 and 1/2 inches; they're completely manageable, and don't look like a ridiculous pair of shoes teens go clubbing in. Instead, these Earth Footwear shoes stay comfy all day long (I know, because I've worn them all day). No aching feet!  The Fauna shoes are casual enough to wear with jeans, but I think that they'd pair nicely with a floaty summer dress as well.
Those buttons are just for decoration; there are actually on two adjustable straps with velcro, to help make Earth Footwear shoes' Fauna wedges fit very well. They look nice, too! Oh, and by the way, clumsy women like me will appreciate the sole's texturized bottom and heel for the traction it provides. As a travel blogger and frequent traveler, these is exactly the kind of shoes I like to toss in my luggage — it seems silly to pack uncomfortable shoes that don't travel well, doesn't it? Fauna Earth Footwear shoes class up jeans yet keeps the look casual, perfect for me. And they're easy to pack, too.
I'm happy that Earth Footwear sent me this blue pair of Fauna shoes to review, because it's as easy to write about them as it is to wear them. Earth Footwear offers a variety of other fun styles that emphasize comfort over being a slave to fashion, too. Most Earth Footwear shoes are affordable; the majority of the spring/summer 2014 Earth Collection go for under $100, which is really reasonable for good-looking and comfortable women's shoes. Naturally, I can only speak to the comfort and style of the one particular type of shoe I've tested. And check in with me in a few months, when I'll know more about their longevity and sturdiness.
Fauna Earth Footwear shoes are really comfortable, and affordable. But you know what's even more affordable? FREE shoes. Every person who signs up to receive Earth's eNewsletter is automatically entered into a monthly shoe giveaway, i.e., every month is another chance to win free shoes. Not too shabby! Sign up for the Earth eNewsletter here: http://www.earthbrands.com/newsletter.  And, to connect with the brand on social media, check out:
Facebook – /EarthFootwear
Twitter – /EarthFootwear
Pinterest – /earthfootwear
Now, my feet are on the narrow side. Someone with a wider foot would probably find Fauna Earth Footwear shoes too hard to wear, because they have a narrow design. The squishy padding is so comfortable, and the platform-to-heel-height is so manageable, though, that any other woman looking to class up her jeans without feeling foolish will love these shoes.
I received a pair of Fauna Earth Footwear shoes to review, but was not otherwise compensated and all opinions are mine.