I've long been a fan of traveling to resort destinations in the off season. After all, visiting places at non-peak times means fewer crowds, a laid-back vibe, and a screamin' deals. Virginia Beach, VA, is one such spot where vacationing in the shoulder season brings great opportunities for wildlife viewing at more than 4,000 acres of parks and wildlife refuges, where you might spot snowy egrets, brown pelicans, osprey and river otters! Outdoor adventures such as horseback riding, biking, kayaking and paddleboarding can all be enjoyed comfortably into the autumn months, and the Adventure Park at Virginia Aquarium — with its ziplines and bridges in the "aerial forest park" — is open year round.
But if you're planning a trip  to Virginia Beach, my guess is some time spent on the sand and in the waves is high on your list! It sure is on mine, and I love that Virgina Beach has three very distinct beach experiences no matter what your cup of tea. In fact, I'd want to check out each one to figure out which is my fave. Here's a peek at Virginia Beach's three different beach areas:
Resort Beach at Virginia Beach
This is where you go when you're looking for action. It's most well known for its iconic three-mile boardwalk, lined with shops, restaurants and diversions for the whole family. Stay at one of the boardwalk hotels here for easy access to the other two beaches (Resort Beach is between Chesapeake Bay Beach and Sandbridge Beach). This is where it's easy to get some exercise, biking, rollerblading, running or strolling the boardwalk; or book a surfing lesson or skim board along the shore. Four oceanfront stages provide oodles of live entertainment. The mammoth bronze statue of King Neptune is probably the area's most popular selfie spot!
Chesapeake Bay Beach at Virginia Beach
This is where the locals go for off-the-radar restaurants and laid-back bars. It's popular among families with young children, because waves are gentler here. Top sights at Chesapeake Bay Beach include First Landing State Park, with its handful of winding hiking/walking trails, as well as historic Cape Henry Lighthouse. And I love the fact that you can watch both the sunrise and sunset from this beach that runs east-west.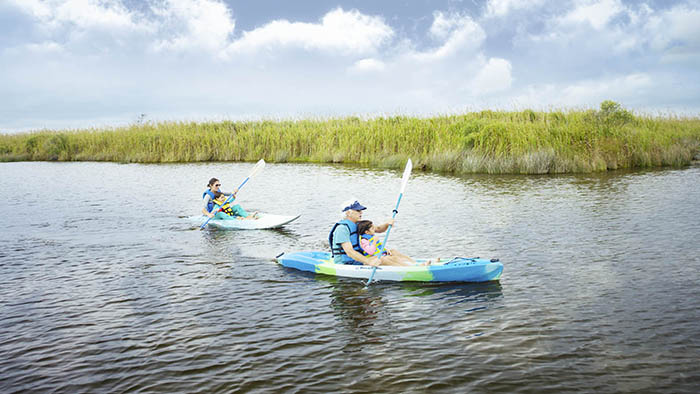 Sandbridge Beach
Fifteen miles south of the Resort Beach area is Sandbridge Beach with its five miles of rolling sand dunes. Here find many beachfront rental homes, ideal for multi-family vacations. Paddleboarding and kayaking in the marshy areas and open waters are popular activities; beachcombing and strolling through Back Bay Wildlife Refuge are other options for oceanfront diversions. You might also go hiking, fishing or birdwatching in False Cape State Park.
My ideal vacation in Virginia Beach would indeed include plenty of beach time (this mountain girl needs her ocean fix every once in a while), as well as at least one lengthy hike, plenty of fresh seafood, and perhaps a massage (or two!) thrown in there.
Let me know if you make your way to Virginia Beach in the off season. I'd love to hear about your vacation!
This post is sponsored by Virginia Beach.