The first day of school covers a wide range of emotions. The thrill, anxiety, excitement, giddiness, and overall fresh feeling of new clothes, supplies and teacher are unique to this time of year. While it's been a few weeks since most kids climbed the back-to-school bus I realized that there are a few things that make this time of year awesome: the 2016 fall styles that accompany this year's back to school. Like these:
Rain Boots. Wouldn't you know it. It rained the first day of school. A lot. Of course, my daughter's bus
was running late due to the nature of the day and the fact that it's a very full bus. When the bus finally arrived one of the kindergarteners tripped on the bus steps and landed in a puddle of water that had been collecting on the curb. In the meantime my daughter's full paper bag of school supplies was deteriorating.
While the rain continued for the next few days there was one beam of sunshine for my daughter and they're called DOTS by Kamik (ARV $40). In other words, cute rain boots. Her red and white polka dot rain boots look darling with her leggings and skinny jeans and they keep her feet dry until she gets to her classroom and change into her school shoes. As for the boots themselves, they are domestically made and are 100% recyclable. As for travel, we're eyeing Alaska for next summer and having been there I know how rainy it can get. DOTS are an easy packing list item.
Backpack. As long as we're on the topic of rain, my son started 7th grade this year and he too has to catch the bus. Luckily, his bus runs on time since the kids his age know what they're doing but he still has a nice jaunt to the corner every morning. He and other kids wait on our porch then make a mad dash for the bus as it turns the corner on to the street. The No Matter What Classic Backpack by Eagle Creek (ARV $69) is awesome. It's durable (hello, books!) and  perfect for keeping him organized and best of all it's water repellent. While it may not rain year-round here it does snow a good portion of the school year so even if he throws this backpack on the ground while waiting for the bus it's no big deal. There is even a laptop sleeve which works for his school-issued iPad. When we travel there is a back slip panel for easy attachment to a luggage handle.
Classic shoes – for parents. Let's face it. This mom is not dashing for the bus or walking any "snowflakes" to the school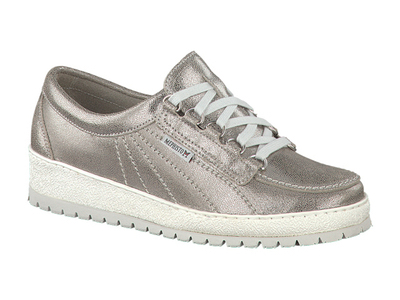 bus door. But what I am doing is wearing my super cute Mephisto Lady ($339) shoes while the kids are in school and these go beyond fall styles. There's a good chance you're familiar with Mephisto. Tagline: "World's Finest Footwear". This shoe brand that launched by Martin Michaeli in 1965 in France and are known for being on the upscale; that's reflected in the price. And there is a reason for that. They are designed with quality in mind. Think traditional hand making methods, the best quality leathers and all-natural materials including cork and natural rubber. To top off the Mephisto goodness, all leathers are chemical free. As for comfort, the midsole has a Soft-Air Technology that reduces shock to protect the back. They really are that comfortable.
Here's the exciting news for classic shoe lovers and trendsetters: In honor of their 50th anniversary, Mephisto is re-launching, "The Originals" that were designed in 1972 as a new type of leisure shoe. "The Originals" have an updated vintage look with awesome colors like Blue Nubuck/Fushia, Black Velours Paris, and Silver (see photo).
I must note you don't have to be a mom to admire these shoes. In fact, when my tween son saw my Mephisto Lady Venise in platinum he said, "Mom, you're going to get so much street cred when you wear those." Satisfaction. 2016 fall styles success.
Thank you to these brands for the review products.