Is there such a thing as family-friendly Las Vegas? That's a question many parents ask as they begin to research their vacation options. I'm here (really, I'm here in Las Vegas right now being hosted by Loews) to tell you Yes! Las Vegas can be family-friendly – especially if you stay at Loews Lake Las Vegas  Resort in Henderson, only 17 miles from the strip.
What makes Loews Lake Las Vegas Resort so family-friendly? Let me count the ways…
1. Playground. As soon as we arrived, the kids made a beeline for the
outdoor nautical-themed playground which sits next to one of the pools and the basketball/tennis court.
2. Beach. You can see the full beach in the top photo (taken from our room). There are tons of sand toys for the kids to play with and the kids especially have fun trying to "catch" the fish swimming along the shore.
3. Fantastic pools and water slide. This Loews has two pools, the shallower of the two is the landing pool for the water slide and is where most of the kids swim. This pool is  loaded with pool toys like kick-boards and noodles. Small cabanas line this pool and are available for rent as are the larger cabanas surrounding the upper, more mellow pool. We enjoyed one of the larger cabanas for a day and thoroughly enjoyed the misters, cabana fan and mini fridge for keeping our water cool. There's also a safe to keep your valuables so you don't have to worry when you're off enjoying the pools. I highly recommend renting a cabana during your stay. It's a great place to kick back and lets the kids relax in between water slide rides and swimming.
4. Summerfest on the Lake. From now though September 7, 2009 Loews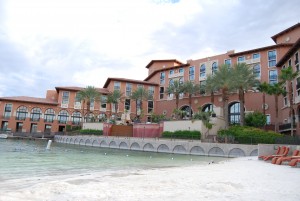 Lake Las Vegas is offering weekends of fun for the kids. Kids Concierge, set up in the lobby, is the place to stop and sign up and learn more about the weekend activities and grab a snack. Some of the kid and family friendly activities you will want to check out are:
5. SushiSkool is a fabulous program where kids aged five and up learn how to
create their own sushi rolls. The class is held every 1st, 3rd and 4th Saturday at 3pm. Cost is $20 and while the kids are in session the parents can hang out and enjoy wine and sushi for $25 (one adult per enrolled student).
Friday night parents can enjoy Date Night Movies and on Saturday night families can partake in Dive-In Movies at the pool. Both Friday and Saturdays evenings families can create memories with Smores on the Sand ($5 per packet). A fire pit is set up, ready and waiting to greet some unsuspecting marshmallows.
6. Kids Club. This it the ultimate reason to stay here if you want the opportunity to experience the glitz and glamor of Vegas without hauling the kids along. Kids ages 3-12 (if they're potty trained) can experience several different activities (swimming, hiking, fishing, arts and crafts!) from morning to afternoon to night. Traditional kid-friendly meals are served.
The best part, Kids Club is the only fully licensed resort childcare facility in the city. What does this mean? Loews Kids Club is the only property that allows parents to leave the resort property while the kids are in the facility's care (so go pop a few quarters into a machine at Mandalay Bay or watch Bette Milder sing her heart out). We took advantage of this wonderful opportunity and went over to the nearby Lake Las Vegas Village and enjoyed a wine bar, had a kid-free dinner, played a few slots and listened to live jazz – all while our kids had an absolute blast. They chowed on mac n cheese and pizza, made glow-in-the-dark bracelets and went out on an evening frog hunt – the highlight of their stay.
No matter what your thought is on Las Vegas being family-friendly or not, I am extremely impressed with the family-friendliness of Lowes Lake Las Vegas and highly recommend this family-friendly Las Vegas resort to any family thinking about hitting Las Vegas for vacation.