Do you readers know any golf fans? Or maybe even are one, yourself? I'm not – but I sure know some devoted players who plan entire vacations around golf. These guys (yes, they're mostly men) book their families into golf club resorts for weeks at a time, without researching whether there are other activities so that, say, the mom and children who don't golf, have alternatives.
My own daughters' favorite nearby (well, nearish) resort hotel is actually a golf resort, La Quinta Resort and Club in Palm Springs. And none of us golf! Clearly, La Quinta has several other assets going for it. There are over 40 pools and over 50 jacuzzis, for one thing, not to mention the tennis, the fitness room, and the seemingly always open (and always alluring) gift shop. A quick poll of an established sample group (my kids) showed 100% agreement about the two best activities for children at La Quinta, and they are…the day camp, and the resort restaurants!
Camp La Quinta – My own children prefer resort kids camps that lean more towards the arts-and-crafts end of kiddie activities (such as the JW Marriott Resort & Spa in Palm Desert), but this is a small complaint. They had a great time here. Outdoorsy children and kids who enjoy scavenger hunts have a blast here. Different days have different themes, such as "Desert Discovery" and "La Quinta Olympics." It's for kids ages 4 and up, although a few years ago they let my younger child in when she was just three (I think it's an issue of relative independence more than mere age). Parents can sign their children up for whole or half days, which is the only way that the mamas and papas on vacation can go off and enjoy golf and the spa. I know, I know – we all love family vacations. But time away from the kids is invaluable too, especially when spent getting a luxury massage!
The Resort Restaurants – While La Quinta is a golfer's paradise, and great for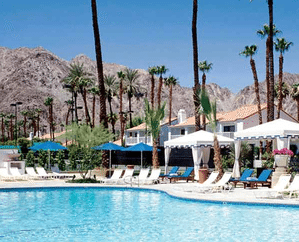 romantic getaways, we were here with the kids. The best restaurant here seemed very adults-only; Azur is an upscale Japanese sushi restaurant with an extensive, award-winning wine list. Dinner starts (hope you're sitting down!) at $125 per person; that price tag, plus the absence of chicken nuggets on the menu, led us to skip Azur in favor of the more child-friendly La Quinta restaurants.
What we loved, unanimously, were the Adobe Grill and Twenty 6. These two restaurants are perfect for families (but go to Adobe Grill later in the evening for a quieter, more romantic atmosphere). The Adobe Grill has great Mexican food – and truly authentic, it's not just piles of nachos and refried beans here – along with a children's menu which tones down the spices. We had the breakfast buffet at Twenty 6 every day of our vacation at La Quinta. Who doesn't love a fresh, well-tended to, large spread of breakfast items? If the buffet isn't your style, there's an a la carte menu as well. Last, snacks are had at the Spa Bistro – this is light food here – and at the golf clubhouses.
We've been to La Quinta Resort and Club twice now, and plan to return. That means a lot, coming from a traveling mom who enjoys seeing new places whenever she can. For a 5-star luxury vacation at a Palm Springs golf resort, you can't do better.