Finca Luna Nueva Lodge is an ecolodge and working sustainable rainforest organic farm in Costa Rica. Part of our recent volunteer vacation was spent here, and it borders the rainforest in which we participated in a reforestation activity. There are some fabulously high end luxury resorts in Costa Rica, but they hardly provide the authentic travel experience that an ecolodge does. On the other hand, most ecolodges are far too rustic to qualify as pampering vacation stays. Finca Luna Nueva Lodge handily balances the pampering of higher-end resort hotels with the sustainability and green lodging practices of the best eco-friendly hotels around.
Just the facts: The accommodations include four rooms in Casa Luna, which is above the open air dining and lounge area. Casa Sombra has three rooms, above a different open air dining and lounge area. The Family Bungalows (where we stayed) are somewhat apart from the main area of Finca Luna Nueva. The rooms are incredibly spacious and large; ours had three separate rooms to sleep six comfortably. Last, the Individual Bungalows are around 1/8 mile away, up a quiet path, from the main area. The three bungalows are romantic and perfect for eco-conscious couples on a green vacation in Costa Rica.
Now, this is an ecolodge, and it is in the rainforest. In as such, there are a few details there that you would not have to worry about at a 4-star hotel. Namely, the road to the lodge is incredibly bumpy; we're talking very deep pits, so that the transport vans either drive around 10 miles an hour, or risk a piece of the car falling off. (This happened once while we were in a van; the driver got out and MacGyvered the muffler back in place for the rest of the ride.)
Also: Bugs. Rainforest-sized bugs. Every night before turning off our lights, we did a sweep and removed at least 5 or 6 long millipedes from our rooms. Not my favorite aspect of our volunteer vacation in Costa Rica, to be sure, but it's important to note it.
These details pale in comparison to the joys, however, of exploring the grounds and spying toucans looking quizzically down from their perches in banana trees. Many of us have seen toucans and parrots in zoos — or pet stores — but suddenly realizing that a toucan or scarlet macaw is 10 feet above you, is an entirely different experience. It's startling, and delightful, to see these brilliantly feathered birds cocking their heads at you and seeming to size you up.
Something that many rainforest lodgings have to contend with is the high level of humidity that seeps into everything, including the bed linens. It's not so fun to crawl into bed and feel like you're sleeping in a sponge! The bed linens at Finca Luna Nueva somehow get around this, and the comfort of crisp, comfortable, dry and soft sheets and pillows is an unexpected gift. The bedding at Finca Luna Nueva rivals that at several large chain hotels patronized by this travel writer. It may not seem like a big deal, but after a day of adventure and volunteer activities in the rainforest, a great night's sleep in a luxurious bed in no small thing.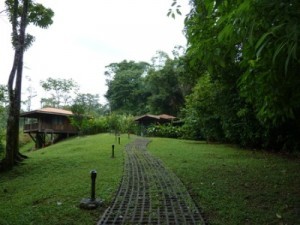 Finally, remember that this is also a working farm. There are farm tours available, and my kids loved sampling herbs — and even better, fresh sugarcane — during our tour. Finca Luna Nueva incorporates its own ingredients to a great degree, meal-wise; around 85% of the meals provided come from the farm.
This being an ecolodge, Finca Luna Nueva has an unchlorinated pool, and doesn't provide the constant stimuli of kid-friendly attractions. Children can participate in easy hikes and help select ingredients from the farm for lunch and dinner. It's a place to get reacquainted with nature, and slow down, and unplug. This is Costa Rica, after all, one of the prettiest places in the Americas. Unplugging and enjoying time with your family seems like the right thing to do, at Finca Luna Nueva. I recommend it for eco-travel near the Arenal Volcano in Costa Rica.