On my quick visit to Australia, earlier this month as a Queensland Blogger Correspondent, I missed my family terribly — namely because around every corner I found things to do that they would have absolutely loved. The entire trip — which brought us from Cairns and Port Douglas to the Great Barrier Reef and the Daintree Rainforest — was so compelling, so exhilarating, so action-packed and so fun, I left thinking, "My entire family must visit Australia… some day!"
Here's a peek at some of the things for families to do in and around Cairns — on land and in the water. I give just a brief overview of each, so if you have any questions or want any more firsthand insight about the different places and activities, feel free to comment below!
Cairns Tropical Zoo: Now, this small zoo is no massive San Diego Wild Animal Park filled with rides and multiple attractions. But it is a manageable zoo on 15 acres, with plenty of opportunities to get up close and personal with koalas, wallabies, giant snakes, wombats and alligators. Yes, you can have the requisite "cuddle with a koala" photo taken (for an additional fee; also pose with a boa constrictor or baby crocodile), and you can hand-feed kangaroos in a walk-through enclosure (grain is $1/bag). I was mighty impressed with the informative crocodile show — those animals are big, but a zoo staff member didn't flinch when he lured them out of a shallow pool of water with a dead chicken. Also on display are multiple exotic birds, dingoes, cassowaries and monkeys.
Cairns Esplanade: If I lived in Cairns, I'd spend as much time as possible on the Cairns Esplanade. This boardwalk and landscaped parkland along the bay in Cairns is so ideal for families, with its giant saltwater Lagoon swimming pool (with zero-depth entry and shallow area for small children; depth reaches about 4.5 feet). It's a perfect place to cool off on hot days! I was also tickled to see shady Muddy's Playground, with multiple climbing structures, swings, slides and water sprays, as well as Funship Playground on the opposite end of a long, flat recreation trail ("Promenade") that is so wonderful for strolling, jogging or in-line skating. Bike paths also weave throughout grassy spots in the park, ideal for picnics. Tweens and teens might want to get in on the free outdoor fitness classes held at the Esplanade. Tennis courts, volleyball courts and a skateboard park are also here. I love the Esplanade because it encourages not only outdoor activity, but family togetherness — there's something for every age group!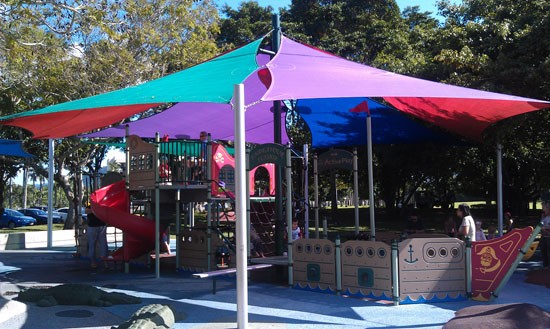 Seawalker at Green Island: I'm a scuba diver and snorkeler, so I wouldn't necessarily seek out this unusual way to view underwater ocean life, but I certainly understand how it might appeal to those who would like to walk on the ocean floor, while wearing a giant helmet (pumped with air), so you don't have to remove eyeglasses nor get your hair wet! It's a pretty cool concept, and I'm glad I tried it. I felt totally safe breathing underwater for about 15 minutes, with Seawalker guides beside me at all times; they carried fish food, so fish swarmed everywhere! Frankly, I giggled the entire time I was in the water — I just felt so silly wearing the (heavy) bubble helmet, and everyone around me on the ocean floor looked silly. Seawalker allows children as young as 12 to participate. We transferred to Green Island via a comfortable 45-minute catamaran ride with  Great Adventures; I would have loved time to explore Green Island Resort more (next time!).
Helicopter Ride from Green Island: How to wow your kids? Book a scenic helicopter flight over the Great Barrier Reef. GBR Helicopter Group offers loads of options, including scenic rides to and from Green Island. Specialty flights include a landing on a spectacular sandy cay in the middle of the ocean, which is what the Queensland Blogger Correspondents and I enjoyed one late afternoon. Remote and beautiful, this helicopter landing seemingly in the middle of nowhere was a highlight of the trip. Short scenic flights start at AU$220 per person, so this experience is not for the faint of pocketbook.
Canopy Art Centre Cairns: Even young children will appreciate the vibrant colors found in the works made by indigenous artists on display at Canopy Art Centre Cairns, which serves as a gallery, printmaking shop and artists' studios in downtown Cairns. Fascinating masks, exciting oil paintings, movable sculptures… so much to see and take in at these galleries that foster and support indigenous artists from Far North Queensland and Torres Strait Islands. Call ahead before you drop in to confirm open hours; the galleries are sometimes rented out for private events. If you're lucky, an artist will be on hand to describe his or her work!
I visited Cairns and the Great Barrier Reef courtesy of Tourism Queensland. For more travel inspiration, check out their Queensland blog.