A family vacation in New York City sounds like an expensive trip, but it doesn't have to be. There are a lot of NYC activities and sights that children will love, and to budget a fun child-friendly trip to the city, parents should also consider looking into the many free or cheap magic shows. After all, kids love shows! I spoke with Brian McGovern, a New York City magician who goes by the name Hijinx who really knows the tricks of the trade (sorry 'bout that one). He agrees that New York City is one of the best US destinations for a cultural, fun family vacation, and gave the magical advice below.
Cheap Tricks: How to Catch a Magic Show in New York City for Free
New York City has been the home of many famous magicians, from Houdini to David Copperfield. While catching a show on Broadway is fun it can also be pretty expensive. Here's how you can get front row seats to live magic shows in the city for free. There are several legendary magic shops in NYC. On any given day stage illusionists like David Blaine, Criss Angel, Penn and Teller and David Copperfield can be found rubbing elbows with dozens of amateur magicians at any one of these shops. They're there to shop for new tricks and illusions, and are usually happy to pose for a photograph and do a trick or two.
Besides the occasional New York City celebrity drop-in, you can count on seeing a first-class magic show any day behind the magic counter. The magician behind the counter is known as a demonstrator whose job is to sell magic tricks. While these shops exist to sell merchandise, they love when non-magicians drop by just for fun (just don't stay all day if you're not going to make a purchase). You don't need a reservation. Just drop by during normal business hours. Now, please be sure to turn off your cell phone and supervise your children. A trip to this kind of shop is not recommended for children under the age of six.
Magic Shop Shows in New York City
Tannen's Magic Shop on 34th near Broadway is the oldest shop of its type in Manhattan. While the store's décor lacks charm, it's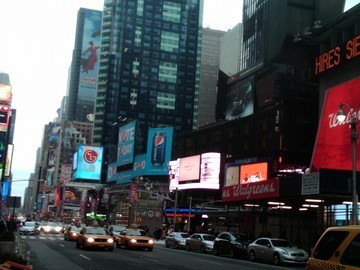 the first stop for any visiting magician. Fantasma, just a few blocks away on 7th Avenue and West 33rd is a great place to take kids. It's part magic shop, part toy company and very kid friendly. Check out the Houdini memorabilia, magical bunnies and doves. When you step into the showroom on the second floor, prepare to be amazed. Rogue's Magic Shop is located in Elmhurst, Queens and full of fun. It sells tricks as well as practical jokes and gag gifts. Rogue is jammed wall to wall with amazing merchandise and it's always buzzing with young magicians. You can catch magic for free any day (except Wednesday), or attend a full evening Saturday night show for just ten bucks.
Hungry for magic?
A little known secret is that world-famous magicians have been gathering for a group lunch on Fridays for over 68 years. If you have a serious interest in magic drop by the Café Edison on 47th and Broadway and ask for the magician's table. You're in for an amazing lunch. No little kids please!
Street Magic
During the summer head on down to the South Street Seaport in the late afternoon to catch magicians, jugglers and other variety acts working the area. Uptown tourists can catch some world-class conjuring in Central Park — especially near the Children's Zoo at 64th Street or the Alice in Wonderland statue by 74th. While the acts are free, donations are always welcome.
While it may be true that there's no such thing as a free lunch, these creative ways to see a free magic show in New York City will stretch your travel dollars, and entertain your children.