There are many fun things to do in NYC over the Christmas season; anyone spending their holiday family vacation in the city has plenty of great travel activities to enjoy. Sure, some — like seeing Santa Claus at Macy's — are best known throughout the country as iconic to Christmas in New York City. There are lesser known, equally fun things to do in NYC for the Christmas holiday, though, and each adds value to a winter New York City family vacation. I spent enough winters in NYC to have my favorites. Hopefully, some of these will become your favorites, too! Here, then, are The Vacation Gals' best Fun Things to Do in New York City for Christmas, and the whole holiday season.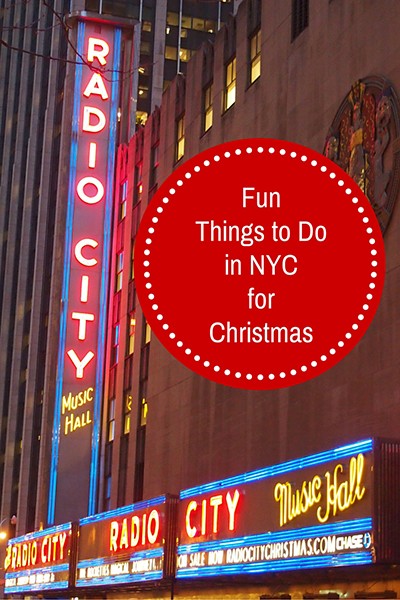 Cirque du Soleil is at The Theater at Madison Square Garden, performing Wintuk for the fourth and final season this year. Like all Cirque du Soleil productions, the amazing acrobatics make the cast members seem almost like magical creatures themselves, and not quite human. At least, I don't know any people who can do the incredible contortions and perfectly timed theatrics of Cirque du Soleil. Catch it before it leaves New York City forever; the shows run up to January 2, 2011, and there is a special discount for select children's tickets.
George Balanchine's The Nutcracker will be performed by the New York City Ballet. This annual production is one of those internationally famous NYC Christmas events — anyone who travels to New York for the winter holiday should strongly consider seeing The Nutcracker. George Balanchine's The Nutcracker features family-friendly favorites like the Land of Sweets, Sugar Plum Fairy, children, mice, and marching soldiers. Some families see the New York City Ballet perform The Nutcracker every Christmas season, for others, it's a memorable once-in-a-lifetime event. This season's performances go through to January 2, 2011.
Radio City Music Hall's Christmas Spectacular has to be on this list — what a fun thing to do in NYC over Christmas! The Rockettes are the world's most famous high kickers. The dancing and more modern special effects show that the 78th annual Christmas Spectacular has grown with the years and modernized — but not too much. It's a big hit for nostalgia and a wonderfully exciting, family-friendly show. Radio City Music Hall's Christmas Spectacular is performed up to December 30, 2010, so don't wait until after the New Year to try to see it.
The Rockefeller Center Christmas Tree is already lit (it's typically lit the week after Thanksgiving) but can be viewed in all its sparkle and grandeur through the beginning of January 2011.  Come stare at that big Swarovski crystal star, and consider taking your family ice skating at the rink at Rockefeller Center too. It's not as iconic as the Wollman Rink in Central Park, of course, but it's also less crowded.
The Big Apple Circus is back in NYC, with a new show called Dance On! My kids have gone to Lincoln Center to see the Big Apple Circus before, and loved it. It's only got a few animals (unlike Ringling Brothers), as the show is centered on the clowns and human performers. Seats are never more than 50 feet away from the ring, so even little children can see the show.  Classic circus acts are on show here, and it's lots of fun. The Big Apple Circus runs through the first week of January.
Window displays — Yes, strolling the snow-covered streets of the city and ogling at the many fancy window displays throughout absolutely counts as a fun free thing to do in NYC during the Christmas holiday season. People travel from all over to see the intricate, highly detailed (and often automated) window displays of New York's high-end storefronts. It's a free activity, too, unless the displays entice your family into entering the store and scooping up some souvenirs of your NYC vacation. The storefronts with the most famously eye-catching displays are usually Macy's, Sak's Fifth Avenue, Bloomingdale's, Bergdorf Goodman, Lord & Taylor and Barneys.
Gingerbread Extravaganza! A hotel that my family has stayed at several times, Le Parker Meridien, will have the Gingerbread Extravaganza for the second year (it would be great for this become an annual event). Le Parker Meridien has what many consider to be the best burger joint in NYC, a fun travel experience in itself. My own kids prefer the Shake Shack, but what can you do? The second Gingerbread Extravaganza is right in the lobby of the hotel; a dollar at the front desk lets visitors vote on their favorite gingerbread house, and all money goes to City Harvest (a food rescue nonprofit). This year's gingerbread theme is "Movies made in New York," which sounds….tasty.
Don't forget the outer boroughs! The Bronx has the New York Botanical Garden, which in winter isn't exactly
abloom with colorful flowers. It's still open, though, and the annual Holiday Train Show is a family favorite for locals. It's totally worth the subway ride from Manhattan. The Holiday Train Show at the New York Botanical Garden has model trains, of course, but they choo-choo their way through over 100 replicas of NYC landmarks — all of which are made from locally harvested natural items like tree bark and pinecones. It's fun to see St Patrick's Cathedral and the Brooklyn Bridge rendered this way.
The Queens Historical Society's Annual Historic Holiday House Tour is only one day — December 12, 2010 this year — but it's an interesting glimpse into New York's long and storied history. In Brooklyn, the Lights of Dyker Heights draws thousands of gawkers each year, and the best displays are usually between 83rd and 86th Streets. Staten Island has its annual Candlelight Tours on two Saturdays in December each year; tourists experience Historic Richmond Town as it looked long ago. Now, I haven't been to any of these, but it's nice to remember that there are fun things to do in NYC for Christmas, in boroughs other than Manhattan. For more information and a lengthy list of all the many fun New York City holiday events, check out NYCGO.com.
New York City in wintertime is more hushed, yet more exciting, than ever. The snow blankets the ground invitingly in Central Park, and Christmas revelers join together to celebrate the season. A family vacation for Christmas in NYC is more than simply a fun holiday, it's a memorable trip that our children grow up to look upon with fondness and love. Happy Holidays!