Angkor Wat is not only the most famous temple area in Cambodia, it's also, by far, the most popular travel destination in the entire country of Cambodia. Suffice it to say, almost everyone who includes Cambodia in their Southeast Asia vacation is going to spend at least a day or two exploring this massive, stunning, historic site. Walking around Angkor Wat is easy; it was made for walking. Instead of taking one day to roam the ruins, consider purchasing a three-day pass; at only around US$40, it's a deal (the three days can be used in a one-week period, not necessarily three days in a row). For less than fifty dollars, that three days worth of exploration can give us and our travel companions looks into a culture long gone, insights about the Cambodia of today, and perhaps provide quiet moments of introspection into ourselves. I also suggest looking into Kensington Tours' private guided tours of Cambodia: each tour can be crafted specifically to individual travel interests, and we can spend as much time as desired walking around Angkor Wat, with a private tour guide on hand to answer questions and explain the symbols and meanings behind the ruins.
While there are several historic entranceways to Angkor Wat, today the west gate alone remains open for all visitors. Approaching Angkor Wat along this pathway, seeing the famous faces of Hindu gods and goddesses, can stop a visitor in her tracks. Imagine Angkor Wat and Angkor Thom in their heyday; the 9th to the 15th century, when the almost 250 miles of Angkor Archeological Park were the epicenter of the Khmer Empire, bustling with monks and scholars. Today the pathways are guarded by faded and eroded faces of Hindu gods — imagine their fierce countenances in the year 10 AD.
Our Kensington Tours guide stopped us along the pathway to the main Angkor Wat temple to feed some roadside monkeys. They were absolutely not shy about scampering up to us (and, literally, up us) to fetch their bananas. This was a fun activity for our kids, and we appreciated the monkey pitstop.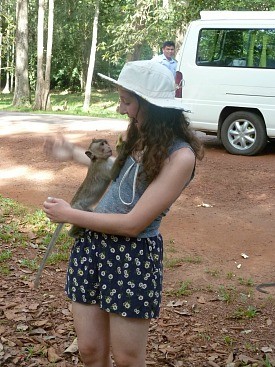 Soon, we found ourselves clambering up a pair of Asian elephants for a ride around the parameter of the main temple in Angkor Wat. Now, I'm putting this up here informationally, but also shamefacedly. After I posted a photo of our elephant ride on Facebook, several people let me know in no uncertain terms that riding elephants is not an ethical activity. Apparently, Asian elephants (being smaller than their African cousins) cannot hold the weight of three people, and should only be ridden on (if at all) with the rider at the top of their neck, by their head. Otherwise, it's too much weight for them.
I didn't know this, and was surprised. Our guide told us about how Angkor Wat was built in the ninth century: to get the sandstone bricks there, elephants hauled 500 pounds of stone at a time, a hundred miles from a mountain elsewhere Cambodia, to canals that led to the site. I never would have thought that three people would be too much weight for the elephants to bear; frankly, it didn't even cross my mind. At the time, I saw it as a special Southeast Asian travel experience, to see Angkor Wat on the back of an elephant. At $15 a ride, it also provides sorely needed income to an impoverished country without many income streams or job opportunities outside of tourism and law enforcement.
Other ways of getting around Angkor Wat are on foot, in a van, by tuk tuk, and by bicycle. We definitely preferred biking and walking around Angkor Wat. On foot, slowly walking, our Kensington Tours guide was able to talk with us and answer questions about the temples, their history, carvings and symbols, and huge place in the history, religious life and culture of Cambodia.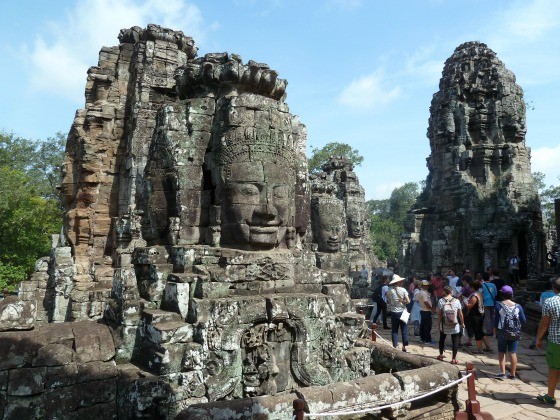 Angkor Wat is such an important archeological site because here, we can see Hindu influences from the Indian subcontinent, such as carved dancing shivas and ganeshas. Cambodian culture and Khmer art evolved through Hinduism and, later, Buddhism. The two are intricately enmeshed here at Angkor Wat, made so clear through ancient carvings as to be palpable.
Angkor Wat is very touristy and crowded during peak travel seasons — there are so many group tours walking around Angkor Wat that they are impossible to avoid. But Kensington Tours' guides get to slip past lines and crowds (I remember this during a Kensington Tour of the Roman Coliseum as well) which makes the crowds feel much more manageable. Arriving early in the morning also helps. Also, traveling to lesser-known parts of Angkor, such as Banteay Srei, means less photo-snapping tourists. Our guide realized this was what we wanted, and worked to make it so.
Finding a quiet place to gaze as the carved, eroded statues, to think about the roots of giant banyan trees slowly growing to drape over the temples, and to feel the potency of what was once the great, major power of all of Southeast Asia, now relegated to ruins, is worth getting up early. Seeing Angkor Wat in a rare moment of peacefulness lends itself to a sense of being part of the passage of time, part of the whole. This is a most wonderful, meaningful piece of the Cambodia travel experience. Traveling to this temple enriched our lives.
Kensington Tours provided private guided tours of Cambodia for my family during our Southeast Asia vacation.