Confession: despite owning a Nikon DSLR camera, I have never owned a camera bag. And yes, I have broken a lens because of it. I was on a trip to Las Vegas and had the camera in my purse which fell from a barstool back and it cracked. I can still hear the "snap" sound. It likely comes as no surprise that when I was offered the chance to review a couple of camera bags, I jumped at the opportunity. With a long two-week trip ahead of me, which was going to include my Nikon, I knew a camera bag would come in handy. The nice thing about camera bags today is the variety, and depending upon your needs there is something for every situation.
Basic camera bag. Soon my family will be taking a river cruise and exploring Maya ruins in Belize; since my handy camera will be along for the ride, I'm going to be using the Nova Sport 7L AW ($60). This model is the perfect size for a day excursion and it will slip into my backpack if needed. While the bag is compact, the adjustable insert inside is roomy enough to fit my camera and two lenses. I'm also grateful for the All Weather AW Cover to protect my camera gear from any wet elements we may encounter. I also appreciate the multiple storage pockets for backup memory cards and lens wipes. Since comfort is always a big deal for me, the padded shoulder strap and adjustable grab handle make for easy and comfortable toting.
Camera and laptop bag. I'm really excited about this messenger-style
Lowepro Urban Reporter 250 ($140) because this model holds a nice variety of gear. Perfect for any traveling photographer. Check this out. You can fit a DSLR with attached 24-70mm f/2.8 lens, 2-3 extra lenses (up to 70-200mm), a 13″ laptop, and there's still room for other accessories and personal items. This model has earns top rank for compartments. There are plenty of zippered and cargo pockets on the outside, a leather-lined business card holder and a mesh pocket. A removable padded camera insert on the inside can be remove if you need use of a full bag. As for the laptop compartment, it too is softly lined and padded and fits my MacBook Pro perfectly. I also find the adjustable padded shoulder strap comfortable to carry. I definitely traded my old computer bag for this one. Before I felt burdened by the various items I was carrying through airports, but this bag has changed the way I pack.
I've been trying to find something to improve on both of these bags and, honestly, they both serve me well. If you're looking for a new camera bag or camera/laptop bag for you or someone else I certainly recommend you checkout these Lowepro camera cases.
Straps. One of my biggest complaints about my cameras is never having a comfortable strap. Mine was too short and hurt my neck. Alas, I've been whining for no reason because there are options. The best part, they are adjustable and my husband and I can share.
What I needed for my camera was a thinner, adjustable options and that's exactly what I found with the Convertible Neck Strap ($30) and it ends up Joby created this one for people just like me. Since most novice photographers use neck straps, the creators figured that at least beginners can be comfortable. And this Convertible Neck Strap is certainly that. What adds to the cool factor…this strap has a 2-in-1 option. It can transition into a wrist strap. Simply clip off the longer strap.
If you're shopping for a more savvy traveling photographer, then the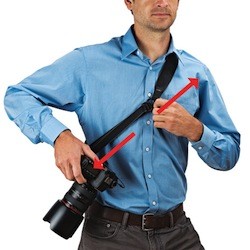 Joby Pro Sling Strap ($70) is the coolest camera accessory I have ever seen.  First the Pro Sling strap adjusts with a simple pull via the quick-draw SpeedCinch pulley system. Next, to cinch your DSLR securely against your body simply pull the camera and the circular chest pivot ring in opposite directions to create a snug fit. Then to lock the strap for extra security. When it's time to snap a photo simply unlock the strap, simply draw the camera forward in an upward arc motion (check our the video on the Joby's Pro Sling Strap page – it's so cool). This is one gift you may have to buy for yourself.
Each of these items were sent to me for a first-person review.