After experiencing Antler's Liquis, a piece of lightweight and hardsided luggage I deemed it "perfect" for many reasons, but mainly because it combines two ideal luggage features. It extremely light and it's hardsided. As I mentioned in the other post, there are numerous benefits to using hardsided luggage. For example, your contents will be more protected and the suitcase will stay dry if it encounters a rainstorm or falls into a puddle on the tarmac. On the other hand, lightweight luggage is also helpful when you're on the road. It's no secret that many bags start off heavy before you pack your travel wardrobe and if you're a heavy packer there's a chance you may cross the airlines' maximum weight limit, which can cost a lot. I previously mentioned I wish I had my Antler Liquis for the Alaskan cruise because I returned with so many souvenirs and found myself toting a very heavy suitcase. That's usually the case for any traveler.
Here are some more details about Liquis:
Size: This line can be ordered in three sizes: 22-inch weighs 4.4 pounds, the 27-inch weighs 6.6 pounds and the 33-inch weighs 8.4 pounds. As of this writing, the luggage is on sale at Colorado Bagn' Baggage for between $300-400.
Color: The suitcases come in silver and navy and each case has a sleek "waterfall" pattern.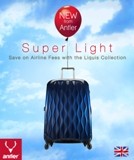 Lock feature: The cases have a TSA fixed combination lock – no personal lock needed.
Easy glide: Patented gliding wheels offer easy maneuverability through crowded hotels and airports.
Today, Colorado Bag'n Baggage is offering our readers the chance to win a 27-inch Antler Liquis suitcase of their own. You even get to pick the color!
There are two ways to enter for your chance to win this Antler's Liquis Lightweight and Hardsided Suitcase:
1. Leave a comment below describing what you like about the new Antler Liquis. You may enter once a day.
2. Tweet the following on Twitter: I entered to win an Antler Liquis from @cbnbaggage on @TheVacationGals http://bit.ly/liquis You must tell us in a separate comment below for the tweet to count as a giveaway entry, and you may enter this way once a day.
Learn more about our Colorado Bag'n Baggage, our sponsor for this giveaway, on Twitter and Facebook.
The giveaway starts today and ends March 15 at 6:00 pm CST. Winner will be determined by a random number generator and announced March 16.  Immediate family members of The Vacation Gals cannot enter this giveaway. You must have a U.S. or Canada mailing address to win. Thank you for entering and good luck!