Travel blogger Amy Whitley checked out the Grand Velas all-inclusive luxury resort in Puerto Vallarta, Mexico, as a preview for the Mom Blogger Camp to be held  September 2012 at its sister resort Velas Vallarta. She had a terrific vacation in Mexico! Here's her report:
Prepare to be impressed the first time you enter the open-air lobby of the Grand Velas Riviera Nayarit on the Banderas Bay in Puerto Vallarta, Mexico. Rising four stories to a wood-beamed thatched roof far above, the spacious lobby incorporates a koi pond, local art and sculpture, and plenty of inviting seating. Beyond it, wide, multi-story corridors lush with tropical vegetation lead to the Grand Velas' distinctive restaurants, shops, and guest service spaces before opening out onto the resort grounds' bars, pools, and lounging spaces.
We first arrived at night, to the added treat of warm sea air settling over the quiet, peaceful grounds cast in muted pool and patio lighting. We made our way straight to the upper lobby bar, where we ordered fruity, tropical drinks to the tune of live music and the stirring of the breeze through the palms. We later roused ourselves for a late dinner at Piaf, Grand Velas' four-diamond award winning French cuisine restaurant, where we detoured from pina coladas to study the extensive wine before lingering over Chilean sea bass and filet mignon as part of a four-course dinner better described as an event than a meal. (Do yourself a favor and order the pea cream soup with brie and nut raviolis. I think I temporarily entered Nirvana upon first sip.)
In addition to Piaf, Grand Velas hosts Frida's, where, quite frankly, I ate the best gourmet Mexican cuisine of my life. From a tableside guacamole-making service to a rich traditional tortilla soup, every course was painstakingly prepared and presented. The ambiance is somehow both cozy and elegant, leaving diners wondering whether they should feel pampered or right at home. We settled on both.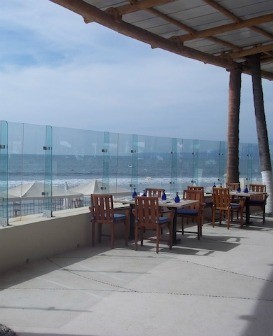 I could have eaten three meals a day at Frida's, but sadly, that wasn't an option. Instead, we made our way to Azul the following day, for casual dining that still pulls out all the stops. (Why yes, we did eat our way through Grand Velas.)  Located beach and poolside, upon entering this open-air restaurant, it's easy to see where Azul derives its name. From the sea to the sky to the linens and stemware, everything about Azul is cast in brilliant shades of blue. We loved the restaurant's buffet-style lunch, where every food on offer is made from scratch and set out only seconds after creation.
For guests itching to do something other than dine (though for the life of me, I can't imagine why), there are ample recreational amenities included in Grand Velas' all-inclusive rate. Featuring multiple pools, a pristine beach with water sports, exercise facilities, and an award-winning spa, guests could opt to either spend all their leisure time on the resort's grounds, or visit the activities desk to arrange area tours and excursions, such as sea kayaking, horseback riding through the Sierra Madre mountains, or snorkeling. Though we experienced Grand Velas without our kids in tow (highly recommended upon occasion, even for this family travel writer), kids are welcomed. The resort offers a complementary kids' club and complementary private babysitting in addition to all-inclusive dining and family-friendly suites as part of their family package. While Piaf and Frida's might more formal than most young kids are up for, Azul, or the Italian (and more kid palate-pleasing) gourmet fare at Lucca offer alternatives. Or do as we saw several vacationing families do: make reservations to dine early with kids, or order room service to dine on your patio or balcony. If you do bring the kids, be sure to set aside at least one evening for an adult-only meal. You won't be sorry!
Grand Velas Riviera Nayarit offers an unparalleled high-end resort experience for either you or your whole family, but if you're looking for a more casual vacation, consider her sister resort, Velas Vallarta, located twenty minutes away in Puerto Vallarta's marina district. Sporting a completely family-friendly ambiance while still offering all-inclusive dining, Velas Vallarta offers a solid alternative to Grand Velas' luxury standards, without compromising quality and service. Both are safe and wonderful resorts for a family vacation in Mexico.
Amy Whitley was hosted by Grand Velas Riviera Nayarit for meals at Piaf, Frida's and Azul, and was hosted by Velas Vallarta for a four-day stay, for the purpose of review. She is a freelance writer and founding editor of the family travel site Pit Stops for Kids. When she's not traveling, Amy makes her home in Oregon with her husband and three sons.