Guest contributor Lisa Niver Rajna and her husband George are currently in the midst of their second year traveling around the world. Here she shares a story from her continuing travels, regarding scuba dive sites in Palau. – Ed.
_____________________
After recently snorkeling with whale sharks in the Philippines and scuba diving among a tornado of barracuda off Sipadan, Borneo, I wondered if Palau scuba diving would live up to the hype. Scuba dive sites in Palau are famously wonderful and teeming with marine life; I had been informed that some of the best dive sites in the world were situated at the edge of paradise in Palau's Rock Islands. Our day out with Neco Marine Dive shop did not disappoint. From the moment of our arrival in the shop, the entire dive team — especially Dive Instructor Dale — went above and beyond the call of duty.
Whether snorkeling or diving, each person was given attention to make sure they were prepared for an excellent day of adventure. We were all primed with our green Rock Islands cards that are required for entering the water in this UNESCO protected area.
Our first scuba dive site in Palau was Coral Garden. In Coral Garden, I immediately felt like I was in a magical place. During our hour underwater reaching depths of 47 feet, my dive buddy, Terry, and I saw green turtles, anemones, clams, purple and green damselfish, angelfish as well as mackerel. We slowly meandered through the reef garden, enjoying every second of our Nitrox dive.
After a tasty boxed lunch, we arranged for the second dive of the day at the famous Blue Corner.  The impressive scuba dive site in Palau experience lasted over an hour with a maximum depth of 57 feet. The highlight was when Dale hooked our BCDs onto a piece of dead coral at 47 feet to permit us to float like kites while gray and white tip reef sharks swam by us in groups. At moments I felt as if I was passing through an aquarium exhibit, first visiting sharks, then giant Napoleon wrasse, and finally moray eels that scampered from one coral head to another.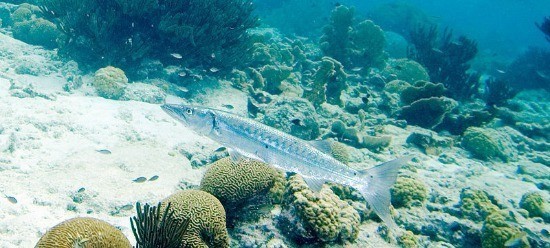 A school of barracuda and a baby shark amidst a group of the large sharks slashed across the crystal clear waters. Later we quietly witnessed three sleeping sharks. Between us, we shared sightings of sweetlips, parrotfish, puffer fish, sea stars, and garden eels.
During both scuba dives in Palau we spotted long nose and lined butterfly fish, Moorish idols, feather stars and a variety of coral. A noticeable difference diving here was that there were notably more pastel colors than other sites. I did not want to leave the underwater world but we eventually had to rejoin our group.
Our captain took great care of us whether we were onboard, getting ready to enter the sea or enjoying the view of the Rock Islands as we motored back to Koror. After the lovely day, we stayed at the extravagant Palau Royal Resort. From our balcony, I saw a bridge over a lagoon that was situated adjacent to the pool; I descended upon the bridge where I swiveled my hula-hoop around my hips during a beautiful sunset. Everything about this day was five-star. I highly recommend moving a dive at Blue Corner to the top of your bucket list and then cap off the day by enjoying the full regal treatment at Palau Royal Resort.
Lisa Niver Rajna is co-author of Traveling in Sin and co-founder of We Said Go Travel. She is a teacher, writer, and traveler who belongs to the Traveler's Century Club, a unique travel club limited to travelers who have visited one hundred or more countries. She and her husband participated in a comped "familiarity" trip to the Palau Royal Resort.