The Vacation Gals contributor Debbie Abrams Kaplan visited Great Wolf Lodge in the Poconos this spring with her teenagers. Here's her report!
When we got back from a weekend at Great Wolf Lodge, my kids and I immediately went off in our own directions. We took naps. We were exhausted. The trip, mind you, was fabulous, even though my kids are teens and above the target age (which is 4-12) for this family-friendly hotel and water park. It's just that there was so much to keep us busy, we needed not only a break from one another, but we needed sleep!
Great Wolf Lodge had been on my bucket list for a while. My 13-year-old son had been begging me to take him for years. I came up with a lot of convenient excuses, as it's not an inexpensive vacation. The rooms do include water park access, and unlike other parks, this one is closed to the public (the exception: you can buy a day pass for friends – one per registered guest). So to visit, you really need to be staying there. And if you're going to take advantage of its offerings, you probably want to make it your destination, not just a place to sleep at night.
We went to the Great Wolf Lodge in the Poconos (Pennsylvania)  though there are 14 in the U.S. (including one at Niagara Falls, Canada) and three more on the way. My son was so excited to go that he was continually planning (and changing) the agenda by the minute, so we could go from one activity to the other, while minimizing waits for water slides and giving us breaks for MagiQuest and the arcade.
Take a hint from me. You don't have to do EVERYTHING they offer at Great Wolf Lodge. We were there on a hosted visit, and I did feel internal pressure to try everything out for review purposes. But it's my nature to do that anyway. I rarely relax on vacations (hence I need a vacation when I return). So here's my advice: it's okay to take a break! I was grateful that MagiQuest gets turned off nightly at 11 p.m. Not just so those whose rooms are nearby avoid hearing the sounds, but it lets everyone go to sleep.
MagiQuest at Great Wolf Lodge
Have you seen that television ad where the mom wants her daughter to get some exercise, so she sends her all around the house looking for her wallet, so she could get $1? But the mom knows her wallet is in her purse in the same room? That's what my kids thought about MagiQuest – it was a lot of exercise! If you haven't been to Great Wolf Lodge (or used the wand at Harry Potter World at Universal Studios, you'll be excited to see things happen when you wave your magic stick at a treasure chest or painting, and it lights up or opens up.
Great Wolf Lodge has three versions of MagiQuest (with different names). When you buy your wand and game, you get a booklet with clues to take you on a bunch of quests. Each quest is about 30 minutes, the entire game can take four hours (so I've been told – we didn't finish). Basically it's a scavenger hunt where you answer riddles and find the right item in one of four hallways or two lobby areas (mostly), zapping the item with your wand. It's a good way for the kids to get a lot of exercise and stay busy while the parents get some drinks at the bar. Yes, they have alcohol at Great Wolf Lodge! If your kids are old enough to run around the floors by themselves with their wands, I recommend you let them do that. I followed my teens (and the five kids they collected along the way), and I just got in the way. I couldn't keep up (because of crowded hallways – I'm in decent shape and can shove people aside like a good New Yorker, though I tend not to do that to young kids). And they certainly didn't need me to help. Not that I could help – I didn't even know what was going on, as I wasn't holding the book or the wand and was always 20 steps behind them.
I can't imagine going to Great Wolf Lodge and not playing one of the games and having a wand. Each hallway has multiple things to activate, even if you're not doing the actual quest.
The Water Area at Great Wolf Lodge
Oh yes, Great Wolf Lodge has a water area with a bunch of slides – big and adventurous, and those for tots. There's a wave pool and zero entry water area (shallow), plus pools with basketball nets and a lily pad area where you have to cross the floating pads without falling in (my attempts were not attractive – and I fell in).
You can theoretically sit in a lounge chair and relax (if you're able to really relax in a super humid, loud 84 degree room). But then you'd be missing out on fun with your kids. And yes, there's a bar in the water area – and they make blended drinks! My kids and I had great talks in line, and met lots of other people there too. Our favorite was the roller coaster slide, I've never seen anything like it before. It had a conveyor belt in parts. And the toilet bowl slide (not the real name) and another one that had several big drops. And lots of others. I recommend you look at the videos and photos on the website, as it's tough to adequately differentiate water slides in words. Let's just say after a certain number of them, I had to stop lest I get sick. And I recommend not having a mimosa an hour before going on the water slide. Those tips are only slightly connected.
One of the best times we had in the water area was when my 13 year old son and I hung out on Fort Mackenzie, a treehouse-like water area with lots of buckets where you can dump water on unsuspecting people below. We had some rules – no dumping water on anyone:
with a cellphone
pushing a stroller or carrying a very young baby
wearing (or carrying) dry clothing
Otherwise – it was fair game. Unfortunately, few people walked directly below us, the exact spot they'd have to be to get soaked. Some kids dared us, looking straight at us as they walked by, or ran by to see if they'd get hit. Mostly people would look up at us after getting soaked. We'd smile and wave. They either laughed, or looked pissed. We didn't feel badly – they're at a water park!
I took a break at one point (dumping buckets of water can only maintain my attention for so long) and went to the adult hot tub. The good news – you have to be 21 years old (they have a family hot tub below – very cute, but very crowded). The adult tub is large and you can look out onto the pool area, which meant I could still keep my eye on my son, though you definitely don't have direct line of site to the entire area. The bad news: it wasn't all that hot. It was more like a warm tub. And the only jets were down by the feet, so no back massages.
Other Things to Do at Great Wolf Lodge
I could go on for a long time about the other things to stay busy at the Great Wolf Lodge. The Poconos site has a Howlers Peak ropes course, which kept my kids entertained for two hours. If I realized they were going to be up there that long, I would have gone with them.
We also checked out the cute glow in the dark mini golf, the "10 Paw" bowling (mini bowling for tots), Scooops spa (adorable spa for kids who like pink and nail polish) and arcade. These all cost extra.
The hotel has a lot of free activities too, including morning yoga for the kids (adorable!), story time, dance party, crafts during the day and the Forest Friends show. These were all well attended, and run by energetic staff members.
Rooms at Great Wolf Lodge
Great Wolf Lodge is known for its theme rooms. While we didn't stay in one, I did have a chance to see go into one. Kids of any age would think these are fun, so spend the extra and stay in a theme room. It will be a highlight of your kids' trip. They have bunk beds and decorated walls (and special paint that makes it harder for kids to decorate the wall too, if you know what I mean).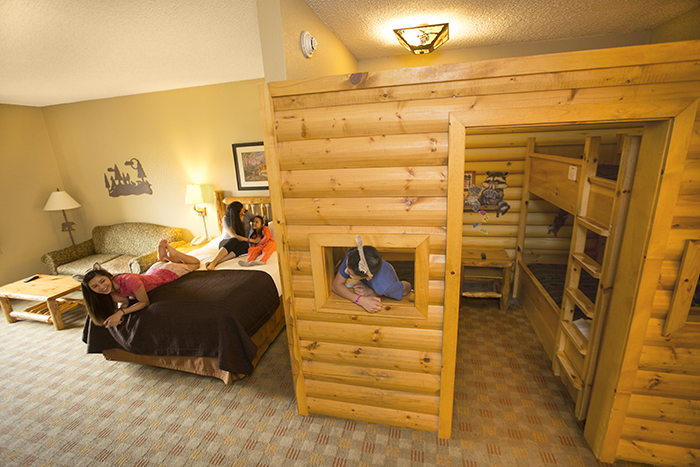 The rooms were all a good size, and have a safe, nice size refrigerator (for a hotel) and a microwave. The toiletries included vanilla scented shampoo/conditioner, and bubblegum scented body wash, which kids will love (and adults will hate). Instead of the typical hotel unwieldy luggage carts, they had a ton of push carts like you find at the airport. And they're free. The Great Wolf Lodge does a lot to make it easy for the parents!
Debbie Abrams Kaplan is mom of two teens, and she publishes two family travel and events sites, Jersey Kids and Frisco Kids. She also writes travel stories for Family Fun, Shape, the Los Angeles Times, Chicago Tribune, Miami Herald, San Francisco Chronicle and many other publications. You can read her work at Kaplan Ink. She thanks the Great Wolf Lodge for hosting her family's stay. Photos courtesy Great Wolf Lodge and by Debbie Abrams Kaplan.

More Great Wolf Lodge Resources
21 Unbeatable Tips For Staying At Great Wolf Lodge NC
25+ Of The Best Water Parks In Georgia For Splish Splash Fun
Save
Save
Save
Save