Banff National Park in Alberta, Canada, is many outdoor lovers' favorite non-coastal Canadian travel destination. It was first established as a national park in Canada, after the discovery of the Banff Hot Springs led to conflicts between conservationists and commercial developers. Today it's an almost mind-bogglingly gorgeous reserve of land. I love Banff National Park in the winter. Sure, it's cold, that's part of the deal. However, the Grotto Canyon Ice Walk is a terrific outdoor adventure that can't be experienced any other time of year — so layer up, put on your sunscreen, and enjoy this hike!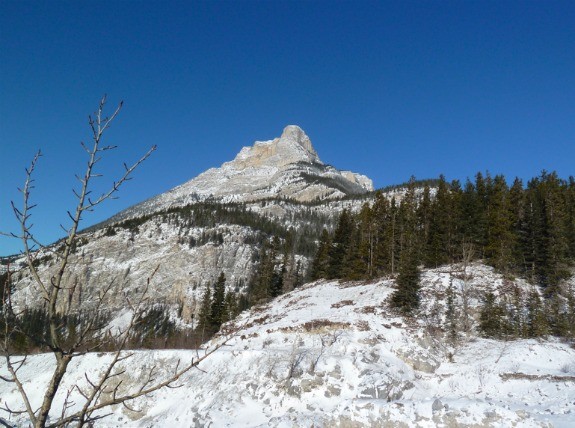 Discover Banff Tours organizes small group hikes in Grotto Canyon (which is in Canmore, bordering Banff), providing pick up and transportation in a bus, a quick run-down of safety rules, and the important ice cleats and hiking poles. Only two or three people in our group of ten used the poles, and the elevation changes aren't so extreme that the poles are needed for anything except an added sense of security. Perhaps when the weather's a bit warmer, the poles are more necessary to help balance on slippery ice. Our guide showed us how to put the ice cleats over our boots, and was generally a fun guy. He obviously loved being outdoors and sharing Grotto Canyon with the group.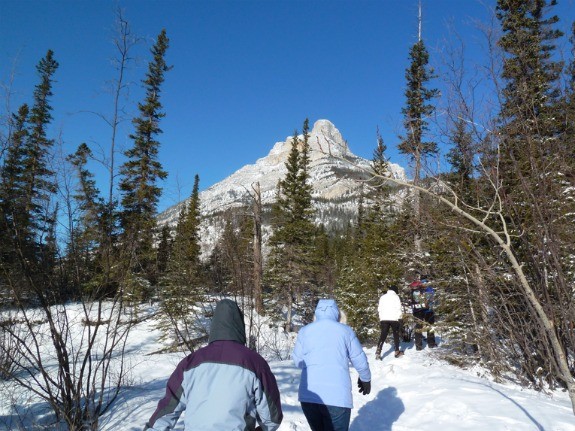 Grotto Canyon is an easy hike in the spring and summer, but it takes a bit more effort and ruggedness to hike the Grotto Canyon "ice walk" in the winter. This is because winter trail literally IS the creek, frozen solid in the Canadian wilderness. In fact, our guide showed us some markings on a cliff wall that were about chest high, and said that when he leads tour groups to Grotto Canyon in the summer, those markings are four feet higher. That's a lot of ice and snow.
Our guide was adept at identifying the many footprints in the snow. Mountain lions and jackrabbits were obviously all around us, albeit hiding.
A highlight of the Grotto Canyon Ice Walk comes about halfway up the river: This photo shows pictographs, at eye level, right on the cliff walls. Can you see them? They're faint, of course: estimated to be around 800 years old, these pictographs have been through a lot  of extreme weather. They've also been touched and rubbed by curious hikers in Banff/Canmore through the ages, but archeologists photographed them using "crossed polarizer" techniques. Our guide explained that the pictographs were painted in ochre, and seem to depict elk and deer, along with a family group.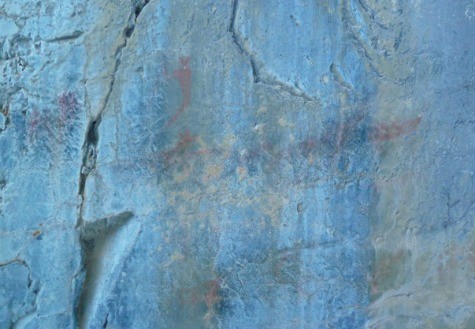 There is some question as to the root in history of these ancient pictographs; though they doubtlessly originated with a First Nations group of travelers, the crossed polarization photo shows what looks very much like a Hopi drawing of Kokopelli, the flute player. The Hopi were, needless to say, based in Southern California and Arizona. But they were the ONLY group to ever draw the Kokopelli flute playing symbol. When the Hopi traveled, they always drew Kokopelli wherever they went. Did one of the Hopi traveling groups make it all the way up to Grotto Canyon, here in Canmore in the Canadian Rockies? It's fascinating to think about.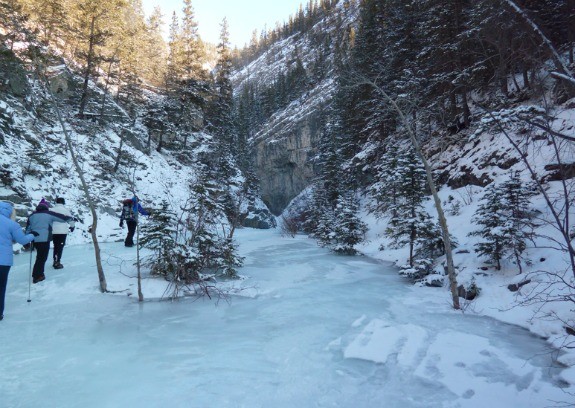 Being careful where one steps means we can't get too lost in our thoughts, though. We could see the frozen river right under our feet at some junctures, and the ice creaked and moaned under our weight a few times. Air bubbles moved away from where we stood. It was below 32F so I wasn't worried about the ice breaking and me falling in a freezing creek — not too worried, anyway — but the thrill of dangerous possibilities made the hike feel more adventurous.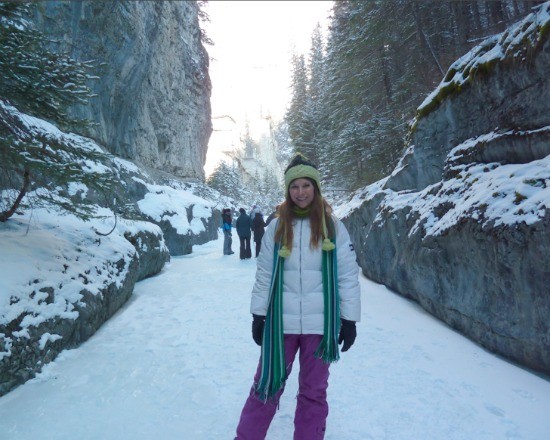 The Discover Banff Tours guided hike ends at a frozen waterfall, with hot chocolate and cookies. Around ten minutes to relax and take photographs, and then the group heads down again.
As hikers wind their way back down the frozen river in Grotto Canyon, we pass the pictographs again. These pictographs are a reminder that we are just a small group, following the same path as generations of travelers have walked before us…and that for generations after us, intrepid hikers will still be making their ways up this frozen creek in the middle of a vast expanse, in winter. Banff National Park and the area's commitment to preserving this undeveloped land ensures that this treasure will remain as it is, changing only via natural geologic forces, and time.
The mountainous landscape of Banff National Park means that there are many, many lakes, rivers and waterfalls that freeze solid in wintertime. The Grotto Canyon Ice Walk is just one organized tourist activity among several like it. The Discover Banff Tours company also offers an ice walk tour of Johnston Canyon, for example. This was involves hiking on steel walkways built right into the canyon walls. The views must be thrilling, but actually walking on the frozen creek itself in Grotto Canyon feels more hands on (or should I say, "feet on?" ) as a wilderness hiking travel experience.  It is highly recommended for a special Canadian winter outdoor experience in Canmore, next to Banff National Park.
The Grotto Canyon Ice Walk is around four hours long, and currently costs $65 for adults and $42 for kids.
Thank you, Travel Alberta and Discover Banff Tours, for hosting me on this Canadian outdoor travel experience.