Travelers familiar with the Hawaiian islands like to say that each island is special in its own way, and there's no doubt that this is true. Waikiki in Oahu, with its cosmopolitan glitz, upscale restaurants, and multiple shopping areas both high end and cheap, appeals to a different kind of vacation than one in which the traveler seeks a sense of history, spirituality, and culture. Or so I thought. A recent trip to Waikiki showed me that there is indeed that respect for Hawaii's history and culture; you just need to know where to look. I found it at the annual celebration of the birthday of Hawaii's last crown princess, Victoria Ka'iulani.
She was born October 16, 1875 in Honolulu, she was named (in part) after Queen Victoria, she spoke several languages fluently, and her name means "the royal sacred one" in Hawaiian. Princess Victoria Ka'iulani was the last crown princess of the Kingdom of Hawaii. Born in 1875, she was abroad, studying in England as a teenager when the Hawaiian monarchy was overthrown in 1893 — she returned home, and died in 1899 at age 23. It's a sad story; while medically she died of pneumonia, Hawaiians say she actually died of a broken heart.
Today, the OHANA Waikiki East Hotel by Outrigger Hotels & Resorts stands where her home once was. Her birthday is celebrated every October 16th, and the hotel management assists in respecting and honoring the memory of this young woman who worked so hard for her disenfranchised people.
A statue commemorating Princess Ka'iulani stands in a square outside of the OHANA Waikiki East Hotel. I was in Oahu during the days that her birthday is celebrated; it's a remarkable thing to stand a few feet a way from the rush and commerce of Waikiki (buses discharging passengers, chain restaurant employees taking cigarette breaks) and witness this tradition. Several Royal Societies of Hawaii, in garb both old and new, pay their respects. Young men blow conch shells for a call to attention, and the Sons and Daughters of Hawaiian Warriors, Chiefly Tribes, and descendants of the royal family and their guards all attend to honor and protect the family.
A lei-draping ceremony is open to any who want to take part. The bustle of the city fades to background noise as a slow procession of adults and children honor the memory of their last princess. Her full name is sung: Victoria Ka'iulani Kalaninuiahilapalapa Kawekiu i Lunalilo Cleghorn. Her statue is draped and covered, ceremonially, with hala and maile leis, as well leis made of other native Hawaiian flowers. Senses of spirituality and stillness touch each of us present, even if just for a moment.
After the ceremony is complete, visitors look around; we're still in Waikiki and there are the buses and taxis, there are all the stores. There are the high-rise hotels. This part of Hawaii changed more than any other since the 19th century, but look carefully. You'll see the culture of Oahu still evidenced.
Coline Aiu is the current president of the Ahahui Ha'iulani society, created to preserve the culture and traditions of Hawaiian royalty. She consults with hotel developers like Outrigger in Hawaii, to ensure that respect for Hawaiian history and culture is balanced with the needs for lodging on the popular vacation islands. She told me that the fern draped at the feet of the statue is used specifically because it is  "so fragrant, it's sometimes compared to a sweetheart. We use the laua'e because it is one of the leis mentioned in the song that we sing on her day, 'Lei No Ka'iulani.'" The warmth and appreciation expressed by Coline Aiu perfectly matches the warmth and appreciation of the lei-draping ceremony.
Hawaii is obviously now part of the United States, we all know that. But it's a state like no other in our country, and is the land of the only royal family our country has really had. Princess Ka'iulani is interred at the Royal Mausoleum of Hawaii, in Honolulu. Her memory lives on in the hearts and minds of her descendants, all Hawaiians, and now, this visitor as well.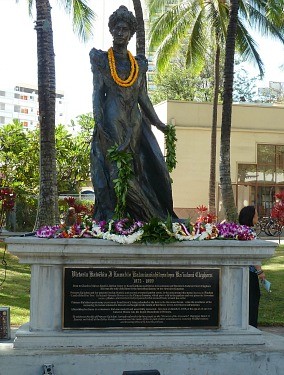 Waikiki is bustling, no doubt about it. As urban as Hawaii gets, Waikiki is the state's epicenter for commerce. Oahu itself isn't ALL skyscrapers and office buildings, but it's easy to lose sight of that while in Waikiki. Tourists here want the luxury goods, I assume, and are less eager to seek out cultural experiences while on this Hawaii vacation. But the history and culture of a deposed, circumscribed people (a familiar tale seen in many tropical idylls throughout the world) is honored and respected in several corners, quietly, without overly much pomp or fanfare. Thank you, Outrigger Hotels & Resorts, for opening your properties to the memory and culture of those who lived on this land before you.