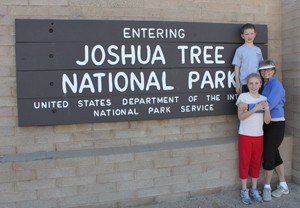 One highlight of my family's vacation in California over Christmas last year was our day trip to Joshua Tree National Park. I honestly didn't know much about the national park (less than an hour's drive from Palm Springs), except that the desert locale is a popular place for hard-core rock climbers to scale the otherworldly rock piles that were formed more than 100 million years ago. On our visit, we figured at the least we'd drive through the national park, admire the funky shaped trees (so named because their limbs mimic Biblical Joshua raising his hands in prayer), and get some semblance of exercise along a kid-friendly hiking trail.
But when the incredibly amiable and knowledgeable rangers at the West Entrance Station recommended a three-mile trail hike and assured us our 7- and 9-year-old kids could handle it, we knew we couldn't pass up the opportunity to journey deeper into the park. Indeed, we found the "moderately strenuous" 49 Palms Oasis hiking trail perfect for our entire family — including spry, 66-year-old Grammie. Inclines weren't too steep; there were plenty of cacti to look at along the way; and the reward half-way through the out-and-back trail: several stands of picturesque fan palms amid pools of water and stacked rocks.
Yes, the return trip back to the parking lot featured a little more whining than we heard on the way in (namely from my 7-year-old), but frankly, we were pleased he made it without too much complaining on the three-mile round-trip hike that took us an 70 minutes on the way in and 60 minutes on the way out. We tried to break up the journey by letting the kids (and their fearless dad) climb to the top of huge boulders. My daughter took the time to fill out her Junior Ranger booklet, answering questions about the flora and fauna she saw along the way. (She's collected six Junior Ranger badges at national parks we've visited in recent years; I highly recommend this educational activity — fun for kids and adults.)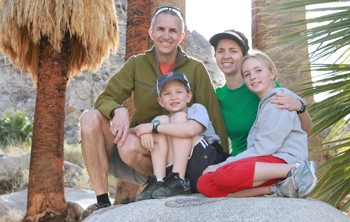 The 49 Palms Oasis is a great, kid-friendly hike for semi-athletic families who are accustomed to exploring the outdoors. It's not a flat-path nature walk, so if you're not used to hiking and you want to sample this particular trail, I suggest you do some incline walking at home before you make your way to the pretty palm oasis in this national park.
We barely scratched the surface of 800,000-acre Joshua Tree National Park on our short visit to the area. We look forward to returning to sample more family-friendly hiking trails or perhaps overnighting at one of its popular campgrounds. Here are just a few snapshots from our happy day at Joshua Tree: