With its crystal chandeliers, dark-hued wood accents, and gorgeous bronze elevators, the lobby of Boston's downtown Omni Parker House takes visitors back to another era. That's no surprise, given that the historic and elegant Omni Parker House dates to 1855: It is the longest continually operated hotel in the United States. In a city like Boston, so rich in colonial American history, this property is a gem, especially for guests who will appreciate sleeping across the street from the site of the very first public school in America and around the corner from the Old South Meeting House, where the Boston Tea Party began.
Luminaries from Henry David Thoreau and John F. Kennedy, Jr. to Babe Ruth and Ben Affleck have walked through the hotels decorative bronze doors. Also significant: Parker House rolls and Boston Creme Pie were invented in the hotel's Parker House restaurant. (For more on the hotel's fascinating history, read about its founder here.)
I spent just one night at the Omni Parker House during a 17-day trip to New England last month, and my small queen-bed Deluxe Room (210 square feet) fit the bill for a solo trip. Indeed in this 160-year-old hotel, you can't expect sprawling room layouts (though there are some 520-square-foot Premier Suites and 620-square-foot, super-cool Freedom Trail Family Suites, too). Sure, the Deluxe Room is tiny, but, again, it had everything I needed for a quick trip to Boston — comfy bed, TV, small bathroom with vintage accents, and an array of (expensive) mini bar options. (A small-ish bottled water was $3.95.)
But again, if history's your thing, and you appreciate an excellent downtown Boston location, I'd definitely check out the Omni Parker House. You're just a few steps away from Faneuil Hall; Boston Common and the Public Garden are nearby; and slightly further afield, but definitely still within walking distance is the fabulous pedestrian path called the Charles River Esplanade — in the warm-weather months, a stroll through this waterfront park reveals lovely views of sailboats on the water.
On-site services and amenities include a 24-hour fitness center, the aforementioned cafe, elegant Parker's Restaurant, more casual Parker's Bar, and Last Hurrah lounge, known for its impressive collection of whiskey.
Note that valet parking is a hefty $46 a night. Nearby self-parking garages are only marginally cheaper. (I paid $42 for 24 hours in a nearby public parking area.)
If you are an Omni Select member, you'll get complimentary wireless as well as a couple of free morning beverages at the onsite cafe — or delivered to your room. I recommend signing up for the loyalty program before any Omni stay!
Click here for current prices at the Omni Parker House.
Check TripAdvisor.com for the latest first-hand reviews of the Omni Parker House.
Pin for Later: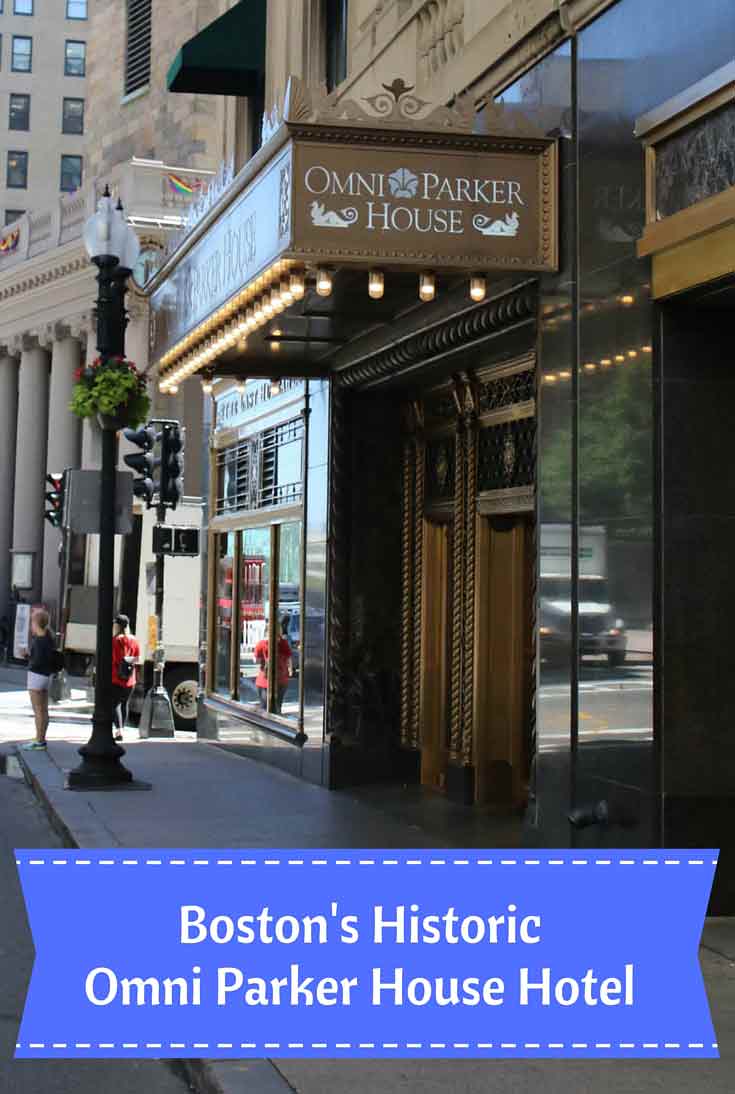 The Omni Parker House provided me with a media rate for my stay. This article includes affiliate links, which means The Vacation Gals may earn a (small) commission if you click the links and/or make a purchase.

Save
Save
Save
Save
Save
Save
Save
Save