Waking up and getting out of bed before the sun rises isn't usually on anybody's list of things to do during a couple's weekend getaway, but there we were, at 5:00 in the morning, groggily brushing our teeth and trying to stay out of each others' way. My husband and I were having a romantic weekend in Napa Valley, and a hot air balloon ride over Napa's vineyards and wineries was on the top of our own list of vacation activities. Balloons Above the Valley, and the small handful of other hot air balloon ride companies that operate in Napa Valley, only take passengers in the three hours after sunrise: After that, the winds pick up, and it's not as safe to operate the balloons. When we woke up, it was dark out. When we landed, the sun was shining, drying the morning dew off the trees and brightening our day. Watch this video, and enjoy the sun rising over California Wine Country.
Hot air balloon rides use propane gas to achieve lift, hence, the noise. It's an interesting experience; peaceful and quiet floating through the sky intermittently interrupted by the roar and flames, only to have the propane turned off abruptly and be wrapped by the cool air and silent drifting once again.
Balloons Above the Valley was named the best hot air balloon ride company in Napa Valley for 17 years in a row. The staff we saw were all friendly and professional, and remarkably cheery for the early hour. All the participants met at a Napa Valley hotel right off Highway 29 for a pre-ride talk, Starbucks coffee, and breakfast muffins/pastries. I recommend two things: 1. Eat a muffin, even if you're not hungry yet, because your body will need some energy to stay warm. 2. Go to the bathroom, your next chance to do so won't be for a couple of hours, upon your return.
It was a short, maybe 7 minute ride to the launching area from the hotel. Our pilot, Bob, told us what wineries we were floating over, and shared some anecdotes (probably well-worn) about the area. He explained that the meeting time, which was half an hour before sunrise, was scheduled early in the morning to allow for basic instructions to be given out and forms to be signed in away so as to not miss the sun rising over Napa Valley.
It's chilly up in the atmosphere (well, 1300 feet up, anyway) in March. The pathway we flew took us from Yountville to Napa proper, and, in part, followed the Napa Valley Wine Train tracks. Bob said that he prefers the winter and spring hot air balloon rides over those in the summer — when the vineyards are especially verdant — because he stands right under the flame, controlling the release of propane, and he doesn't get as hot. It wasn't so cold as to be miserable, but the air was bracing. And energizing. The flight lasted 70 minutes or so, and perfectly coincided with the sun completely rising in the morning sky. It was spectacular. After we landed, Balloons Above the Valley hosted a champagne breakfast back where we all started from, and this was a good thing: we found ourselves to be starving. The mimosas hit the spot, too. After all, what's a romantic getaway weekend in Napa Valley without at least a little bit of champagne?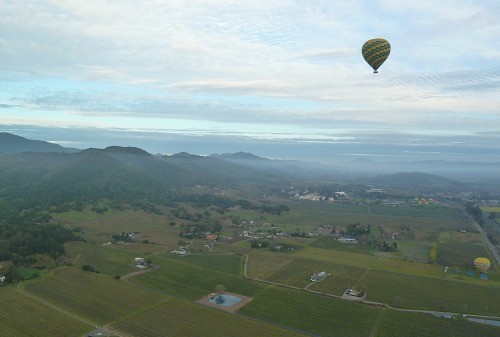 Hot air balloon rides are on many travelers' bucket lists of vacation activities. I can't think of a better way to check that item off your list than to enjoy the sun rising over Napa Valley. Balloons Above the Valley is a highly recommended vacation activity for a romantic getaway in California Wine Country.
Tickets for Balloons Above the Valley hot air balloon rides are currently $230 per adult ($209 if you reserve online, in advance) and $155 per child under age 12. Thank you to Hilton Garden Inn Napa for treating us to this terrific excursion.