Contributor Dana Rebmann recently stayed at Kimpton's Hotel Monaco San Francisco, and it was such a delightful holiday family travel experience that she couldn't wait to tell The Vacation Gals about it. Dana writes for the Ciao Bambino family travel website: while she enjoys international travel, some of her favorite vacation activities are closer to home, right in San Francisco, California.
San Francisco is one of my favorite family getaways. Lucky for me I live close; I can jump in the car and be there in less than an hour.  I lived in the city for ten years, before and after children came along, and look forward to all the great things that come with the changing seasons. Summer fireworks glitter over the bay and fall brings warm, fog-free days for Fleet Week.  But the winter holiday season is when San Francisco shines.
The gracious folks at Kimpton Hotels invited the Best Family Travel Experts group of family travel bloggers to go on a Kimpton Holiday.  This entailed one night, five writers and their families, each in different cities across the United States. Hotel Monaco San Francisco seemed to pull the girls in with magnet like strength. We emerged, one very sparkly skirt heavier and to our first view of just how bright a holiday night can be in San Francisco.
Dinner on the Go
Food quickly became a priority, and the family vote was unanimous for something quick and casual. Just across the street, Blondie's Pizza was the answer. In a matter of minutes, we all had hot slices in front of us. We didn't linger for long. My youngest was anxious for a cream puff from Beard Papas, while my oldest wanted to go to Nordstom. With both in Westfield San Francisco Centreon Market Street, the girls had become an unlikely united front.
Macy's Holiday Windows
With the shopping wishes mostly filled and a bit of a sugar rush kicking in, we were again heading toward Union Square. We couldn't say no to a stop in front of  Macy's holiday windows starring adoptable animals from the San Francisco SPCA. Full of kittens and pups, volunteers stand by to answer questions and help you take home a perfect present for under the tree. Over the past six years, the holiday tradition has helped the SPCA find home for more than two thousand animals and raise more than $320,000.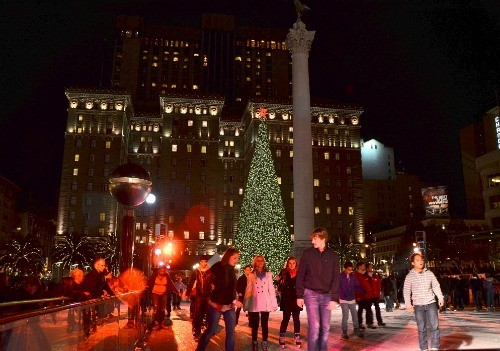 Lace up Your Skates
Who says it has to be cold outside to go ice skating? Smack dab in the center of Union Square. a ticket for the Safeway Holiday Rink is quite a hot commodity. Plan this one in advance and buy your tickets on-line or run the risk of being turned away when you arrive. A portion of ticket proceeds benefit Boys and Girls Clubs and the San Francisco Recreation and Parks Department.
Day and night, this is a favorite of locals and visitors. And folks like to get into the spirit of the season, so don't be surprised if you see them in full Christmas Carol-esque garb lacing up a pair of skates. The location couldn't be any more festive. With 21-thousand twinkling LED lights on its neighbor, the Macy's Union Square Christmas Tree, the ice takes on a holiday glow.
Say Cheese
No matter how much your feet hurt when you're finished, do not leave without going to the ice rink photo booth.  Expect nostalgia to run deep especially if you're a parent out with the kids. Photo booths were all the rage when I was a kid, but I hadn't actually seen one in years and wasn't surprised when my girls didn't understand what it was. No better way to explain than to just cram the whole family in. A couple minutes and $2 later the machine spit out a sheet of six snapshots. And thanks to built in internet, a digital image arrived in my inbox about the same time the photos were spit out of the machine. The girls liked it so much they did it again, no parents allowed. Another brief shining moment of proof, that deep down my daughters like each other.
Home to Hotel Monaco San Francisco

There were at least half-a-dozen more things we wanted to do, but it was heading toward 11pm and we decided it was time to call it a successful night. A quick walk and we reached our home for the evening. The Hotel Monaco San Francisco is cozy and comfortable with its own unique sense of style. Four legged members of the family are welcome here, and brightly colored water bowls accent the entrance. The lobby isn't huge but it offers plenty of room for a nightly happy hour with wine for adults and kid-friendly options like hot cider topped with as much whipped cream as a mug can hold.
My family stayed in a Mediterranean Suite.  The living room has a queen-size sleeper sofa and a sliding door provides the master bedroom with some privacy. The spacious bathroom has a 6-foot Jacuzzi tub and a separate shower. My daughter was so excited about getting in the tub she practically ran from the ice rink to the hotel.
Kids are King at Kimpton Hotels

If Hotel Monaco was trying to win my kids over, they succeeded. When we entered the suite, the first thing the entire family noticed were two brightly colored  Guppy Love program. To create a fish tale of your own, just let Kimpton know when you make your reservation and a goldfish will keep you company during your stay. No feeding or cleaning involved, you just get to enjoy the calming view.
Attention to Details at Hotel Monaco San Francisco

What impressed me the most during our stay was the hotel's attention to detail. Little things like goldfish and cookies and milk add up quickly. Now, one of my favorite things to do when I travel is run. I create my own tours so to speak. In my room was a running map with numerous course suggestions. If your itinerary includes a trip to the airport, fill in a few blanks on a note card, and Hotel Monaco San Francisco will take care of printing your boarding passes. It's one less thing to worry about when you're trying to get the family out the door. Simple and brilliant at the same time.
So little time! One overnight stay isn't enough; there were plenty of things we couldn't fit in on our Kimpton Holiday. My girls tell me not to worry, they say they'll bring me back to Hotel Monaco San Francisco. I'm so glad!
Kimpton Hotels paid for Dana's rooms at the Hotel Monaco San Francisco.

________________
Here's a great bonus for our readers! You can enter to win your own Kimpton Hotels vacation. The prize is a two-night stay at any of the Kimpton Hotels, and you have five chances to win. What a nice getaway that will be! Here's how to enter this Kimpton Hotels giveaway:
1. Leave a comment below answering the question, "At which Kimpton property are you dreaming about staying this weekend?"
2. Leave a comment on each of the other four participating family travel bloggers' Kimpton hotel reviews and giveaways. Go to Mother of all Trips, Hip Travel Mama, Pit Stops for Kids and Ciao Bambino's posts and answer the same question.
That's it! Five easy comment-style entries for this giveaway, and maybe it'll be you who will win a fun, relaxing mini-vacation. Entries close Sunday, December 11, 2011 at 11:59PM PST. The winners will be announced Monday, December 12, 2011.
Promotion Rules: The Kimpton Hotel Holiday getaway prize is a gift certificate for two-night stay at any Kimpton Hotel in the Continental US and is valued at $500. Up to five entries per person. No purchase necessary to enter. Void where prohibited by law. You must be a US resident, 21 or older to participate. Employees, partners, agents, vendors, or immediate family members of Mother of All Trips, Hip Travel Mama, The Vacation Gals, Ciao Bambino, and Pitstops for Kids are not eligible to enter. This is a random drawing, so odds of winning will depend on number of entrants. Rules are governed by the state of Washington. Hip Travel Mama, The Vacation Gals, and other participating sites reserve the right to cancel, suspend, and or modify a promotion if any problem corrupts the administration, security or proper play of the promotion. In the event of a dispute as to the winner's identity, entries will be deemed made by the holder of the email account associated with the entry. Entrants agree that The Vacation Gals, or any of the other participating sites are not responsible and cannot be held liable for any unauthorized intervention, technical errors, printing errors, mail delays and any other errors in connection with the administration with this program.
________________
GIVEAWAY UPDATE: Congrats to Lucia Jones, the winner of our giveaway! Of all of the comments collected from the five travel blogs participating in this giveaway (which were entered into numbered spreadsheet), we're thrilled that Lucia's number was chosen by Random.org. That's because she was one of our commenters here at The Vacation Gals! Congratulations again, Lucia, and we hope you enjoy your Kimpton hotel weekend!