With kids ages 13 and 15, I've tried a lot of health thermometers over the years — from expensive digital ear thermometers to the stickers I put on my babies' heads. I grew up with the old-fashioned, mercury thermometer, and I liked using it with my kids once they were old enough to hold it under their tongue, but I always felt a little nervous handling the glass item around them. Plus, I vaguely recall dropping and breaking one and watching the mercury ball up on the floor and not feeling like that was such a healthy thing; apparently they're not even in much use anymore!
While my most recent thermometer of choice has been a drugstore-brand under-the-tongue digital variety, using it at home and always packing one in my toiletry bag when I travel, I just sampled a Kinsa Smart Thermometer for the first time when my son and I were sick last week, and it's definitely my new fave!
The "Smart Stick" is used in conjunction with your smart phone, so the "thermometer" itself is super sleek requiring no batteries. You simply download the Kinsa app on your phone (Android and iPhone compatible) and plug the "Smart Stick" into your headphone jack (or use the optional extension cord). Tap the "Take Temperature" icon, designate whether you are using it orally, rectally or under your arm, and literally within 10 seconds you'll have a temperature reading.
Indeed, this thermometer does the job super, super fast — which is ideal for children (or cranky, sick adults) who don't like to sit still! But even the most distractible kids will be entertained for a few seconds by "popping the bubbles" that float across the phone screen while you wait.
The app will give you an error message if you stick the probe in your mouth before your ready; I think when my son was quite feverish, and I moved too quickly, it flashed the message, "Too hot," and prompted me to begin again.
You can wash the "Smart Stick" with soap and water, or use standard-sized, disposable probe covers to avoid spreading germs.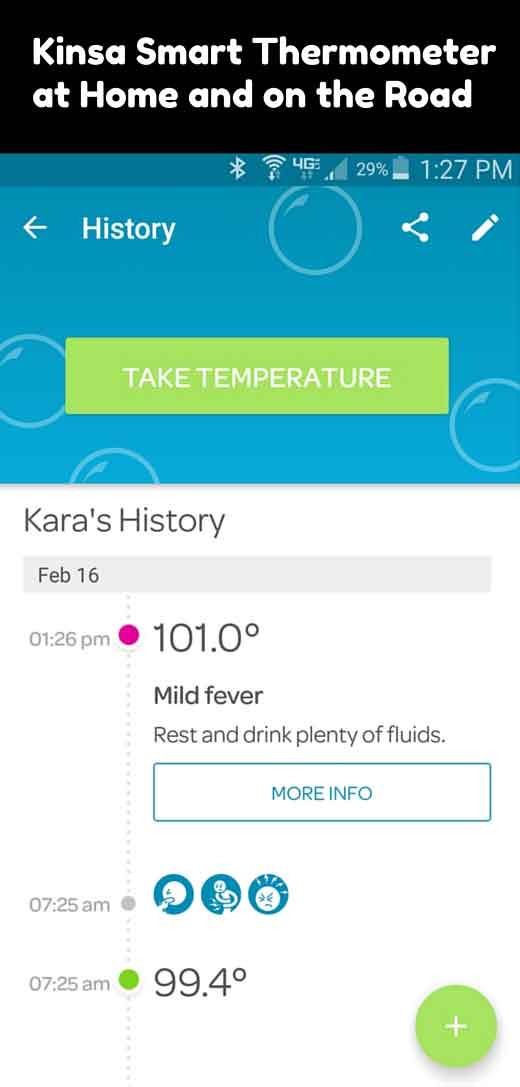 My favorite feature of the Kinsa Smart Thermometer and associated app is that it digitally records temperature readings (with date and time), as well as symptoms and notes you can type in about the sick patient. And it does this for multiple members of your family. This is so key, especially when you're visiting or calling a doctor's office and you need to remember your child's fever and symptom history. For each temperature reading that is above normal, the app also tells you what doctors might recommend for treatment. For example, with my mild fever last week it was the standard advice: rest and drink plenty of fluids, and call your doctor if you're experiencing some more extreme symptoms (such as persistent vomiting or skin rash).
Retailing for just $24.99 online and nationwide at Target stores, I think the Kinsa Smart Thermometer is a great deal, especially when you don't have to worry about it running out of batteries. Perhaps the only thing I'd wish for is a sleeker container for travel; some of the plastic packaging it comes in, which you can use for storage, is bulkier than needed, in my opinion.
Another note: When my son had his recent high fever, the Kinsa Smart Thermometer read 103.1 degrees, while my old digital thermometer read 102.6 degrees just seconds earlier. Regardless, at that high temperature, the kid got a dose of fever reducer and was sent back to the couch to lie down!
I received a complimentary Kinsa Smart Thermometer for purposes of review. This article includes affiliate links, which means The Vacation Gals may earn a (small) commission if you click the links and/or make a purchase.