Before yesterday, I'd last donned a scuba tank 11 years ago, on my honeymoon off the coast of Tortola in the Caribbean. But then I got pregnant and got busy raising small children. On our vacations with the kiddos, I didn't really want to take a lot of time away from them while at a tropical resort — no matter how great the diving was. Plus, I lost my dive buddy. My husband, Quent, had trouble equalizing pressure in his ears on a dive in 1997, and lost a little bit of his hearing. He gave up the sport… and I thought I had, too.
But when I read that Lānaʻi had some amazing dive sites — and that as a part of the Lānaʻi Visitors Bureau New Media Artist-in-Residence program, I might be able to do a two-tank dive with Trilogy Ocean Sports — I leapt at the opportunity. That is, I wanted to try it even though I had a history of always getting quite anxious before dives. (Okay, I'd been known to do some serious hyperventilating.) To say I was nervous going into these dives on Lanai is a gross understatement. I was totally freaked out.
Thankfully, the crew with Trilogy Ocean Sports was top notch. Our instructor Shigeki ("You can call me Bubba"), didn't flinch when I told him it had been more than a decade since I'd dived. Everyone else in our small group of five was much more experienced — including travel blogger Gary Arndt of Everything Everywhere (also a Lānaʻi New Media Artist), who said he might have been on his 100th dive.
Shigeki was just no nonsense about the whole scene; there was never any talk about my not being able to do it. There was never any assumption about my bailing and not trying (even though I felt like I was going to throw up from nerves from the moment I signed a liability waiver and flashed my PADI certification card).
On our small boat, instructor Shigeki reminded me how to put on a BCD (buoyancy control device), work its inflator/deflator, and read a pressure gauge. Within minutes of leaving Manele Harbor, I was zipped in my wetsuit, with a regulator in my mouth, and I followed Shigeki into the water — via a back roll entry off the side of the inflatable jet boat — and I was making my way to a mooring line… breathing underwater!
In fact, I felt like I was breathing like maniac, sucking down my entire tank's worth of air on my first dive — to the world-renowned First Cathedral site, a huge lava tube at about 60 feet underwater, just a 10 minute jet-boat ride from Manele Bay. Yes, I was nervous. Yes, it felt totally foreign. Yes, I was cold. But I did it.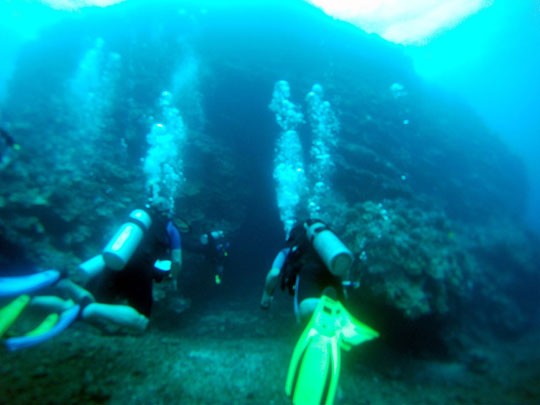 And I loved it. I actually swam through narrow entrances into underwater caves. I admired sunlight streaming through holes in the "ceiling" of the volcanic chamber. I stared at giant eels. For 40 minutes I not only reveled in the incredible sea life off of the coast of Lānaʻi — and we did see an amazing array of colorful fish, all shapes and sizes — but I kept congratulating myself in my head, "You're doing this! You're actually doing this!"
Then, we did it again. Because our intended second dive site (Fish Rock) was reportedly a little murky, we decided as a group to go to Second Cathedral, after swapping out our air tanks back in the harbor. I feel so fortunate to have been able to experience these two amazing sites in one afternoon. We all agreed we actually liked Second Cathedral better — as it involved maneuvering through smaller spaces and tunnels. We'd exit from one section, only to have to ascend up over a ledge… then turn a corner and swim underneath an arch. Yep, even claustrophobic me thought it was absolutely cool.
I'm so grateful to instructor Shigeki, friendly Captain Ricky who expertly drove our jet boat, and my fellow divers who made the whole process as easy as pie. I'm thrilled I conquered my trepidation about the sport — at least for now. I hope my kids will want to try diving sometime; I'll certainly encourage their taking a resort course or even going for their PADI certification. I'd love to dive with them on future tropical trips.
Here are a few photos I took with my GoPro underwater camera strapped to my wrist. Alas, the photos don't do the underwater world justice at all — the colors of the coral and the tropical fish are so much more vibrant. I couldn't get any marine life close up… but I hope this gives you a taste of what my super-cool diving experience was like at the world-famous Cathedrals.
I am one of seven New Media Artists visiting Lānaʻi courtesy of the Lānaʻi Visitors Bureau from January to May; following along on Twitter with the hashtag #visitlanai!