Stepping into LEGOLAND Florida is unlike a visit to any other of Florida's many theme parks. An Orlando family vacation with a day trip to LEGOLAND (in Winter Haven, around 45 minutes from Orlando) is more than just fun for children; it's a beautiful break for parents, as well.
A belle in blue sat under the cypress trees, seemingly lost in contemplation of the beautiful garden around her. Upon closer gaze, it was clear that she wasn't admiring the pink flowers of the Silk Floss trees, or the vibrant green of an algae-laced pond, or even the classic white wedding gazebo perched on a distant hill. She wasn't looking at anything at all. This Southern gal was a statue constructed entirely of plastic blocks, just one of the many fantastical creations made with over 50 million Lego bricks at Florida's newest theme park, LEGOLAND Florida.
"The world's most beautiful theme park," promised Adrian Jones, general manager of LEGOLAND Florida, at the park's grand opening on October 15, 2011. And he may well be right: Built on the footprint of Cypress Gardens, the fifth and largest LEGOLAND is the most beautiful theme park that I have ever visited.
Historic Botanical Gardens of Cypress Gardens
 LEGOLAND Florida has taken great care to preserve the soul of the park – the historic gardens established more than 75 years ago. Nigel Dunning, LEGOLAND Florida's Landscape Manager, took us on a rambling tour of the gardens – covering over 39 acres, I could only see a fraction on an hour-long walk.  But what I saw was splendid.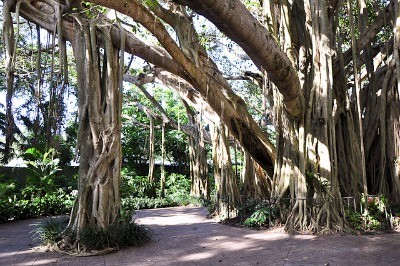 The fabled Banyan tree, planted in a five-gallon bucket in 1939, stands like a cathedral of soaring limbs and aerial roots.  The Perfume Tree that provides a key ingredient for Chanel No.5 remained hidden from view, but a silly-looking Sausage Tree, known for its role in brewing beer, invited us down a winding path.
And that wedding gazebo, now close by, welcomed a couple who had returned to share the place where they were married with their children.  Asked if he could recommend the best time of year to visit Cypress Gardens, Nigel said, "If you come here ten times a year, you would know your favorite time of year – mine is all year."
LEGOLAND Florida Attractions
The Cypress Garden footprint, with its lush landscaping and meandering paths, carried on into the ten themed zones of the park: The Beginning, Fun Town, LEGO Kingdom, Miniland USA, Land of Adventure, LEGO Tecnic, LEGO City, Imagination Zone, DUPLO Village, and Pirate's Cove.
One of the loveliest spots in the theme park was on our path across a bridge from Miniland USA to Pirates Cove. This storybook setting featured a family of otters drinking at the base of a waterfall, deer on a ledge, and the most adorable trio of red foxes standing on alert by the serpentine creek. All of these creatures were made out of Legos.
Less admirably, the original footprint made for a park layout that wasn't so easy to figure out. I wasn't the only one to struggle to decipher the park map, and getting from one zone to another could require a rather circuitous route.
As I was exploring the park with a large group – two sisters and five nieces and nephews ranging in age from 3-11 – we did our best to avoid that by moving slowly and methodically from zone to zone. That's where I very much appreciated a thoughtful layout that placed junior versions of rides next to those for taller kids. This allowed the entire family to stay in one zone, so that we could travel the park together.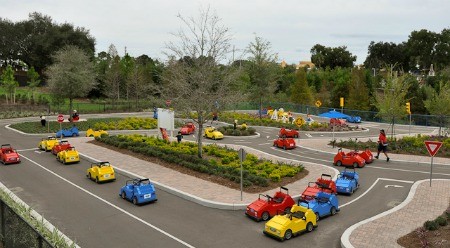 In Lego City, most of our group headed to Ford Driving School where all the youngsters earned their drivers licenses, even eleven-year-old Ethan Rivera who proudly announced, "I ate the red light."
Meanwhile, his younger brother, three-year-old Jonathan, was happily zipping around in the Ford Jr. Driving School until heard the unwelcome news that he had to stop.  He had to be pried out of his car with promises of a real-live drivers' license (fortunately satisfied with the free paper version, and not the laminated $14.99 souvenir.)
But what I liked best of all, was the one feature that truly made LEGOLAND Florida the most beautiful theme park – over 600 magnificent oak trees liberally festooned with Spanish moss and Resurrection ferns.
Plan a visit to Cypress Gardens at LEGOLAND Florida
Located just past Imagination Zone and Pirates' Cove, Cypress Gardens is open year-round whenever LEGOLAND Florida in Winter Haven, FL is open. Daily tours to be scheduled.
 A big thank you to LEGOLAND Florida for providing park admission during the Grand Opening celebration!
_____________
Sandra Foyt writes about fun and educational family travel on AlbanyKid.com. Based in Northeast New York, she is accompanied on family adventures by a teen, tween, outdoorsy husband, and a well-indulged Chocolate Lab.