The future is bright and brick shaped at England's LEGOLAND Windsor, where the LEGOLAND Windsor Resort Hotel is wowing the crowds. The hotel opened in March 2012, and is not just near the theme park — it's located inside the theme park. This is a new "must do" for family travel in the UK, as guest contributor Kirstie Pelling found out. I'm impressed that she managed to get her children home after their fantastic weekend trip to LEGOLAND.
_____________________
How often do you get the chance to make eye contact with a Dark Lord? It's the first time it's ever happened to me. Even when made out of Lego bricks, Darth Vader is an unsettling guy. And almost as disturbing are the price tags of some of the boxed sets in the gift shop. But I have to remember this is a galaxy far, far, away…otherwise known as Legoland Windsor.
Whether or not you like the droid related stuff, the Star Wars Miniland Experience is a mini marvel. Comprised of 1.5 million Lego bits, this new attraction consists of highly detailed scale models of seven of the Star Wars and Clone Wars classic film sets. They are atmospherically lit and highly interactive; as a family we can make the Millennium Falcon lift off, or push our heads up into a perspex bubble to blend in with life on Tatooine. I suspect this viewing platform is made for the kids, but I have a go anyway; it's a bit like being stuck in a bright orange air lock.
Although there's no doubt the Miniland experience will attract fans from around the world, it's somewhat dwarfed by an imaginative new creation at the other end of the park. The Lego Resort hotel in England, like its predecessor in Billund, Denmark (Lego Headquarters), is designed to look as though it's made out of multi-colored bricks. And the interior of this hotel looks like it's been taken from a child's dream. In the entrance hall there's a slowly whirling cog wheel floating pirate ships, planes and hot air balloons over a vat of Lego. There are Lego spiders on the bathroom ceilings. There's a monkey guarding a safe full of presents in the bedroom. And Lego chefs do naughty things like splatting eggs on the walls and falling into ice cream sundaes in the family restaurant that's a riot of color and crayon.
In real life the chefs are busy preparing food; it's the rest of us that step over scattered bricks and fondly deal with the whims of future Lego engineers.  A particularly tense time is the hour between 5 and 6pm where all manner of small people are busy competing to win the daily prize. I'm not sure  which sculpture is the winner today, but my guess is the giant sunflower, the weapons shed and the pizza parlor were all in contention. And the prize is? You guessed it…
At the hotel you can have your choice of themed or fully themed rooms depending on your budget and your appetite for building bricks. The most popular rooms at this Lego Windsor Resort hotel are pirate themed, but our kids were pretty keen on their Adventure beds. I can't remember the last time my nine year old volunteered to retire early! We retire early too; to the bar where noduled bricks and mini-figures provide the décor.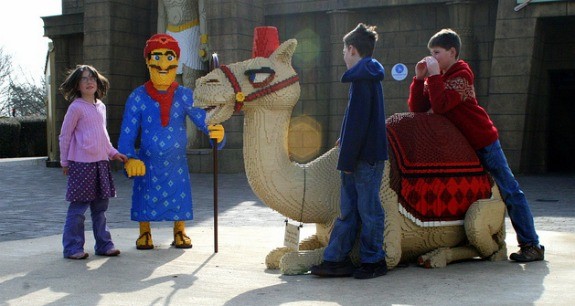 There are many thousands of these tiny guys watching over the reception, which makes checking in and out a little more stimulating than normal. But we can't hang around; the sun is shining and we've a theme park to visit. Our kids are desperate to go underwater in a yellow submarine, where real zebra sharks dominate the Lego and non Lego marine life. Stuart has a yearning to try out the JCB digger ride. And Hannah is excited about rising into the cloudless sky in a hot air balloon she controls herself. But nothing beats my date with the Vader. A Dark Lord is a Dark Lord, even if he is made entirely out of plastic.
LEGOLAND Windsor Details
Practicalities:  LEGOLAND Windsor is a family attraction suited to children between 3 – 12 years old. It has over 55 rides, attractions and shows spread across 150 acres of parkland near Windsor, Berkshire, England. The LEGOLAND Windsor Resort Hotel is on site with direct priority access to the park.
Times:   The theme park opens at 10am and closes between 5pm and 7pm, depending on the time of year. It is closed in winter. Guests of the LEGOLAND hotel can take advantage of an early entry pass to enjoy the park before other visitors arrive.
Getting there: LEGOLAND Windsor is two miles from Windsor town centre and easily accessible by bus, rail and road. There are bus and rail services from London with shuttle buses direct to the park and hotel. Combined bus, rail and park tickets are available.
Tickets: Park tickets can be booked online in advance or purchased at the Park gates. There's a wide range of 1 day, 2 day, season and other offers available. There can be additional charges on special event days and if you arrive by car you will also need to pay for parking (£2).
Park Prices: There are lots of different ticketing options for both park and hotel so check online to get the best deal and take advantage of online booking discounts. Park only tickets prices are Adult £41.40, child £31.30 and family (2+2) £129.60.  Hotel + Park entry deals are great value and often work out only slightly more than the price of park only tickets.
_____________________
Kirstie Pelling is co-founder of  The Family Adventure Project, a blog and website that aims to inspire families to travel, adventure, and have fun together. Kirstie visited the LEGOLAND Windsor Resort Hotel as part of her Twin Theme Park Adventure.