Some people dream of living abroad for a year or even permanently. This dream can seem insurmountable to those who haven't dome any research, but expatriates are usually happy to share what they've learned. Living abroad for less as a family, especially, requires some advance legwork. Guest contributor Tim Leffel, now living in Mexico with his family, is a valuable resource. Here, he gives excellent insights and useful tips for those considering living abroad for less as a family. – Ed.

Cathy Brown saw her future as a mom with three kids in suburban USA and decided that wasn't for her. She also wanted to continue working as a freelance writer, which is financially tough enough for a single person, much less a busy mother. After trying two other spots in Argentina, she and her kids are settled in El Bolson, an "artistic, hippy mountain town" in Patagonia that's a center for outdoor activities.
"Living here is about as laid-back as it gets," she says. There's gorgeous scenery, with mountains on all sides, and a really welcoming community. People get together on weekends to do projects. It's very safe: you see old ladies out hitchhiking to get to town and back" She is loving her life as a travel writer and can support the family on $1,200 a month or less, in part thanks to free health care for all.
The vast majority of the articles you read about people living well on less money abroad are focused on singles or childless couples. Often they're digital nomads roaming the globe or retired couples stretching their savings a lot farther. They're only part of the story, however.
Besides the obvious situation of one parent getting a job transfer to another country, many families move abroad to have a calmer, more fulfilling life at a lower cost. There are big advantages to escaping the rat race and lowering the bar on how much you have to earn each month just to pay the bills. When you move from a wealthy country to one that's further behind on the development curve, suddenly your expenses can drop by half without any of you cutting back and making sacrifices.
In my latest book, A Better Life for Half the Price, I interviewed many families living abroad for less money, on four different continents. While they all faced some challenges and adjustments now and then, none regretted making the leap. "The advantages far outweigh the disadvantages" was the usual response. When your finances look brighter and more stable, it's easier for everything else in your family life to fall into place and go smoothly.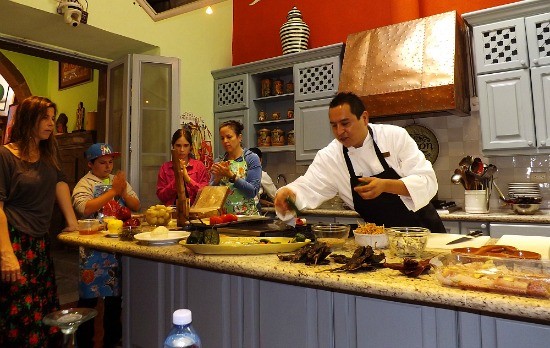 A Laid-back Life for Less
I live with my wife and daughter in Guanajuato, Mexico. We're at 6,500 feet altitude and have one of those climates where you almost never need heat or air conditioning. When we lived here for a year the first time, my daughter was in elementary school. This time we're here for several years and she's a teenager in ninth grade. Each time we've lived here our expenses went down drastically as soon as we had unpacked.
We eat out for less than what we spent in the USA and housing prices are less than half. Health care expenses are one-fifth of what they were and we pay a maid $17 each time she cleans our house top to bottom. Our handyman charges $4 an hour to fix whatever needs improving in our house. Since we're in a pedestrian-friendly city with 50-cent buses and $3 taxis, we don't need a car (and all the related expenses) either.
There and several expatriate families here and even more down the road in San Miguel de Allende. I have a friend here who is a single mother supporting two children and sending them to private school, solely on the salary of a symphony musician. Good luck trying to pull that off in the USA, Canada, or England!
There are plenty of families living in cheaper, more distant lands too, including exotic-sounding spots like Chiang Mai, Bali, Phnom Penh, and Pokhara. They have barbeques, they go out to eat, they go to school functions, and all the rest. They're just doing it for a fraction of what they spent before—often with more domestic help.
Family Considerations for Expatriates
If you're single and you have a laptop job, the world is wide open. Anywhere with a good internet connection can be your office, so your choice of where to live just comes down to prices and preferences. When you're a family, however, it gets more complicated. It's not complicated because your kids won't find enough to do or will have to try different food or will have to make new friends. Those are usually the easy things. More difficult is getting them settled into a new school.
Assume that the more useless a country's language is outside that country, the more likely it is that the private schools will be run in English. In Thailand, for example, Chiang Mai alone has six international schools and several more with bilingual programs. With Thai being such a limited language internationally, a lot of business is conducted in English and most education administrators you deal with will speak English well.
In countries like Belize, India, Nepal, and Malaysia, English is already the language of politics, education, and business, so it will be very easy to find a school with classes in English. In other countries, especially Spanish or French-speaking ones, get ready for immersion unless you want to shell out very high rates for an elite private school in a city.
If you have school-aged children, there are three basic choices:
1) Home school them. Many parents go with this option out of choice, others choose it out of necessity. If you have the patience, the skills, and a good internet connection, you can then live almost anywhere in the world. You use the same online materials you would in your home country, but with better field learning opportunities and more affordable travel.
2) Choose the place based on international school availability. In nearly any country in the world, there are accredited international schools that will be recognized for transfers and college applications. There are two drawbacks to them though. First, in local terms they can be quite expensive, running anywhere from $400 to $1,500 per month. For the top of that range, your kids' classmates will probably be the children of politicians and captains of industry. Which leads to the second drawback: these international schools are generally in the biggest cities, with the largest concentration in the capitals. That means Sofia, Managua, or Hanoi rather than a smaller town that might be more mellow and attractive. You can get an idea by visiting the International Baccalaureate schools listing at IBO.org.
3) Make do with whatever education is available locally. We went with this option for our move because we had our heart set on a specific place. We didn't want to move to Mexico and live in a massive, traffic-choked city. So first our daughter was at a Waldorf school, now she's in middle school at a local academy that stresses group learning and projects. All instruction is in Spanish though. For some parents that may be a deal-breaker, but for us it was a big plus: we wanted our daughter to become fluent and now she is. These schools are priced at what the local market will bear, so her monthly tuition has averaged $300 a month at both schools.
Also check into tutoring options. For a fraction of what you would spend at home, you can probably get a private tutor to help your child in subjects he or she is having trouble with, at a slower individual pace.
Planning Resources for Moving Abroad
The best source of information about living in a specific area comes from the other expatriate parents who are already there. Search for local message boards, local Facebook groups, or blogs written by parents living in that location. Two good places to start are ExpatBlogs.com and Expat-blog.com — both have directories sorted by country. For some countries you can find full books on what you need to know about moving there, and of course I have country-by-country resource lists in my book. Many expat centers have their own English newspaper or online news site.
Find articles and messages written by mothers and fathers who have made the leap and you'll probably find most of your fears about safety, fitting in, visas, and language have been addressed in exhausting detail already. You are not blazing a new path. The more you surf the web, the more you will find people who can provide answers.
Then visit prospective locations in person to pound the pavement and see the possibilities for yourself. There's a limit to how much you can find out online: it's not unusual for schools in developing countries to not even have a website or informational e-mail address. Everything is discussed in person or on the phone. You should do a trial run before moving somewhere anyway, living like a local for a few weeks or months, so time it to visit while you can also check out schools.
Treat this all like a big project with many moving parts. You can find checklists for as far as one year out on international moving company sites or even the U.S. State Department website.
In the end though, there's one thing separating the families living really well on $2,500 a month and the ones barely managing to pay the bills on $5,000 per month. The former group followed through and actually did it, so now they're reaping the rewards and living abroad for less as a family.
Tim Leffel is the author of The World's Cheapest Destinations and the new book A Better Life for Half the Price: How to prosper on less money in the cheapest places to live. He lives with his family in the highlands of Mexico. See more at CheapLivingAbroad.com.