Let's think about some Los Angeles facts and myths. Los Angeles has no culture. Los Angeles has no history. The traffic stinks in LA. Los Angeles has unbreathable air. There is no "there" there. Sound familiar? It should. There are lots of ugly stereotypes about Los Angeles. People seem to really get entertainment out of hating on this city.  Well, it seems somewhat fitting; Los Angeles became what it is today largely due to the entertainment industry, after all. But if you think that all Los Angeles has to offer is smog, road rage and a culture-free environment, well, everything you think is wrong.
1. Los Angeles has no culture. Really? Maybe you should run that one by Gustavo Dudamel, the crazy-haired conductor (is this correlation or causation?) and Music Director of the Los Angeles Philharmonic Orchestra at Walt Disney Concert Hall. In fact, take a walk around downtown LA next time you're here; thanks to LA Live and Walt Disney Concert Hall, there's more activity in downtown LA now than ever. It's lively, fun, and yes, full of cultural activities along with sporting events at Staples Center.
There are also lots of smaller theaters constantly putting on shows. The admitted overload of striving young actors and writers in LA means lots of talent, hence, live theater here is of high quality. All those colleges and universities in LA ensure a lively scene for experimental theater and art shows as well. Mainstream museums include the Getty, LACMA, and the Armand Hammer Museum of Art and Culture Center.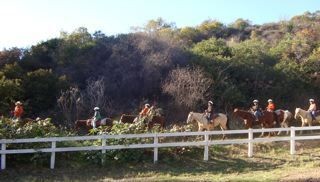 2. Los Angeles has no history. It's true that LA doesn't have Medieval and Renaissance architecture a la Florence and other Western European cities. But it was part of New Spain in the 1700's, later part of Mexico, and after the Mexican-American War, finally (1848) part of the United States. The Avila Adobe in El Pueblo de Los Angeles Historical Monument is testament to past centuries' history here. Even earlier, there were people here. Ice Age humans lived here along with giant sloths, saber tooth tigers and mastodons; remains of all four can be seen, along with hundreds of dire wolf skulls at the La Brea Tar Pits right on Wilshire Boulevard. The Natural History Museum of Los Angeles has a permanent exhibit on California history with a special local emphasis.
3. The traffic stinks in LA. Well, you got me there. The traffic can really be infuriating, in fact, this is why I must have around 2,000 songs on my car's integrated iPod. It's taken me 25 minutes to get from the west side to downtown Los Angeles, but it's also taken me two hours. The answer, it seem to me, is to check Google Maps for the best routes, and to try to avoid freeways during rush hour.
4. Los Angeles has unbreathable air. This was true in the 1980's, but California's progressive clear air laws lead the nation for green industry. While up in the Valley, north of Mulholland, there is still often a brownish haze, realize that the Valley is a bowl; it's hard for that old crappy air to disperse. Elsewhere, the air is clean. Old truths aren't necessarily today's truths, but old truths are hard to shake clear from the public consciousness. The popular parts of Los Angeles, such as the beaches, have the clean ocean breezes mixed with warm sun that are reminiscent of tropical vacation spots, albeit right in California. Inland more, the air quality is a whole lot better than it was 20 years ago.
5. There is no "there" there. I heard this complaint about LA for years before I moved here. I took it to mean that it was a generic, personality-free blob of a city and frankly, out of all the Los Angeles myths, this one distressed me the most pre-relocation. What a relief to learn that, of all the myths, this one is the most egregious.   Like any large city, Los Angeles is really a collection of smaller neighborhoods. Each has its own personality; each has its own "there." It's great fun to explore LA's different neighborhoods. If one isn't a good fit for you, another part of LA will be just right.
From Muscle Beach in Venice to downtown Los Angeles, there is a lot of diversity in LA. Stereotyping such a large, spread out cosmopolitan area doesn't reveal anything about the city, but it reveals plenty about the stereotyper. From hiking in state parks to musing over exhibits in museums, from surf lessons on the Pacific coastline to wild parties in Hollywood, there's something for everyone in Los Angeles. Just leave plenty of time to drive from one part to another!