Los Angeles Pillow Fight Day is held annually to coincide with International Pillow Fight Day — what a fun excuse to head downtown and bop strangers on their heads with feather pillows. My family's lived in Los Angeles since 2003, but we shamefully haven't participated until this year. And what a good year for us: This weekend, cousins are in town, so all eleven of us (4 adults, 7 kids) traveled to downtown Los Angeles, first to eat lunch. We must fortify ourselves before heading into battle, after all.  Then, it was off to Pershing Square we went.
The crowd was tremendous, there were already a thousand people when we got there (it starts at 2:00PM and we got there at 2:10), Pillow fights were everywhere, with a smaller area for young children to play, and the larger part of the square was wild. It was all in good fun, of course — everyone was having a great time throwing feather pillows around, lightly hitting small kids and wailing on fellow young adults. Pillows burst open, feathers went flying. I'd say that we saw over a thousand people hitting each other, laughing, and pretending they were waging war. Costumes were everywhere, and coordinated teams made strategic battle plans on the spot.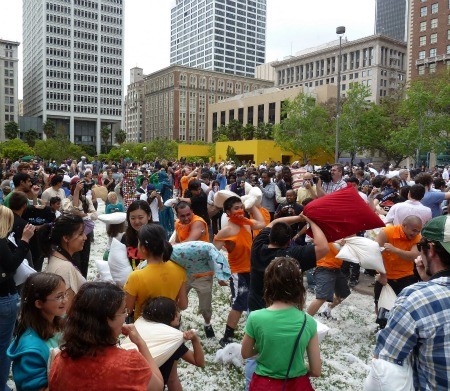 Pershing Square is right across the street from one of my favorite downtown LA hotels, the Millennium Biltmore. In fact, when the tween girls in our extended family needed a break, they went right to the Biltmore to catch their breath. And, to try to pick the feathers out of their hair, a futile attempt if ever there was one. The feathers flying during the Los Angeles Pillow Fight made it look like there was a blizzard in Pershing Square — I'm not kidding, the air was thick with swirling down feathers.
I saw a few guys lay down and make "feather angels;" a Southern California version of snow angels. Adults in footie pajamas laughed and played, people in odd homemade costumes acted as though this was a Most Serious Event, until young children bopped them in the knees, sending them grabbing their legs as if in great pain. The little kids laughed, delighted in the thought that they'd sent those big goofy guys down for the count.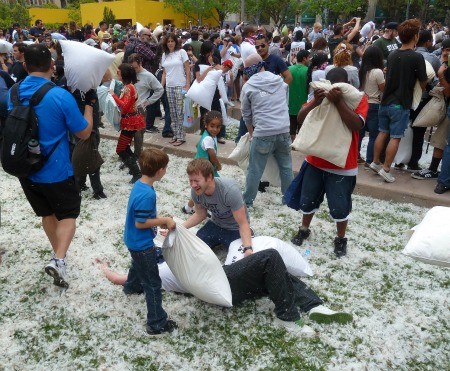 There were local pillow fight celebrations in Orlando, Caracas, London, Pisa, Seattle, Gothenburg (Sweden), New York City, Bordeaux…and many more. After all, this is a very important international holiday, and we must all as global citizens pay our respects, am I right?
Los Angeles Pillow Fight Day was a delight, and absolutely worth traveling to downtown LA.  Everyone played well together, and the spirit of the Urban Playground Movement's International Pillow Fight was clear; embrace your inner child, have fun, and at the end of the day, you'll be better for it. I'm still picking the feathers out of my hair.